How Allison Williams Is Owning Up to Her White Privilege
"Trying to imagine what it's like to be someone else is never a substitute for actually living that way."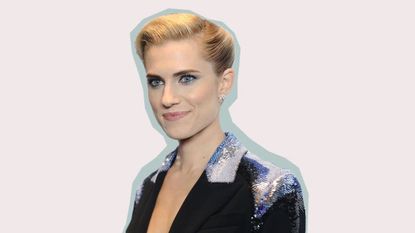 (Image credit: Design by Betsy Farrell)
Allison Williams knows you'll be talking about Get Out long after you see it. In fact, she's counting on it. That's the whole reason the actress signed on to star in Jordan Peele's horror thriller about a black man who visits his white girlfriend's suburban home and discovers that the family's idyllic life is not what it appears to be.
Early in the film, we learn that although Williams' character seems pretty attuned to the racial prejudices her boyfriend faces as a black man in America, she might not be all that enlightened.
The Girls star—who wrapped filming on her HBO series last year—spoke to MarieClaire.com about her first feature film experience, embracing intersectional feminism, and examining her own privilege as a white cis-gender woman in America.
"I've been thinking about it for a long time. I've been very aware of it and very aware of the limitations of empathy. Trying to imagine what it's like to be someone else is never a substitute for actually living that way, for acknowledging the respect that we need to have for each other's experiences. I was lucky to be raised by people who were very intent on making sure that I understood all of that from an early age, and have spent the majority of my adult life trying to level the playing field to reduce the inherent inequities that come with being from such a place."
"I would never tell someone else how to use their platform because I think I'm much more comfortable allowing the work that I do to speak for itself. In most cases no one asks what I think, and so for me to be ready to volunteer it unprompted, I have to feel very ready to accept whatever is coming next. I feel in many ways that I'm still in the data collection phase. It may be a little while before I take the megaphone in the way that Lena has, but we will see. TBD."
"One of the things Jordan was thinking about while making the film is: maybe race can be best thrust into conversation from a genre that feels very unfamiliar. Showing Get Out to a room full of strangers and having them react lets them be introspective and see the way certain images affect other people. It's a really important thing for a group to experience together."
"Maybe it's perfect timing. Everyone is very on edge right now, everyone is feeling a little bit raw. The movie could be a little bit more volatile then it would be otherwise. Either way, it's going to be very, very interesting."
Get Out hits theaters February 24.
Follow Marie Claire on Facebook for the latest celeb news, beauty tips, fascinating reads, livestream video, and more.
Jean Bentley is an entertainment reporter who has written about television for Marie Claire, E! News, Mashable, Nerdist, MTV, Entertainment Weekly, and many more. She loves Law & Order: SVU so much that her cat is named Olivia Benson (before Taylor Swift, thankyouverymuch).