Donald Trump Has His Own Theory About What Happened at the Oscars
Behold POTUS's hot take on #EnvelopeGate.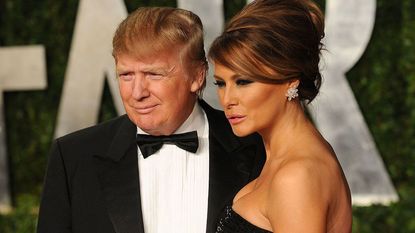 (Image credit: Archives)
One of the funniest stunts pulled by host Jimmy Kimmel at the Academy Awards last night was a tweet that he legit sent to Donald Trump live from stage:
Trump never responded to the tweet, or commented on the Oscars on Twitter, though he did rail against the New York Times ad that aired on ABC during the show.
It wasn't until an exclusive interview with Breitbart (opens in new tab), which apparently took place in the Oval Office, that he shared his thoughts on the snafu-ridden ceremony.
"I think they were focused so hard on politics that they didn't get the act together at the end," President Trump said. "It was a little sad. It took away from the glamour of the Oscars. It didn't feel like a very glamorous evening. I've been to the Oscars. There was something very special missing, and then to end that way was sad."
The "ending" that he's alluding to would appear to be #EnvelopeGate, in which Warren Beatty and Faye Dunaway (opens in new tab) were handed the wrong envelope while presenting Best Picture, leading them to announce La La Land as the winner, only to then take it back and give the Oscar to the rightful winner, Moonlight. It was certainly one of the most of the most jaw-dropping moments in recent Oscars history, and while the accounting team that counts the ballots has assumed responsibility and issued an apology, it's still unclear how the wrong envelope ended up in Beatty's hand.
The Internet is abound with conspiracy theories (opens in new tab) on how such a major mistake happened, pinning the blame on Leonardo DiCaprio and Russia, or saying it was staged by producers of the show or by Kimmel himself. Now, it seems like Trump has his own hot take: everyone messed up because they are too busy thinking about him to do their jobs!
For the record, Trump has indeed been to the Oscars. He and Melania attended the 83rd Academy Awards in 2011. So, there you go.
Follow Marie Claire on F (opens in new tab)acebook (opens in new tab) for the latest celeb news, beauty tips, fascinating reads, livestream video, and more.
My writing has regularly appeared in The New York Times, The Paris Review, Salon, VICE, Guernica, The New York Observer, BuzzFeed, Cosmopolitan, Seventeen, Esquire, Elle, Harper's Bazaar, and many more publications.

I was previously the Senior News Editor at Best Life Online and the Viral Content Editor in the Newsroom of Hearst Digital Media. My portfolio consists of a vast and diverse body of work that includes personal essays, lifestyle articles, breaking news posts, and viral content. My areas of expertise, however, are Russia, sex and relationships, and mental wellness.