Alyssa Milano on Women Taking Down Donald Trump: "Removing Him Will Be Up to Us"
When it's a matter of national insecurity, women step up.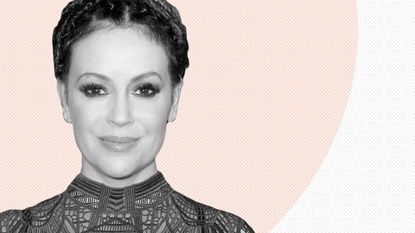 (Image credit: Design by Betsy Farrell)
Marie Claire Newsletter
Celebrity news, beauty, fashion advice, and fascinating features, delivered straight to your inbox!
Thank you for signing up to Marie Claire. You will receive a verification email shortly.
There was a problem. Please refresh the page and try again.
We seem to be running out of Donald Trump jokes and I'm not so sure that's a bad thing. I've heard all the one-liners, read the essays, and watched the impersonations. And tonight, I gave it a good shot. But, the truth is, I've been scratching my head trying to think of an opening line to an open wound.
I never thought I'd be nostalgic for the days when Donald Trump was nothing but an ineffectual gasbag whose sole purpose for existing was to remind me of how much I like Rosie O'Donnell, but here we are.
Most of us thought—no, assumed—that when we woke up on November 9, 2016, we'd be looking into the poised and confident face of the first female president. We stepped up! The powerful Hillary Clinton, a lifelong civil servant, politician, wife, mother, and former First Lady seemed to embody all the glorious elements of a modern leader. Instead, we arose to the sinister smirk of her opponent, the "dark horse." All we heard were our hearts drop over the deafening mic drop.
Even on my most insecure days, I've never projected the meekness that our President seems to base his politics on. An egomaniac with no political experience, questionable business ethics, and a crude moral compass, has been charged with running our big, beautiful, diverse, country. And while yes—the political landscape has forever been changed—it's time to step up.
Almost immediately after the election results were in (and the shock sort of wore off), the anger became palpable. Fighting back with marches, rallies and town hall meetings with hashtags like #notmypresident and #resist made it abundantly clear that the most vocal opponents, the most dedicated #resisters were WOMEN.
So, with powerful hearts and pussies, we began the fight. We grabbed back. We realized the power of our collective voices and awakened a sleeping, feminist giant. She's smart. She's beautiful. She's strong. She's pissed.
But it doesn't stop there.
Today, women will make another statement during the planned strike, "A Day Without a Woman," where—to quote the Women's March website, "women and our allies will act together for equity, justice and the human rights of women and all gender-oppressed people through a one-day demonstration of economic solidarity."
As women, we are used to (largely under-valued) hard work and little recognition. We're used to screaming to only be heard in a whisper. Now is our time to shine as leaders as we struggle for advancement, progress, and most importantly, equal rights. Under the glare of this new administration, these issues have taken on a more complicated, third dimension. Our advancements are in jeopardy because of President Trump's very small hands and an even smaller regard for facts and truths.
Trump has proven that he really can't take the heat in the White House kitchen. But, he won't get out of it, either. His ego won't let him. Removing him will be up to us. Despite the crushing, life-altering blow we suffered on November 8th, it's women who are organizing the resistance. Feminine power is boundless. Women can change the world. We already have...and we're not giving up now.
The march goes on.
Follow Marie Claire on Facebook for the latest celeb news, beauty tips, fascinating reads, livestream video, and more.
Celebrity news, beauty, fashion advice, and fascinating features, delivered straight to your inbox!
Actress and activist Alyssa Milano has been in the spotlight for most of her life. She chooses to shine that spotlight on causes that matter deeply to her. Her advancement of #MeToo sparked a viral movement of women fighting against sexual harassment and assault and she has been involved in Time's Up since its inception. In the wake of the mass shooting at Stoneman Douglas High School, Alyssa became one of the founders of NoRA, a coalition dedicated to combatting the NRA money in political campaigns so that common sense gun reform can be enacted. For 15 years, she has been a UNICEF National Ambassador. In 2016, she received their Spirit of Compassion Award for her dedication to their mission of advocating for the protection of children's rights, helping to meet their basic needs and expanding their opportunities to reach their full potential. She has lobbied members of congress for greater rights for immigrants as well as education reform and has been on the forefront of efforts to protect health coverage for all Americans. She continues to use her voice and platform to advocate for social justice, fairness and equality.