The Woman Who Wrote the 'Ghostbusters' Reboot on Being Trolled and Pressing On
Katie Dippold: 1. Trolls: 0.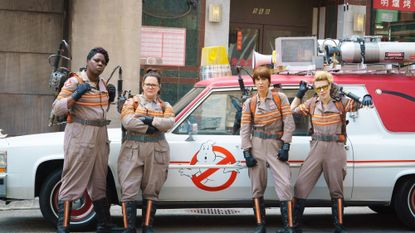 (Image credit: Columbia Pictures)
Marie Claire Newsletter
Celebrity news, beauty, fashion advice, and fascinating features, delivered straight to your inbox!
Thank you for signing up to Marie Claire. You will receive a verification email shortly.
There was a problem. Please refresh the page and try again.
Remember when it was "common knowledge" that women weren't funny? And remember how wonderful it was in 2011, when that bizarre, baseless "fact" was turned on its backwards head thanks to Bridesmaids—the movie that proved even men could laugh at a film that didn't just pass, but aced the Bechdel Test?
Bridesmaids paved the way for a new generation of female-driven comedies, with Pitch Perfect and The Heat coming out in 2012 and 2013, respectively. In fact, The Heat felt like a direct successor to Bridesmaids—not only did it star the film's breakout Melissa McCarthy, but it was also helmed by Bridesmaid director Paul Feig. But no one was more surprised by The Heat's status as heir apparent to the female comedy throne than writer Katie Dippold.
Dippold admits she didn't think Feig would be interested in another women-centric comedy so soon after Bridesmaids. "I assumed he would think, 'Well, Bridesmaids was my one female-driven comedy and now I'm done. I'm going to move back to male-driven comedies,'" she tells MarieClaire.com. "But, fortunately, that was not the case."
Flash-forward to 2015, when plans to reboot the Ghostbusters franchise with an all-female cast were announced and the hard-earned goodwill toward female-driven comedies seemed to evaporate instantly—as if destroyed by the heat of trolls lighting the internet on fire in protest.
Feig signed on to direct the film and he tapped Dippold to co-write the script. Sure, she expected some backlash as soon as she signed on—but not the kind that ended up plaguing the film. "To be honest, when Paul first brought it up to me, I was like, 'Oh god,' because I knew there would be backlash," she explains. "I thought when the movie came out, it was going to be really hard to hold up to the original."
What she didn't expect was for the backlash to begin before the movie was released—or even filming. "I knew it was going to be really hard when the movie was released, but I did not expect that to be the case prior," she says. "Like, I didn't think people were going to get upset immediately. That part surprised me."
The other surprising thing about the backlash? That it was directed at the cast, which was made up of four of the funniest humans working in entertainment today: Melissa McCarthy, Kristen Wiig, Leslie Jones, and Kate McKinnon.
"Those are four of comedy's powerhouses today," Dippold says. "To me, that's not like if I'm gonna pick a female Ghostbusters, here's who I pick. It's like if I were going to pick any Ghostbusters. I think those people are so goddamn funny."
While Dippold says she didn't personally face too much trolling (a fact she attributes to a sparse Twitter presence), she did have to contend with some of the backlash—and watch others fight the battle for her.
"That also put a lot of pressure on me," she says of the people who jumped to defend and support the film. "I would see these comedians who I really respect and admire tweet something in support of Ghostbusters, and it was so nice to see but then it also put this pressure on of like, 'Jesus I hope I don't disappoint them.' It was really nice, but then anytime someone tweeted something supportive I would see that they would get attacked."
The trolling and backlash didn't stop Dippold—or even slow her down, for that matter. In fact, she's followed up Ghostbusters with a project even closer to her heart: Snatched, which is inspired by her relationship with her own mom (so take that, lady-comedy-hating trolls).
Snatched stars Amy Schumer and Goldie Hawn—in her first film role in 15 (!!) years—as a daughter and mother whose trip to South America goes terribly, terribly wrong. Dippold was inspired by how her own mom changed after her divorce. As she noticed her becoming more and more cautious, she started to daydream about taking her on a trip to "snap her back to her fearless, adventurous self." And thus, Snatched was born. And in case you're wondering, Dippold did get feedback from the one critic who really matters—her mom, on whom Hawn's Linda is based.
RELATED STORIES
"I actually sent her the script like a draft very early on...just to check if there was any little detail or anything that she felt weird about, and she actually wrote back and proceeded to give me a note that had nothing to do with her character," Dippold says. "She was like, 'I didn't like the scene where Emily was washing herself off in the bathroom. I just felt like it was crude and Emily would never do that.'"
If you've seen the movie's red band trailer, then you know the scene in question made it into the final script (check it out in all its awkward glory at 1:24). So how did Dippold talk her mom into being okay with the "out of character" moment?
"I wrote back, 'You know what? You're totally right. Emily would never do that. I'll change it so Linda does it instead.' And she was like [gasps in horror]."
Well played, Dippold. Well played. Snatched opens in theaters May 12, just in time for Mother's Day weekend—if you and your mom are into that kind of thing.
Follow Marie Claire on Facebook for the latest celeb news, beauty tips, fascinating reads, livestream video, and more.
Celebrity news, beauty, fashion advice, and fascinating features, delivered straight to your inbox!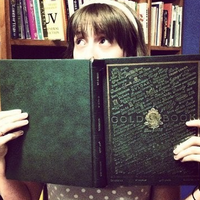 Kayleigh Roberts is a freelance writer and editor with more than 10 years of professional experience. Her byline has appeared in Marie Claire, Cosmopolitan, ELLE, Harper's Bazaar, The Atlantic, Allure, Entertainment Weekly, MTV, Bustle, Refinery29, Girls' Life Magazine, Just Jared, and Tiger Beat, among other publications. She's a graduate of the Medill School of Journalism at Northwestern University.