'Ghostbusters' Earns $3.4 Million on Its First Night in Theaters
This should quiet all those dumb critics.
Coming nearly 30 years after the original franchise, the all-female Ghostbusters reboot has been met with both enthusiasm (because, c'mon, I mean how could you not be excited about Kristen Wiig, Melissa McCarthy, Kate McKinnon and Leslie Jones—and Chris Hemsworth—all on-screen together??) and criticism from sexist idiots calling it a "money grab" that "ruined their childhood." 😐
But joke's on them. The box office doesn't lie. The film hit theaters on Thursday night, raking in $3.4 million on opening night alone. Sony's studio execs expect the opening weekend earnings to clock in around $38-40 million, but box office experts are predicting a higher total in the range of $45-50 million,Variety reports.
Plus, Ghostbusters is now ranked as online ticketing service Fandango's top pre-selling live-action comedy of the year, outdoing Central Intelligence and Ride Along 2, both of which debuted with over $35 million in box office sales.
According to Variety, "that would make "Ghostbusters" the biggest live-action comedy opening since "Pitch Perfect 2" opened in May, 2015, with a stunning $69 million."
How's that for a cash grab? Bye, haters. 👋
Celebrity news, beauty, fashion advice, and fascinating features, delivered straight to your inbox!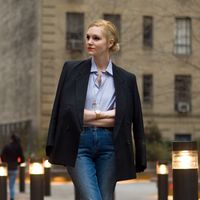 I am an experienced editor, writer, and creative strategist, specializing in fashion, beauty, and lifestyle content for digital media outlets, as well as video and social platforms. While I currently operate as a freelance contributor/consultant, with such clients as The Zoe Report, my 10+-year background in the industry was cultivated at the dot-coms of elite publications, including Harper's BAZAAR, ELLE, and Marie Claire.