"Women Really Are the Protectors": Adrian Grenier on His Environmental Heroes
And his own impressive work to save the planet.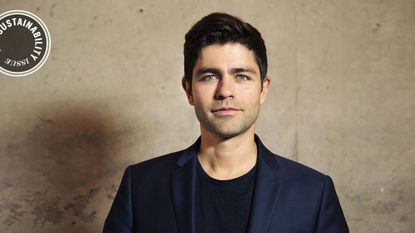 (Image credit: Archives)
From marine pollution to overfishing to acidification, actor and environmental activist Adrian Grenier is combating threats to our oceans through his Lonely Whale Foundation. Here, a candid chat from our sustainability issue, on newsstands now.
Marie Claire: What is the most important thing people can do to help the planet?
Adrian Grenier: Find a partner, commit to taking action, and hold each other accountable. Helping our planet is not a one-person or one-country job; we need to be good partners and good neighbors to one another. Routine, measurable, and collective actions both small and large will make an impact.
MC: How do you practice sustainability in your own life?
AG: For one, I've promised to #StopSucking...on single-use plastic straws! Did you know we use 500 million of them every day just in the U.S.?! Plastic straws can end up in our ocean, harming sea life and polluting our water. So take the challenge, and challenge your friends to #StopSucking, too! Check out strawlessocean.org.
MC: What is your wish list for the planet?
AG: My wish list is pretty short. I wish that we had empathy. As a society, we are so wrapped up in our own artificial creations that we have become disconnected from one another and the wonder of our natural world. I truly believe that empathy is the key to solving the majority of our environmental and social problems.
MC: What is something another country does that we can learn from?
AG: I'm excited to say that there are many countries leading by example with positive environmental promises. In March, as part of the UNEP's [United Nations Environment Programme] Clean Seas campaign, Kenya announced that by the end of August, it will ban the creation and import of plastic bags. Bali has pledged to do the same, thanks to the leadership of Melati and Isabel Wijsen, two teenage sisters who created Bye Bye Plastic Bags. These are important examples of both citizen action and cross-border collaboration—both critical to facilitate change!
MC: What encourages you about work being done in this area?
AG: This past June at the UN's Ocean Conference, I met children from UNESCO World Heritage Sites around the world. These kids, who were anywhere from 7 to 17 years old, are the next generation of environmental leaders. Listening to their ideas on how we could tackle single-use plastics, overfishing, and the big one, climate change, was inspiring. I think we're in good hands with these bright young minds leading us adults into a brighter future!
MC: Who are your environmental heroes?
AG: Rachel Carson, Jane Goodall, Sylvia Earle, Alice Waters, and, of course, my mother! Just to name a few. I guess for me, women really are the protectors of our Mother Earth.
MC: Proudest moment of your foundation?
AG: This World Environment Day, I was designated as a UN Environment Goodwill Ambassador. But my appointment wasn't due to my solitary accomplishments; it was due to the actions and community that, together with my team, I have helped cultivate through the Lonely Whale Foundation. Hearing Lonely Whale Foundation's name echo alongside mine throughout the United Nations was one of my proudest moments.
MC: What is an experience you've had in your activism that you wish people could have seen?
AG: Last summer, while I was swim-training off the coast of New York, I got tangled in a birthday balloon. It was a visceral and startling reminder that one fleeting moment of joy on land (ironically one celebrating life) has deadly repercussions at sea. Balloons are plastic, which means they do not biodegrade. Instead, if they end up in the ocean, balloons tangle and can even kill sea life if accidentally eaten. For me, getting trapped by plastic was a pivotal point in my personal commitment to raise awareness around single-use plastics. So when I swam the Strait of Messina last fall with Richard Branson, I swam it with that same birthday balloon tied around my neck as a symbol of the careless plastic pollution humans create that is choking our oceans.
RELATED STORIES
MC: What keeps you going in this fight?
AG: My partners. Like I said, we need one another in this fight for change. Without my partners—friends, family, and colleagues across the globe—I could not do this work. We can't be naive and think we can go it alone; we must humble ourselves and commit to routine and collective actions. This is just one reason why I am thrilled to be working with the UN Environment as its Goodwill Ambassador.
MC: What is your favorite place on Earth?
AG: That's a tough one. If I had to choose just one place, I'd have to say my mom's house in Quogue, New York. It's close to those I love and the beach. Win-win.
Follow @AdrianGrenier and @LonelyWhale. This article appears in the August issue of Marie Claire, on newsstands July 18.
Join Marie Claire and the Natural Resources Defense Council to protect the planet—donate now at hearstforhumanity.com/mceco.
Celebrity news, beauty, fashion advice, and fascinating features, delivered straight to your inbox!