Miroslava Duma on the Biggest Sustainability Problems Facing the Fashion Industry
The guest editor for our first-ever sustainability issue sits down for a candid chat with Nina Garcia.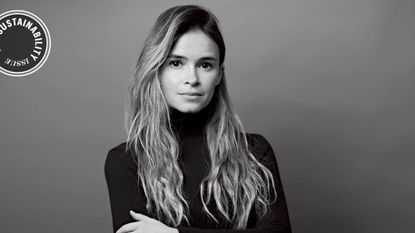 (Image credit: INHO KO)
August 2017 marks Marie Claire's inaugural sustainability issue, an entire magazine dedicated to the environmental causes we care about most. Here, creative director Nina Garcia sits down with dear friend and fellow tech geek Miroslava Duma to discuss Fashion Tech Lab, her new venture set on bringing sustainable innovation to the fashion industry.
Nina Garcia: I know you've been concerned about the environment since childhood. What made you start thinking about this?
Miroslava Duma: I was born in Siberia, which supplies nearly 80 percent of Russia's oil and natural gas resources, so I've always been aware of how big a pollutant that industry is. But it was a huge wake-up call to learn that the fashion industry is the second-largest polluter after oil.
NG: And now you've decided to launch Fashion Tech Lab (FTL) to make a difference. Why?
MD: I've been following what Elon Musk has done with Tesla in the renewable-energy space and disrupting the automotive industry. I wanted to find a similar way to create change within my industry. FTL bridges fashion and technology to help bring sustainable innovation out of labs, studios, and garages, and into the hands of consumers.
NG: How is technology making sustainability more possible?
MD: There are so many promising things happening. Scientists can create leather out of things like grapes [using the wasted skins and stems from winemaking] and mushrooms [toxin-free and similar in texture to suede]. An initiative called Orange Fiber makes sustainable textiles out of 700,000 tons of citrus by-products discarded in Italy every year. We're also working with a company that developed a way to grow cruelty-free leather and fur using biotechnology to produce compounds naturally found in animal skin.
NG: Besides technological advancements, why have this conversation now?
MD: A third of Millennials say they're more likely to buy from companies that are mindful of social responsibilities. The consumer's mind-set has changed so much that now, fashion has to become more sustainable in order to stay relevant.
NG: How do you lift the stigma surrounding sustainability and make it a more appealing subject?
MD: Sustainability shouldn't be a blame game. The conversation needs to be positive, and the approach should be solutions-driven. Instead of shaming companies about not making more of an effort, we should champion every little step they're taking in the right direction. We shouldn't say, "Well, you're not doing enough." We should say, "OK, great. Every little bit counts. Let's continue moving in that direction."
NG: Of course it helps if it's good for business as well.
MD: Definitely. The fashion industry is all about storytelling and craftsmanship. Sustainability adds value because it makes that backstory even more impactful.
RELATED STORY
Can the Fashion Industry Help Save the Planet?
NG: Can the industry ever be 100 percent sustainable?
MD: Nothing can be 100 percent sustainable, but every effort makes an impact. I love seeing companies like H&M commit to using 100 percent sustainably sourced materials by 2030 and to offsetting all greenhouse-gas emissions by 2040.
NG: What are the biggest problems we're facing in the industry—and some of the potential solutions?
MD: More than 21 billion pounds of clothing gets thrown away annually and ends up in landfills. One solution is upcycling— turning discarded scrap fabric into new product. It eliminates textile waste and reduces the use of color dyes and virgin resources. Seventy million pounds of chemical dye is used globally to color the clothes that we wear, which requires massive amounts of water [according to the World Wildlife Fund, jeans and a T-shirt alone can use more than 5,300 gallons!]. Alternative solutions like waterless dyes save water by applying pure dye on its own with no chemical additives.
NG: What besides your work with FTL do you do to be more eco-friendly?
MD: I'm conscious of making sure my children's lives are as free of toxic chemicals as possible. It's why I launched The Tot, a one-stop shop for nontoxic, eco-friendly products. I'm also a vegetarian!
NG: What will we be talking about a year from now?
MD: Nanotech, robotics, AI, self-driving vehicles, quantum computing, gene sequencing...the fourth industrial revolution is coming!
This article appears in the August issue of Marie Claire, on newsstands July 18.
Join Marie Claire and the Natural Resources Defense Council to protect the planet—donate now at hearstforhumanity.com/mceco.
Marie Claire email subscribers get intel on fashion and beauty trends, hot-off-the-press celebrity news, and more. Sign up here.