Angelina Jolie Visits Marie Claire for an Exclusive Screening of In the Land of Blood and Honey
Angelina Jolie dropped by our offices to celebrate her directorial debut, along with her inspiring cast of Bosnian actresses.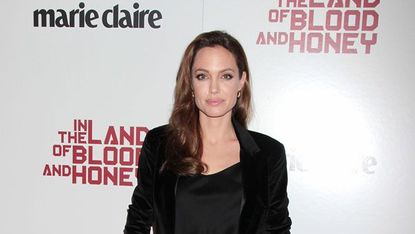 (Image credit: Archives)
Last night, the entire Marie Claire staff was rendered starstruck when our indescribably gorgeous January 2012 cover girl Angelina Jolie visited the Hearst Tower for a private screening of her new film, In the Land of Blood and Honey. The Academy Award-winning actress stepped behind the lens for this project — which will be released nationwide on December 23 — making her debut as a director, writer, and producer.
The powerful wartime drama is not for the faint of heart: It depicts the Bosnian War of the early '90s with harrowing accuracy, complete with mass murders, rape, labor camps, and — believe it or not — a love story between a Serbian solider and a Bosnian woman he is holding captive. Jolie directed a cast of beautiful Bosnian actresses, many of whom lived through the war. Although In the Land of Blood and Honey has its share of heartbreaking moments that are difficult to watch, it's incredibly inspiring. Jolie's hope in creating a film so true to life is to help ensure that something like the Bosnian War never happens again, and as usual, we're sure that this project by the United Nations-certified activist will make a huge impact.
Above: Angelina Jolie with the cast of In the Land of Blood and Honey and our EIC Joanna Coles.