45 Rare Photos of Queen Elizabeth Through the Years
One thing is clear: The woman loves her corgis.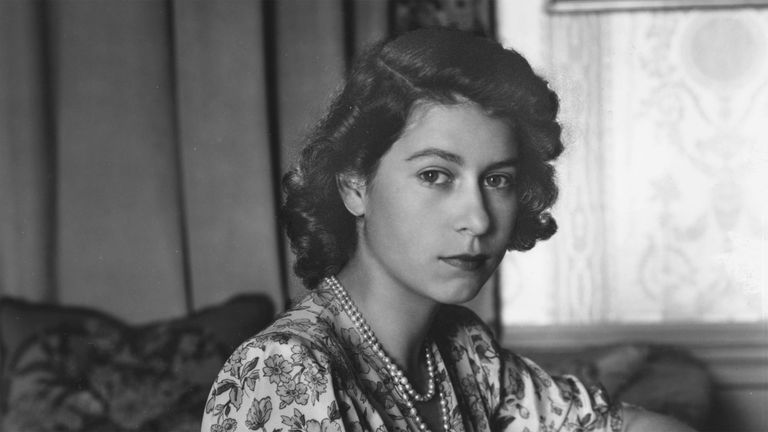 (Image credit: Getty Images/Lisa Sheridan)
In September 2015, Queen Elizabeth II became the longest-ruling monarch in Great Britain's history, surpassing her great-grandmother Queen Victoria's record rule of 63 years. To celebrate, the royal family presented an exhibit of photos at The Royal Collection Trust of the then-89-year-old Queen to commemorate her reign. Now, we're doing the same in honor of her upcoming 94th birthday. Ahead, take a walk down memory lane and see how a young Elizabeth made her mark from the start.
1/45
The Little Princess
Even at age one, Princess Elizabeth knew how to pose perfectly and wave to the crowds.
2/45
Baby Photos
Who would've guessed little Elizabeth could have given Shirley Temple a run for her money?
3/45
All Smiles
Princess Elizabeth cheerily poses for the camera in 1930.
4/45
Princess Dresses
The princess sitting pretty in dress fit for a (future) queen.
5/45
Her Favorite Dog Breed
Of course, being a royal isn't all about wearing pretty dresses and posing for photos—it's also about cuddling with the royal corgis.
6/45
Lap Dogs
Just try not to smile at another sweet image of Princess Elizabeth with her pet corgis Jane and Dookie.
7/45
Sister-Sister
Princess Elizabeth and her sister Princess Margaret dress up as Cinderella and Prince Charming during a royal pantomime at Windsor Castle.
8/45
Flower Child
The future queen stands in front of her playhouse given to her by the people of Wales.
9/45
Say Cheese
The princesses pose for a family portrait with their mother, Queen Elizabeth I.
10/45
Picture Perfect
Here, the princesses work on paintings in the school room of Buckingham Palace.
11/45
Pony Up
Princess Elizabeth with her one of her horses.
12/45
Mother-Daughter
Queen Elizabeth, wife of King George VI of England, poses with her daughter Princess Elizabeth.
13/45
Royal Pets
Princess Elizabeth (right) and Princess Margaret play with another one of their unconventional pets, a chameleon.
14/45
Hanging With the Girls
The sisters with the girl guides (the U.K.'s equivalent to Girl Scouts) in April of 1942.
15/45
Teen Royals
Can Buckingham Palace send its hairstylists our way?
16/45
A Queen's Best Friend
Nearly 20 years later, Queen Elizabeth poses alongside one of her beloved corgis yet again.
17/45
All Smiles
Queen Elizabeth flashes her pearly whites while attending an event at Tivoli Theatre.
18/45
Elizabeth and Philip's Official Engagement
They announced their engagement in July 1947. Just look how sweetly he looked at her!
19/45
Meet the Family
Princess Elizabeth with her fiance Philip alongside her sister Margaret in the White Drawing Room of Buckingham Palace.
20/45
I Do
On November 20, 1947, Princess Elizabeth and Prince Philip, Duke of Edinburgh, wed at Buckingham Palace.
21/45
The Honeymoon
Princess Elizabeth and her husband Prince Philip, Duke of Edinburgh during their honeymoon in Malta, where he is stationed with the Royal Navy.
22/45
Wedding Album
Princess Elizabeth and her husband study their wedding photographs.
23/45
First Born
Princess Elizabeth with her son, Prince Charles of Edinburgh, after his christening
24/45
Parents Night Out
The new parents attend a Charity Ball at the Dorchester Hotel.
25/45
Starter Family
Princess Elizabeth alongside her husband with their children Prince Charles and Princess Anne.
26/45
Royal Family
The young royal family outside of Balmoral Castle in the fall of 1952.
27/45
The Little Prince
Prince Charles and his mother look out the window of Balmoral Castle that same fall of 1952.
28/45
Play Date
Princess Elizabeth watches her son play in his shiny toy car while at the castle.
29/45
Family Time
QE2 with Princess Anne and Prince Charles on Charles' fourth birthday.
30/45
The Beginning of Her Reign
After King George VI died, Elizabeth acceded the throne and became the wise, stoic, graceful Queen we know her as today.
31/45
The Crown
On June 2, 1953, Her Majesty donned the three-pound Imperial State Crown for the Queen's Coronation Day at Buckingham Palace.
32/45
The Queen's Speech
Queen Elizabeth II smiling towards Prince Philip just before the end of her first Christmas Day television speech to her nation.
33/45
Happy Birthday to You
Queen Elizabeth, Prince Philip, and their children at Windsor on the Queen's 39th birthday.
34/45
Scouts Honor
Queen Elizabeth greets the boy scouts at a gala.
35/45
Glamour Shot
An official portrait of Queen Elizabeth II.
36/45
Road Trip
Queen Elizabeth II and Prince Philip with a young Prince Charles leaving Euston Station after traveling overnight from Aberdee.
37/45
All Dolled Up
Queen Elizabeth II leaves a State Reception in Germany wearing the Jubilee Necklace and a diamond bow brooch with a pearl drop inherited from Queen Mary.
38/45
Variety Show
Queen Elizabeth II, with her escort Lord Bernard Delfont, attending the Royal Variety Performance at the London Palladium.
39/45
Garden Party
Queen Elizabeth II at the garden party in the grounds of the Royal Hospital, Chelsea, London, in connection with the 50th anniversary of the Women's Services.
40/45
Riding In Style
Queen Elizabeth II and Prince Philip attend a service for the Order of St. Michael and St. George at St. Paul's Cathedral, London. The Queen is wearing the Star of the Order, which bears the motto "Auspicium Melioris Aevi."
41/45
Night On The Town
Queen Elizabeth II is a multi-color vision as she attends the Royal Variety Performance at the Birmingham Hippodrome.
42/45
Luck Be a Lady
Queen Elizabeth II crosses her fingers as she watches her horse, "Ring of Truth," run in the Al Basti Equiworld EBF Stallions Maiden Stakes during the Dubai Duty Free Spring Trials Meeting at Newbury Racecourse.
43/45
Polo Club
The Queen presents Prince Harry with a gift at the Charity Polo Match in Windsor.
44/45
Rainy Day
Queen Elizabeth II ducks from the rain while attending a Christmas Day church service at Sandringham.
45/45
Royal Fashions
Queen Elizabeth II sits next to Anna Wintour at Richard Quinn's runway show during London Fashion Week.
•••
For more stories like this, including celebrity news, beauty and fashion advice, savvy political commentary, and fascinating features, sign up for the Marie Claire newsletter.
Sara Holzman is the Style Editor at Marie Claire, covering runway trends and tracking down the latest finds to buy and wear. When she's not writing about fashion, she pens about the best places to jet-off to.