Live Blog: Project Runway, Episode 7
Get up-to-the-minute recaps of what's happening on the second episode of Season 8!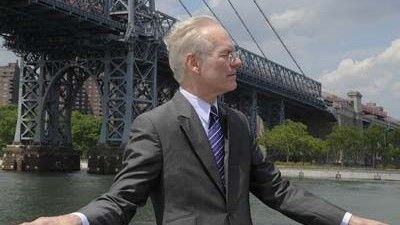 (Image credit: Barbara Nitke/Lifetime Television)
We're down to 10 designers, and everyone's favorite scapegoat, Michael Costello, has a pretty little thing called immunity. As the super-secret PR Fashion Week finale runway show went down this morning, we get to watch 'em sweat tonight! Follow along right here as we live blog it all! (Don't worry, no finale spoilers.)
9:01 p.m. Here we go. The Peach is out and the designer pool is getting smaller and smaller. Now all four female designers are living in one apartment and Michael C. is not feeling any love, even after his impressive bridesmaid dress win.
9:08 p.m. Michael Kors is on board tonight to present a very "Michael Kors" challenge: resort wear. Egos are already flying high, with the exception of Mondo who says his idea of resort wear is chilling in his tighty whiteys. Michael D. remind us that no matter what, he has "to stay true to himself."
9:12 p.m. Tim comes in with a bag and as Valerie says, "when Tim come in with a bag — it's trouble." Casanova declares he's scared. We're left with a cliffhanger at commercial.
9:18 p.m. Tim announces that the designers will be paired up in to teams: one person will act as the designer and the other will execute it. Mondo is paired with Michael C. Mondo makes it clear that he doesn't respect Michael as a designer and proceeds to verbally lambast him one on one.
9:30 p.m. Michael C. has semi-breakdown over the fact that his fellow designers keeping telling him he sucks, then, unexpectedly, Mondo tells us he misjudged Michael and recognizes that he was acting like a "dick," right before Michael Kors comes in to inspect the designers work while tossing out positive advice.
9:35 p.m. Whoa, Gretchen seriously needs to chill out with her superior attitude towards her fellow designers.
9:38 p.m. Valerie has an emotional phone call with her family making us wonder if she's on her way out, or on her way to a win.
9:43 p.m. The teams are really starting to come together. Michael C. and Mondo, as well as Christopher and April, are really working well together and have the beginnings of great looks.
9:49 p.m. Tim comes in to announce that the designers that created the looks may now take over their outfits from their partners; a frenzy of last minutes fixes ensues. The runway show is only minutes away.
9:53 p.m. Heidi introduces guest judge Kristen Bell and the show starts. There are some amazing looks on the runway tonight, except for Mondo's, which looks like Malibu Barbie, and some poor construction by Ivy.
10:08 p.m. Some of the shows underdogs have made it into the top three tonight, with some very worthy designs. April's long babydoll and tailored shorts get high praise, as do Andy and Michael D.'s looks, all very trendy, wearable and well made. Michael D. compliments Ivy in her role as partner. In return she rips on his skills. Not cool.
10:15 p.m. After the bottom three, Mondo, Ivy and Casanova, take the stage, Mondo and Michael C. praise each other and their experience together. Ivy then tears into Michael D. Suddenly, Michael C. comes to Michael D.'s defense, saying that, based on past experience, the only thing worse than Ivy's design is working with her.
10:18 p.m. Casanova explains his look and it looks like no one has any idea what he's saying.
10:19 p.m. The judges deliberate as the contestants sweat it out backstage — did the camera just pan over Mondo and Michael C. cuddling?
10:23 p.m. April secures her first win and, finally, the bottom three file onto the runway to to hear the judges' verdict.
10:27 p.m. Ivy is excused from the runway with a stern warning and Casanova is sent home. His goodbye scene seems like one of the longest in Project Runway history, and Tim looks more than just a little upset. Well, that's it for tonight boys and girls — a neophyte winner and a particularly sad elimination — see you next week!
Tell Marie Claire: What do you think of the ep so far? Share your thoughts in the Comments section below!
Previous Recaps:
For More: