Mondo Guerra: What It's Really Like to Return to the Runway
The "Project Runway All Stars" designer also dishes on his favorite competitors and having MC editrix Joanna Coles as a mentor.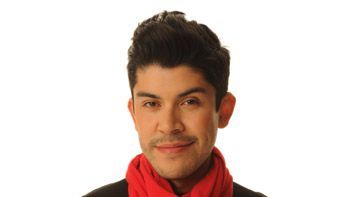 (Image credit: Archives)
It was the auf heard 'round the world. But a year has passed since Mondo Guerra came in second place to Gretchen Jones in the Project Runway Season 8 finale episode, and he's definitely not had to say his goodbyes. Since losing the grand prize, he's won millions of fans and — more importantly for him — supporters in his campaign, "Living Positive by Design," to create a real conversation about life with HIV.
Just last week, Mondo did something that would never have been possible if not for his compelling turn on the reality show circuit: He spoke at the nation's largest HIV meetup, the United States Conference on AIDS in Chicago.
We spoke to the designer while he was in the thick of the convention center craziness to find out what else he's been up to … and how his turn on Project Runway All Stars, well, turned out.
You, along with other speakers — including Elton John's partner David Furnish — took the stage last week. What was your message?
I gave a speech at the preliminary session on behalf of Merck and my HIV education program, "Living Positive by Design," and delivered a simple message of continuing to have a positive outlook on life and the importance of communicating with your doctors to manage the disease effectively. The treatments are having us live longer — we're going to be living a lot longer with this disease … and with battling the stigma. That's why I'm so passionate about this. On the show, I revealed I'd been HIV-positive for 10 years, and the response has been so positive.
So often, people are defined by their disease. Do you think people identify you more as a designer or as someone with HIV? How do you handle being labeled?
If you would have asked me two years ago, I would have said, "Yes, I am HIV-positive." Now, I don't let it define who I am. I'm living with HIV. I'm not HIV-positive. It's me, the creator. It's me, the designer.
Perhaps the best example of that was when you used your own plus-sign pattern for pants in your most memorable challenge. Do you think you can ever top that?
I'm a firm believer in everything happens for a reason. Looking down at that pair of pants on the runway, I thought to myself, "If I'm standing up on the stage denying myself, I might as well go home." And now, it's a very recognizable textile that a lot of people ask about — it's joyful, beautiful. It may come up in other designs.
Not long after Season 8 wrapped, you returned to Project Runway to compete in All Stars, which pitted you against 12 other fan favorites. Why'd you decide to go back so soon?
I wanted a second chance. I think that's where I got caught up in doing it. But when I got there, I realized I was here just two months ago! Like, "What am I doing to myself?!" Reality sunk in: Now, everybody in the game knows what's to be expected. Everyone is extremely talented times a million, so it was tough. I mean, I wasn't emotionally or creatively prepared the first time around. The second time? It was no different.
Well, what did you hope to accomplish this time around?
I wanted to expand on my design. I was really trying to do new silhouettes and use unexpected fabrics that were out of my own comfort zone. The last thing I wanted was to go in doing the same thing I'd shown before.
Any spoilers for us fans who can't wait until it airs in January?
The challenges were designed to really make the designers work hard. You know how in the regular season, there'll be a challenge where the audience thinks, "This is so simple." You won't see any challenges that are easy.
And who were your Survivor-style allies this time around?
I love Michael Costello. He was on my season, and we became best friends. We still text every day. Our boyfriends are jealous of our friendship. We're basically dating! Ha, I'd totally date him at some point!
Who surprised you most?
Mila Hermanovski. Coming off her season, people said she was so frigid and cold. Honestly, I found her to be very mature and honest not only in her demeanor but in her design work. I was impressed.
We have to ask: Our boss, Marie Claire editor-in-chief Joanna Coles is the "Tim Gunn" mentor of All Stars. What did you really think of her? (We won't tell, we swear.)
She was amazing. It was very different having that coming from a female point of view. I've always felt more comfortable with women. Going back on the show was truly a gift, but it was bad timing: I broke up with my best friend of 12 years the day before, and Joanna played the role of a therapist for me. She's great at what she does. She's very honest and has so much passion. She was a person I could depend on to vent to.
Now that we're in a dishing mood, what did you think of the Season 9 winner, Anya?
I had the honor of being on the casting panel for that season, and when I saw Anya in Miami, I thought she brought fresh ideas to the table. But, honestly, her final collection was disappointing to me.
Let me guess: You loved fellow bowtie-wearing Viktor?
I loved Viktor! He was a triple threat: Funny, talented, and good-looking. He reminded me of me! Seriously, he knew how to design. I thought they all did very well and spoke volumes in their points of view.
You're still getting comments from fans saying, "You should have won!" "You were robbed!" How are you handling it one year later?
I've forgiven the judges. Except Michael Kors… Kidding!
Celebrity news, beauty, fashion advice, and fascinating features, delivered straight to your inbox!