Prince Harry Says He "Always Felt Different" from the Rest of the Royal Family
He also said that his mother, Princess Diana, felt the same about herself.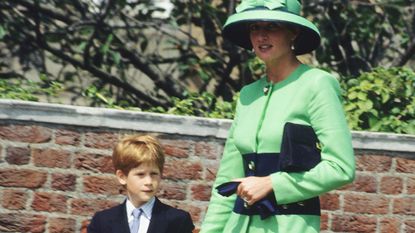 (Image credit: Getty)
As he continues to promote his memoir, Spare—the fastest-selling nonfiction book of all time—Prince Harry sat down yesterday for a virtual book event with Dr. Gabor Maté, an expert specializing in trauma, addiction, stress, and childhood development. Sitting across from one another in front of a fireplace, the two "discussed living with loss and the importance of personal healing," People reports. "Harry brought up how he related to his mother, Princess Diana, over feelings of not fitting in with the rest of the royal family."
Harry told Maté in the 90-minute chat that he "always felt different" from his family, and he knew his mother felt the same.
"Certainly throughout my life, throughout my younger years, I always felt slightly different to the rest of my family," Harry said. "I felt strange being in this container, and I know that my mum felt the same. It makes sense to me—it didn't make sense at the time—I felt as though my body was in there, but my head was out, but sometimes it was vice-versa. The times that I ventured towards being myself, being my authentic true self, whether it was through media or family or whatever it was, it was almost like 'Don't be yourself, come back to what you're expected to be,' if that makes sense."
He also spoke with Maté about his time in therapy, saying "a lot of families are complicated, a lot of families are dysfunctional, but for me, when I was doing therapy regularly…I felt that I learned a new language." Harry added that other members of his family "didn't speak that language": "This is working for me and I'm starting to go back to the point of trauma and unpack everything so I can be truly happy," he said. "But at the same time, I'm feeling more and more distant from my loved ones and my family."
Harry also shared that writing Spare was a release for him, telling Maté "I really hope, and I hoped right from the beginning, when I turned around to the people that were helping me write this book, I said 'I want this to be an act of service.' It needs to be, because I know how important it is, because you're almost giving permission for people to talk about their own stuff, and be their own selves, and society doesn't really help us. And I would say even more so within my family, because of the expectations and because of how you're cast as individuals."
Harry said he had "an incredible childhood, elements of it, and elements of it were incredibly painful"—specifically the lack of physical contact from members of the royal family, which he is reversing for his own children.
"It leaves me in the position how, as a father, I have two kids of my own, making sure that I smother them with love and affection," Harry said, per People. "But in the sense that I as a father feel a huge responsibility to ensure that I don't pass on any traumas or negative experiences I've had. And that's work, that's putting in the work, and daily being conscious of my behavior, of my reactions to both of my kids. And there are times when I catch myself in a moment when I should be smothering them with that love and in that moment, I might not be, reminding myself [to]. I wouldn't have been as aware of it had I not done the therapy and work that I've done."
Contributing Royal Editor
Rachel Burchfield is a writer whose primary interests are fashion and beauty, society and culture, and, most especially, the British Royal Family. In addition to serving as the royal editor at Marie Claire, she has worked with publications like Vogue, Vanity Fair, ELLE, Harper's Bazaar, and more. She cohosts Podcast Royal, a show that provides candid commentary on the biggest royal family headlines and offers segments on fashion, beauty, health and wellness, and lifestyle.