Chris Lowell Strikes Gold with His Directorial Debut: Beside Still Waters
Make the next film you see this one.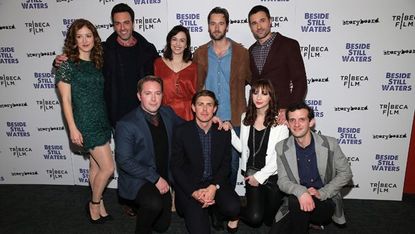 (Image credit: Archives)
It's hard to discern whether this film or the making of it is the better time. In an intimate screening this week in New York all eight title actors and director, Chris Lowell, met up and drank whiskey—sometimes followed by a slap across the face—premiered the film (while drinking) and partied until dawn. The premise of the movie, at cursory glance, could be misidentified as a hackneyed plot—weekend reunion of high school friends brought back together decades later by a life event (read The Big Chill). But that would be a mistake. What Lowell does so brilliantly is give us a group of people who are so relatable, so likable, and just damn hilarious that they are so believably their characters on screen—that it feels not scripted but real. In fact, Lowell even asserts that at times while filming, "It was not uncommon to find any of the actors naked, swimming in the lake at any given point, drinking, playing whiskey slaps, dancing…it was art imitating life imitating art."
When has any other film ever required eight young, gorgeous, fun, talented actors to spend four weeks in the summer together at a lake house in upstate Michigan—away from everything? The cast's chemistry is the film's genius. And they sure as hell had a good time making it…
Brett Dalton (Agents of S.H.I.E.L.D.): All of the stuff that you see [on screen] is, genuine. I mean we're all still friends. We just had a little get together before hand.
MC: You pre-gamed for the premiere?
BD: Ya exactly.
Reid Scott (Veep): It was playtime for nine adults. Some skinny-dipping, lot of drinking, lot of fun.
Beck Bennett (SNL): It was a blast. On the weekends we had a lot of fun—we hung out at the house that we shot in and basically did everything that our characters did. There was one night where some people did black-flips off the dock with fire-works in their mouths like shooting off. That was a crazy night.
So dangerous. So dumb.
Jessy Hodges: Oh my god, it was a dream. This movie is what I wish life was like.
Erin Darke: It was amazing. It was like your best vacation only we also were making a movie. There's a scene in the film where Will's character, who plays my husband, wears a Sister Hazel T-shirt. So we got into singing Sister Hazel's "All For You," between takes or before takes or swimming in the lake at night. I think they could do an entire 30minute short film just of the cast singing Sister Hazel.
Will Brill: It was unbelievable. It was like nothing else I've ever done in my life.
Britt Lower: It was sort of like being at summer camp. We'd have big group dinners. Certainly whiskey slaps; those would happen more on the weekends.
Ryan Eggold (The Blacklist): Very fun time to shoot. I'm sure everybody's already told you all the craziness that happened.
MC: Skinny-dipping, back flipping of docks, whiskey slaps.
RE: Ya—you've got the deal.
Image via Getty