10 Themed Holiday Party Ideas You Haven't Thought Of
Wow your friends with one of these inventive party ideas, which – with a little planning – are surprisingly easy to pull off.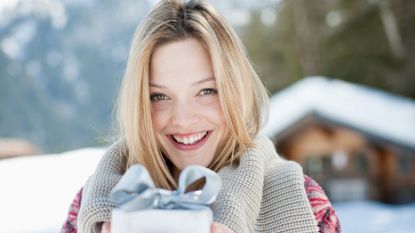 (Image credit: Tom Merton)
Sure, you could host a White Elephant gift exchange like you did last year (and the year before). Or, you could wow your friends with one of these inventive party ideas, which – with a little planning – are surprisingly easy to pull off.
1. Holiday Movie Marathon
Outdoor films are one of the best things about summer. Don't let the cold weather stop you: Find a blank wall, cheap projector (opens in new tab) (you can rent one, too), and host a screening of your favorite holiday flicks (opens in new tab). Serve fresh popcorn sprinkled with seasonings and fizzy drinks in festive cups. If you live somewhere warm, keep it an outdoor affair and make it BYOB (bring your own blankets).
2. 'Twas the Nightcap Before Christmas Party
Make your party the last (and most awesome) stop of the night. Start at around 9 or 10 p.m. and go till the wee hours, serving flights of traditional holiday drinks like eggnog or spiced hot cocoa. In between toasts, play untraditional games like Cards Against Humanity (opens in new tab).
3. Winter Triathalon
You're really a kid at heart – and so is everyone else. Gather the troops for a bunch of old-fashioned, winter outdoor activities like snowman-building, ice skating, sledding, and snowball fights. Make your place into a cozy "ski lodge" where everyone can gather before and after playtime and reward them with hot drinks, blankets, and bites.
4. Laid-Back Santacon
Each December, thousands of costumed revelers descend upon New York City for a "charitable, non-commercial, non-political, nonsensical Santa Claus convention." (opens in new tab) Host your own little Santacon (opens in new tab) by crowning guests with Santa hats upon arrival (some online novelty stores sell them in affordable packs (opens in new tab)), handing out seasonal treats, and setting up a gift donation station so you can give back to charity when the partying is done.
5. Family Recipe Potluck
Who said you have to do all the cooking? Make it a collaborative effort by hosting potluck in which everyone brings a dish made from a family or favorite recipe. Ask guests to send you their recipes ahead of time – you can print them as "cookbooks" (opens in new tab) or upload them onto customized flash drives (opens in new tab) everyone can take home as party favors.
6. Holiday Cheer Pong Tournament
Host a brunch accompanied by a fun game everyone can enjoy (even kids). Pour a different holiday-inspired drink each round – think non-alcoholic apple pie cider (opens in new tab) and cranberry sparkling soda (opens in new tab) – in token red cups, of course. Extra points if you use festive ping pong balls (opens in new tab).
7. Decade-Themed Secret Santa
Pick a decade (the '60s through '90s are safe bets) and challenge guests to bring only gifts that were made during or allude to that era. You can coordinate the exchange the old-school way by having everyone draw names out of a hat ahead of time, or you can use an online Secret Santa party organizer (opens in new tab).
8. Camp Winterwonka
Think Wet Hot American Summer (opens in new tab) at the North Pole. This party requires costumes, so make sure your guest list includes friends who are willing to brave the cold in summer camp-inspired gear. To document the event, create a photo "booth" by hand-painting a wintry camp scene on butcher paper (or buy a designed wall decal from Blik (opens in new tab)) and hand out props like life vests and counselor whistles for people to pose with. Serve camp-y treats with a holiday angle, like peppermint hot chocolate and s'mores, while you tell stories around a virtual campfire (opens in new tab).
9. Gingerbread House Throwdown
If your friends are extra crafty, challenge them to a gingerbread house-making competition. They can team up or enter individually – the only rules are that they use only the materials provided at the party (you can assign materials for guests to bring to spread out cost) and work within a specific time frame (say, 45 minutes). Whoever wins gets a prize.
10. Merry Mafia Party
Never played the Mafia game (opens in new tab)? 'Tis the season to start. Have guests dress up in vintage "mafia" attire with holiday touches (check out this list (opens in new tab) of mafia movies for inspiration). Kick off the night with light bites and cocktails, and then let the game begin.