20 Nerdy/Cool Things You Didn't Know About the Making of 'Stranger Things'
Millie Bobby Brown had her first kiss on set and yelled out "kissing sucks" right after.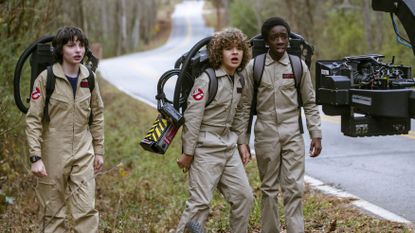 (Image credit: Netflix)
Stranger Things is coming back for Season 2 on October 27, and since you probably can't focus on anything else, you might as well nerd out over some completely thrilling trivia about the making of the show. And this probably goes without saying, but this article contains alllllll kinds of spoilers for Stranger Things' first season.
The Monster Was a Real Dude in Costume
Per Natalia Dyer (AKA Nancy), "We had a real actor, a movement specialist actor in this crazy monster getup. I think there are some enhancements and effects, but we were getting to actually act with this creature. He was definitely there and definitely scary!" But don't worry, the monster is "a great, fun guy in real life."
And the Toddlers on Set Were Terrified of It
"The actors loved it," Ross Duffer explained. "Sometimes you see a monster sitting down in a chair and it looks ridiculous. The toddlers on set were terrified of it. Millie, who plays Eleven, has a sister who was about three, and we had the twins who play Holly Wheeler. It was freaking them out to a major degree. Someone went up and told them that the monster was not a bad monster, it came from Monsteropolis from Monsters, Inc. After that it was all good."
Nancy Was Covered in IRL Goo for Her Scenes in the Upside Down
Remember the scene where Nancy climbs through the tree into the Upside Down? She was literally covered in disgusting goop during filming. "They had this tree out in the middle of this forest—it was very practical, actually," Natalie Dyer said. "I was covered in this nether goo and they kept putting it back on me take after take, just slathering me with it. I had to crawl in the tree and then get pulled out of the tree. You know, you look back and you're sitting there like, 'What am I doing? I'm out here in the middle of a forest covered in goo, climbing into a tree.'"
Millie Bobby Brown Was Super Disappointed in Her Kissing Scene
Eleven and Mike share a very sweet kiss towards the end of Stranger Things' first season, but apparently Millie Bobby Brown wasn't here for it. "Once it happened, it was just, whatever," Finn Wolfhard explained. "Millie's reaction was the funniest thing I've ever seen on set. We didn't kiss until the first take, and we did it. It was a really good take. They yelled cut. Millie got up and just looked, like, disappointed. Then she yelled out, 'Kissing sucks. That sucked.' That's what she said. It was the funniest reaction I've ever seen on a person, because I was her first kiss. I don't know, it was really, really funny. We were more comfortable with it than anyone else would be, which, I was really glad that happened."
Winona Ryder Wanted Her Hair Modeled on Meryl Streep's in Silkwood
"You know, her haircut. She really wanted it like Meryl Streep's in Silkwood," Matt Duffer explained, while Ross added, "We got that picture from her early on. She said, 'This is Joyce. This is what she's gotta look like.'"
The Kids Play Video Games on Set, Because of Course
Caleb McLaughlin (AKA Lucas) got real about being bored on set, saying, "I do definitely take my games, because when it's a rainy day, what do you do? Do you just look at the sky? Of course, you read a book, because that helps you in life. But you play your video games."
The Actors' Real Acne Wasn't Covered with Makeup
"There's been a push to like, 'Oh, let's clean them up. Let's have them go to a dermatologist.' It's like, no!" Matt Duffer said. "Because the kids in [Stranger Things], they can't afford to go see a dermatologist on a weekly basis."
The Actor Who Plays Lucas Wanted to Wear That Camo Bandana
Per the Duffer brothers, Caleb insisted that Lucas wear the bandana: "Sometimes our kids have great ideas, and this is one of those times!"
Nancy and Jonathan Had a Kiss in the Screen Test
Charlie Heaton told MarieClaire.com, "In the screen test there was a scene where Nancy and Jonathan...that relationship happens originally. They got together, there was a kissing scene in the screen test."
Gaten Matarazzo's (AKA Dustin) Voice Changed So Much He Couldn't Do ADR (AKA Over-Dubbing in Post)
"He was changing so much during the course of the shooting," the Duffers explained. "Luckily you can't really tell, but by the time we were doing ADR, re-recording dialogue in post production, we couldn't use him because his voice had dropped so much."
The Van Flip Scene Cost Netflix Thousands of Dollars
Apparently the explosives didn't go off correctly, and the van "skidded headfirst into one of our cameras, destroying both the camera and its lenses, and costing the production thousands of dollars." Dang. Crazy enough, the Duffers convinced producers to try it again, and promised the stunt would be featured in the trailer.
1,200 Pounds of Epsom Salt Was Used to Get Millie Bobby Brown to Float in That Kiddie Pool
Yup, just like Mr. Clarke said.
Millie Bobby Brown Had to Wear a 70 Pound Helmet in Underwater Scenes
EW reports that for the isolation tank scenes, Millie Bobby Brown was fully submerged underwater and had to wear a Sea Trek helmet—which weighs a whopping 70 lbs.
The Show Commissioned Over 13 Hours of Music
That's right, 13 hours. "Over the course of the year, we accumulated over 13 and a half hours of music," the Duffer brothers said. "Obviously not all of this music made it into our eight-hour show, but it gave us a huge library to pull from as we edited the episodes together. Sometimes music intended for certain moments worked better for others."
The Audition Process Was Insane and Involved Readings of Stand by Me
"With our great casting director, Carmen Cuba, leading the way, we auditioned 906 boys and 307 girls," the Duffer brothers said. "The kids each read select scenes from the first episode, as well as a few classic scenes from Stand By Me (a film which features not one, not two, but four of the greatest child performances in film history)."
The Main Title Font Was Inspired by the Designer Who Did Titles for Aliens and The Goonies
"[It] was inspired by the work of Richard Greenberg, who designed many of our favorite title sequences, including the main titles for Alien, Altered States, Superman, The Goonies, and The Untouchables," the Duffer brothers explained. "Greenberg was known for using the lettering of the movie titles to create hypnotic combinations of movement and color and shadow. The man is a genius, and we hope we captured a little bit of his magic."
The Boys Wouldn't Stop Farting on Set
In order to annoy Millie Bobby Brown, her male cast members would fart during the bus scenes. Lovely! "We're shooting a scene in the abandoned bus, and one of the boys decides to fart," the brothers explained. "More than once. It became so toxic in the bus that the crew had to temporarily evacuate. We had a pep talk the next day that basically boiled down to: 'We're right at the end. Don't drop the ball. Let's bring this home.' Generic middle school sports coach speech, we know, but it worked."
The Mom of the Actor Who Plays Will Was Shocked by His Fake Corpse
Wouldn't you be? "We immediately took Noah's mom aside, told her we had something to show her, and led her into a dark closet where we had propped up this frighteningly realistic corpse of her son," the Duffer brothers said. "She was startled at first, and we felt like maybe we crossed a line…But after the initial shock, she loved it. Before long, she was taking pictures with her child's fake corpse and texting the photos to all her friends. Yeah, Noah has a pretty cool mom."
Creating Winter Scenes Was a CHORE
Per the Duffers, "To create snow for our winter scenes, we shipped over 20 tons of ice…from Florida."
And Finally, Eleven's Head Snap Was All Millie Bobby Brown's Idea
Producer Shawn Levy said, "It was Millie's idea to do that gesture with her head to break that dude's neck."
RELATED STORY
Celebrity news, beauty, fashion advice, and fascinating features, delivered straight to your inbox!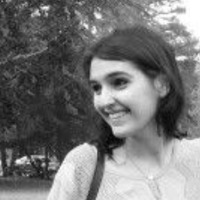 Mehera Bonner is a celebrity and entertainment news writer who enjoys Bravo and Antiques Roadshow with equal enthusiasm. She was previously entertainment editor at Marie Claire and has covered pop culture for over a decade.