The Teens of 'Stranger Things' on Unaired Kisses and Their Epic Love Triangle
Spoilers within, enter at your own risk.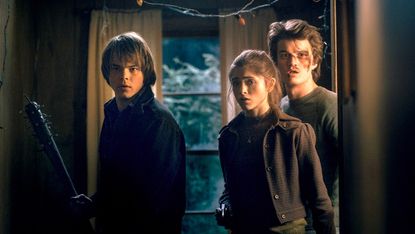 (Image credit: Netflix)
In the unlikely event that you didn't spend the weekend binge-watching Stranger Things on Netflix, here are some reasons to become obsessed: '80s nostalgia, paranormal Christmas lights, and Winona Ryder as a panicked suburban mom. The list goes on, but one of Stranger Things' *biggest* strengths is its performances, and we're here to talk about Steve, Nancy, and Jonathan—AKA the jock, the good girl, and the loner.
Yeah, we've seen this classic teen love triangle before, but Stranger Things manages to play into the trope while simultaneously subverting stereotypes. The result? A flawless representation of the teen experience, and also grown women like yours truly stress-eating pizza on the couch at 2 a.m. wondering if Nancy and Jonathan will kiss.
MarieClaire.com spoke to Natalia Dyer (Nancy), Charlie Heaton (Jonathan), and Joe Keery (Steve) about their love triangle, what it was like playing teens in a decade they didn't grow up in, and their thoughts on next season. Oh, and pssst: Jonathan and Nancy may have filmed a kissing scene that didn't make the cut. Just sayin'.
Marie Claire: You tapped into the trope of your respective characters without following the typical script. How did you accomplish that?
Joe Keery: A lot of it had to do with the writing. The Duffer brothers had a super strong idea of what they were going for. In the first three or four episodes they set up the tropes we'd be playing on, and made the audience believe what they thought would come. But as the show went on, they started slipping in all these different "betcha didn't see that coming" moments to turn the trope on its head a little bit.
Charlie Heaton: What's so attractive about this show is that these characters feel like very real people. Through the series, we see them going through adolescence. Even though they're dealing with the unknown, they're also dealing with growing up and being flawed. Yeah, you can play on the stereotype, but also it allows you to explore real characters with real complexity.
MC: You're all in your twenties, yet watching you on the show felt like such a real and accurate example of what it was like to be a teenager. How did you get back to that?
Natalia Dyer: It comes down to the Duffers having a really immersive quality to their work and writing. And to the set life—it's crazy how we'd get to the high school set, and it was filled with all of these kids dressed up in '80s clothes. The art department was so on point, it was easy to get transported back to that time of life where everything is angsty and very socially aware.
CH: Part of it is growing up and still feeling like a kid at times on set. It's a little different for Jonathan because he's a bit of an outsider. He feels a little bit older and not so much on the level of the other teenagers.
JK: He's stepped in for his dad as man of the house, definitely.
CH: Yeah, he's bound by his family and trying to look after his mother. He doesn't get to be a kid anymore, he wants to be a teenager, but because of the situation he doesn't get to be. There's a loss of innocence.
MC: The story would be so different if the characters had cell phones and social media etc. I can picture Barb on Twitter, like, "Sadface, third-wheelin' it on the diving board, lol." What was it like to play teens in such a technologically different era?
ND: It helps with the mystery of the genre. Not having social media and connect-ability helped keep that enigma alive on the show, and there's a lot more potential mystery because of the lack of technology.
CH: The show relies on the fact that they don't have the ability to go and solve their problems. It's investigative work that they all have to go through, and it brings them all together. It makes it so much more adventurous.
JK: If they had social, the little kids could just use Google maps to find whatever they want.
ND: Or track Barbara's phone.
MC: Part of what makes this show so great is that everything about it exudes nostalgia—the props, the font, the music—even the performances. You didn't grow up in the decade, so how did you tap into that?
ND: I definitely watched films, the Duffers were very generous with giving out lists and movie suggestions. I was trying to get Nancy vibes, so I went and I bought this perfume called Charlie. It was a really popular perfume at the time. [Edit note: cue Charlie Heaton laughing.] I know, funny right? But when I got it, I sprayed it and I couldn't do it. But it looked really lovely sitting on my bureau!
MC: The fact that Nancy and Jonathan didn't kiss killed me. Did you do any takes where they did that were cut?
CH: Well, in the original pilot, Steve was a very different character.
JK: Yeah, I remember reading the original draft and being like, "whoa, this guy sucks." Just super aggressive—primarily the idea of the scene in the bedroom in the first episode, but a whole lot more aggressive. I was kinda monster food.
CH: But that didn't happen. In the screen test there was a scene where Nancy and Jonathan...that relationship happens originally. They got together, there was a kissing scene in the screen test. But the way they've done it was much more interesting, and a credit to Joe's acting.
ND: It was also more realistic, perhaps.
MC: I don't know how much you can talk about next season, but now that Jonathan and Steve have semi-bonded, what's the dynamic going to be like?
CH: In terms of season two, we know as much as you. I have no idea what they're doing. We got scripts episode by episode, and I remember us getting to episode eight being like "Whoa, what's gonna happen?" I feel like a viewer, in a way. I want to know what's going to happen, too.
Follow Marie Claire on Facebook for the latest celeb news, beauty tips, fascinating reads, livestream video, and more.
Marie Claire email subscribers get intel on fashion and beauty trends, hot-off-the-press celebrity news, and more. Sign up here.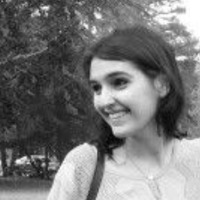 Mehera Bonner is a celebrity and entertainment news writer who enjoys Bravo and Antiques Roadshow with equal enthusiasm. She was previously entertainment editor at Marie Claire and has covered pop culture for over a decade.