'The O.C.' Musical Has Been Cast and We Can Already Feel the Teen Angst
"If my sense of the cultural Zeitgeist is accurate – and I believe it is – this is the year Chrismukkah sweeps the nation."—Seth Cohen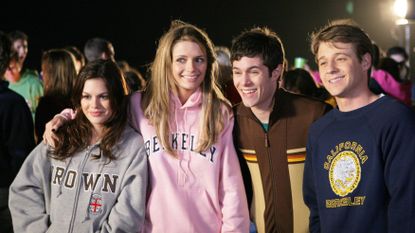 (Image credit: Archives)
Update, 7/16: The O.C. musical has found its core cast, which is, as you thought it would be, comprised of four youngish actors who aren't Ben McKenzie, Mischa Barton, Rachel Bilson, or Adam Brody because they have to be able to sing for an hour-plus straight.
Nashville's Tilky Jones stars as Ryan, while Molly McCook plays Marissa, and Pretty Little Liars' Brendan Robinson and Greer Grammer appear as Seth and Summer, respectively. Digital Spy reports the one-off performance will incorporate songs from all four seasons, so it's true–you really can have almost everything you've ever wanted.
Original post, 6/28: First Full House, then Clueless, and now The O.C.—our nostalgic hearts are so overwhelmed, we might burst into song.
The Fox drama, which toyed with our emotions and tugged at our heartstrings from 2003 to 2007, is the next on-screen gem to be adapted for the stage, reports Variety. The Orange County story of oh-so-dramatic teens Seth, Summer, Ryan, and Marissa will be turned into a musical in Los Angeles by the same team behind "Cruel Intentions: The Musical."
The show has been greenlit for a one-night-only event on Aug. 30, but if the adaptation finds the same success as the Cruel Intentions musical did, more dates are sure to come (that show now runs every Thursday and Friday night).
So far, only the roles of Luke Ward, Kristen Cohen, and show creator Josh Schwartz have been cast (cue behind-the-scenes drama!), and we can't wait to see who will be filling the musical shoes of the OC's fab four.
Here's to hoping Ben McKenzie, Mischa Barton, Rachel Bilson, and Adam Brody get early tickets and have a front-row reunion lovefest, just like the Cruel gang.
Celebrity news, beauty, fashion advice, and fascinating features, delivered straight to your inbox!