With No Other Job Options, Greek Women Are Turning to Sex Work to Stay Afloat
The money troubles in Greece go so much deeper than lines at the ATM. Here, a look at how prostitution has soared in the wake of the crisis.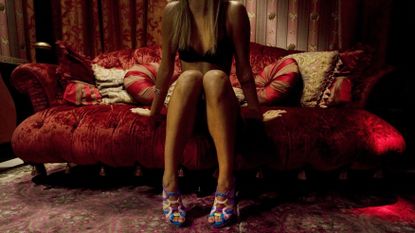 (Image credit: Myrto Papadopoulos)
Three years ago, when Stella, 33, from Athens, Greece lost her job at a supermarket, she became homeless. With a 25% unemployment rate in the country, there were no jobs to be found anywhere.
Except in one place: brothels.
Stella is one of the many women who have turned to sex work during Greece's financial crisis. "There is no reliable government data on homelessness or sex work—but the widespread assessment among nongovernmental organizations is that the number of people living on the streets and exchanging sex for money or goods has increased," says Eva Cossé, a researcher at Human Rights Watch who conducted interviews on the ground in Athens last year.
In fact, the Greek Center for Social Sciences and Panteon University estimates that the number of people selling sexual services in Greece has soared by 150% since the country's market collapse in 2008.
It's not the line of work any of these women imagined for themselves when they were studying in school or interviewing for jobs. Selling their bodies for sex is, for most, the ultimate last resort—but then again, it can seem like the only feasible way to survive when there are no jobs left and nowhere to go home to.
Prostitution is legal in Greece, but it isn't easy to become a registered sex worker—the process involves a routine medical examination every 15 days and a record free of criminal activity. Married women are barred from sex work. There are strict limitations on where sex workers can operate. And though it's regulated by the government, sex workers have no rights under labor laws.
Roaming the streets, sex workers also regularly face police brutality. According to Human Rights Watch, officers in downtown Athens use broad stop-and-search powers to target them and hold them for long periods of time for no reason. "We found that police in Athens frequently harass sex workers," Cossé says. "Police stops and arbitrary detention interfere with their access to healthcare and support services."
Anna, a 33-year-old sex worker, told Cossé that it's common for police to stop her at least three times a day. In fact, just a few days before Anna spoke with Human Rights Watch, she was harassed by three plainclothes officers while she was at a hair salon in Athens' Omonia Square. "They told me, 'Your papers, we're taking you in for verification of ID,'" Anna said. "They stop me all the time, every day. Now they even know me by my first name."
Stella also told Cossé about the degrading treatment they subject her—and other women—to. "They talk to you in the worst possible manner. They call you a whore, dirty," she explains. "All this is happening because supposedly they want to clean the center of Athens. Their response is, 'I don't care, go live on a bench.'"
Their cruelty isn't entirely random: In 2012, the Greek health ministry cracked down on hundreds of unlicensed brothels as a response to a sharp increase in HIV rates. The police were accused of randomly arresting sex workers and forcing them to undergo HIV testing, which an AIDS advocacy group called "an appalling violation of human rights and medical confidentiality."
In the aftermath, about 30 women tested HIV positive and were subsequently charged with felonies. Their names and photos were posted online, so people could get tested if they'd had sexual contact with the women.
This traumatizing incident had a huge impact on Greek photojournalist Myrto Papadopoulos, who at the time was researching a boom in Greece's underground porn industry and its link to the financial crisis.
"The minister of health exploited these girls in the media. It made me furious and angry," she says. So she switched gears from studying the porn industry to meeting sex workers, both legal and illegal. She eventually featured some of them in her photography series, The Attendants, a few photos of which are included in this story.
"The truth is that whenever a country is under a very difficult situation, like a financial crisis, the sex industry is one of the businesses that grows," she says. "When things are difficult, people act in a more savage way."
According to Papadopoulos, many women who work in the underground sex trade are victims of trafficking and undergo brutal treatment from their pimps and their clients. They are stuck in a cycle of poverty and drug abuse, fueled by the worsening economy. "Many of these girls travel from country to country and I often hear how Greeks are very perverted. They would tell me things like, 'We don't feel very safe here,'" she says.
For her part, Papadopoulos has launched art-therapy workshops called Re-Flower in Athens for sex workers and trafficking victims. "My goal with this project is awareness, for sure, but mainly in the hopes that some women can be rehabilitated and be integrated back into society," she says.
Unfortunately, it's a society that still doesn't have much to offer them. In the weeks following the announcement of a bailout plan, Prime Minister Alexis Tsipras resigned after only eight months on the job. Greece's prospects seem grim—but women like Stella, Anna, Eva, and Myrto are holding out hope.
Jennifer Chowdhury is an independent journalist based in New York City and Bangladesh. She covers the South Asian and Muslim diaspora with a specific focus on gender rights. She is passionate about covering stories on women of color around the world whose voices are stifled by patriarchal attitudes, systematic racism and socioeconomic burdens.