He Said, She Said
A bit more backstory on Marie Claire and Esquire's collaboration on 'Sex, Lies, and Human Resources.'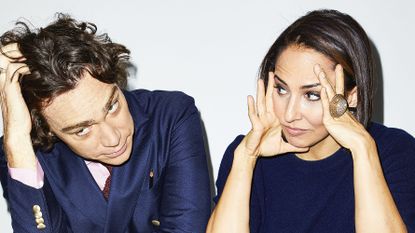 (Image credit: Allie Holloway)
A Letter from the Editors
Late last year, watching the cultural wildfire that began with Harvey Weinstein and spread coast-to-coast, a group of editors from Esquire and Marie Claire found themselves sitting around a conference table to talk about the subject that has tongue-tied, confused, outraged, liberated, and shocked the entire country: sexual harassment. That first gathering might best be described as, well, a little awkward: Most of the men, having decided that silence was the best strategy, didn't talk, while most of the women, realizing what was going on, were almost made speechless themselves. The only way forward, we agreed, was to have an honest discussion that would raise questions and attempt to answer them. This became the guiding principle of "Sex, Lies, and Human Resources," the 10-page feature that our combined teams—led by MC's Kayla Webley Adler and Esky's Eric Sullivan—created. Here's a bit more on the backstory of the package, which appears identically in Marie Claire and Esquire this month.
Jay Fielden: So, Anne, when we first approached you about this idea, what made you think this wouldn't be a...disaster?
Anne Fulenwider: We were watching these revelations hit the news and cheering on all the brave women and men coming forward, knowing that the first step toward change was to bring those stories out of the dark. But we realized pretty quickly that cheerleading wasn't enough. We had to cover this in a way that moved the conversation forward. Part of that realization was that women can't make progress alone. By working with you guys, we could have an intelligent, thoughtful discussion, as Esquire has always elevated the conversation on what it is to be a man. Why did you come to Marie Claire?
JF: Well, we knew yours is a magazine impatient with any conventional wisdom unless it's actually wise. We wanted to create a genuinely coed conversation. Plus—sorry to be indiscreet—I've known you for almost 20 years. So I know what kind of editor you are—that we'd both want this to be substantive and deep but not humorless or repetitive. And, look, we're mostly men at Esquire. We didn't want to be tone-deaf when addressing this crucially important moment. Our first instinct was much like that of many men across the country, who feel like they should just shut up, whether out of genuine respect for the moment or out of fear of being, um, "Damonized."
AF: We had no idea how freaked out men were by the #MeToo conversation. The most valuable thing that's happened in the wake of the great reporting by The New York Times's Jodi Kantor and Megan Twohey on Weinstein is the airing of countless stories of harassment and abuse that have remained hidden for too long. Even very brave people have to feel safe to come forward, so the support being shown to them is huge. If the secondary result, however, is that men retreat for fear of recrimination, then we've made very little progress. So policing or "Damonizing" any man courageous enough to join this conversation is counterproductive. Not all women agree on this stuff, either. The point is to keep talking. What if we had left that first awkward meeting and abandoned the project? I mean, none of you said a word for the first 25 minutes!
JF: True, but when you asked if men really have sexual relations with plants, that let us know we could ask our own set of verboten questions.
AF: I had to break the ice! There's simply no way forward if we don't talk to each other. I'm proud we were able to ask some of the questions people, including women, may be afraid to. Sometimes humor can help.
JF: I believe that, too, but we were both pressing for a way for us not to simply reinforce safe opinions. You also said you didn't want the tone to be finger-wagging.
AF: I didn't want us to express one opinion when what we learned is that there are so many. One of the most striking things about the past few months is hearing from women of different generations and viewpoints about how a hand on the knee, or more, was once simply part of the deal, not something to bring up to HR. That type of behavior was accepted or even expected.
JF: I thought that story you told also showed just how varied opinions can be among women themselves. You recounted how a younger editor who works for you asked if a man saying to a colleague in a clingy dress, "Wow! You look great" was a form of sexual harassment. You didn't think so, but she did. From an Esquire point of view, I'd say a comment like that is uncouth, for sure. Still, our aim of creating such a two-sided conversation wasn't easy. Almost every female contributor you asked came through. But we had a very hard time convincing male writers to do the same. A lot of them felt like we initially did—shut up and listen—or were simply apprehensive of the response they might get.
AF: I hope that if we've achieved one thing, it's that this once forbidden, scary, sometimes crushing topic is discussed in the open by both men and women. I feel a great responsibility as a journalist and as a boss to create and maintain that space, where people aren't afraid to address the difficult stuff.
JF: A bullhorn always helps.
AF: Or a little Scotch.
Celebrity news, beauty, fashion advice, and fascinating features, delivered straight to your inbox!