Could This Team USA Bobsledder Have CTE?
Elana Meyers Taylor explains to MarieClaire.com why she's already pledged to donate her brain to science.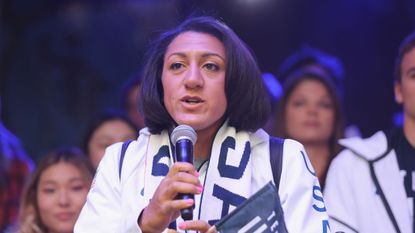 (Image credit: Getty Images)
On a dark night in January 2015, Olympic bobsledder Elana Meyers Taylor flew down an iced track in Königssee, Germany, going faster than normal in her gravity-powered sled. The 33-year-old, two-time Olympic medalist—who made history as one of the first women to pilot a mixed gender, four-man bobsled at a world cup event—usually trains during the day, with plenty of light. The nighttime competition's glaring lights threw off her vision.
Flying around a curve on the twisting, narrow track in a sled that can reach speeds of 90 mph, pilot Meyers Taylor missed her steer by "a fraction of a second" and the sled flipped, just a few corners before the finish line. She was slammed back down, right on her head. When the sled finally stopped sliding, Meyers Taylor felt like she was going to throw up. Pain was shooting up and down her back and her jaw was pounding.
"It basically changed my life," Meyers Taylor tells MarieClaire.com ahead of her 2018 Winter Olympic races in PyeongChang, South Korea. Meyers Taylor suffered extreme "emotional changes" and noticed a negative difference in her behavior towards loved ones, especially her husband and fellow bobsledder, Nic Taylor.
"It was something that only the people closest to me, my poor husband for example, would really notice," she says. "Because I would irrationally act out at him and it wasn't anything he did and it wasn't anything I did, it really was just a symptom that my brain was, you know, different."

After her devastating crash, Meyers Taylor also developed a sensitivity to light and noise that lasted for an entire year and made it really hard to work, she recalls. "At the time, I was interning for the International Olympic Committee and I was working in front of a computer all day and I would just leave the office with headaches because I just couldn't look at the screen all day."

Now, Meyers Taylor, a P&G partner for their Love Over Bias campaign, wonders whether she might be developing chronic traumatic encephalopathy, or CTE, the neurodegenerative disease found in athletes, military veterans, and others with histories of repetitive brain trauma.
The condition was barely known before the 2015 film Concussion, starring Will Smith, shone a spotlight on the way repeated head trauma can permanently alter the brain. It has since been found in a growing number of NFL players, including Aaron Hernandez, the former New England Patriots tight end convicted of murder in 2015. After Hernandez, 27, committed suicide in prison in April 2017, Boston University neuropathologist Ann McKee, M.D., said images of his brain showed significant buildup of tau proteins that destroyed brain tissue in his frontal lobe, which moderates behavior, judgment, and decision making, as well as the hippocampus, which controls memory.

Sensitivity to light and sound, headaches, and emotional changes, all of which Meyers Taylor suffered, are possible symptoms of post-concussion syndrome. Emotional changes are also a feature of CTE.

(It should be noted that, according to Time, new studies from BU suggest that repeated head injury can lead to the onset of CTE, independent of concussion.)
"My father was an NFL running back, so I feel like I might be more susceptible, genetically, to CTE," says Meyers Taylor. Earlier this month, Meyers Taylor—who has suffered four concussions on record but feels like she's "had countless others that haven't been recorded"—pledged her brain for concussion research to the Concussion Legacy Foundation, following U.S. soccer legend Brandi Chastain and former USA Hockey Women's Player of the Year A.J. Griswold, who've also made the pledge.

"I haven't been tested yet...but if I do have CTE and if there's anything that can be learned from my brain, making sure that I donate it so they have the ability to learn is incredibly important to me. Even though concussions affect women more often than men, there's not a lot of concussion research about women specifically. You can slip and fall and hit your head and have a concussion. And unless you know what to do and unless you're able to take the right steps, you may not be able to recover.
At the Understanding Traumatic Brain Injury in Women Workshop attended by MarieClaire.com in December, researchers and experts explained that most CTE and concussion-based research focuses on males, especially football players. However, football isn't the only sport where athletes are susceptible to repeated blows to the head. Boxing, soccer, and hockey are a few examples.

Of course, so is bobsledding. (Although, Meyers Taylor says the most common types of injuries in the sport are not head injuries, but muscle pulls from pushing the sleds, which weigh around 380 pounds.) Top-tier tracks often have more than a dozen turns, and the sleds bump, shake, and occasionally crash as they race down the icy base.
MarieClaire.com spoke with Eve Valera, Ph.D., a presenter at the December workshop and an assistant professor in psychiatry at Harvard Medical School, about Meyers Taylor's risk of developing CTE.
"It is true that CTE has beed associated with repetitive brain trauma, which can be due to either concussive or sub-concussive hits to the head," she explains. "But certainly not all individuals who have repetitive brain trauma end up with CTE."
Dr. Valera says it's "possible" Meyers Taylor could develop CTE, but there's no way to know right now. "I agree with her decision to donate her brain, and possibly get other testing or imaging scans at some point, as examining brains of both affected and unaffected individuals who have had repetitive trauma is likely how we will learn the most about CTE at least at this point," she says. "Meyers Taylor is at increased risk for developing CTE, but certainly not destined for it."
"Is it possible that she could be suffering from the beginning of CTE or a CTE-like syndrome? I guess it could be," she adds. But the state of the science of CTE is just "too young," says Dr. Valera. "We can only confirm CTE post-mortem."
Celebrity news, beauty, fashion advice, and fascinating features, delivered straight to your inbox!
Rose is a Staff Writer at ELLE covering culture, news, and women's issues. She is an accomplished and compassionate storyteller who excels in obtaining exclusive interviews and unearthing compelling features.