Weekend Trip Guide: Where to Stay, Eat, and Explore in Marrakech, Morocco
A nomadic lifestyle awaits you.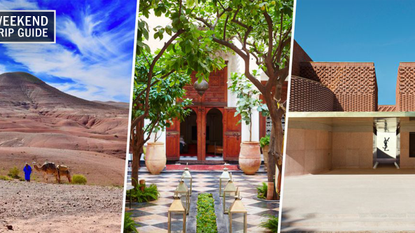 (Image credit: Jaimie Potters)
Welcome to MarieClaire.com's series on weekend travel—a smart girl's guide to making the most of those glorious two days off.
With its booming art scene, blush-pink chiseled walls, and world-renowned cuisine, it's no surprise that Morocco's famed "Red City" has become a hot spot for travelers with a flair for the Bohemian. And while you'd need to be across the Atlantic already for it to make total sense as a 2-day weekend trip (it's fast and cheap from London, for example — see "Helpful Tips" at the bottom), here's why Marrakech is definitely worth adding to your next overseas itinerary.
Wandering through the maze-like passages of the old city's Medina, I passed donkey carriages and artisans fine tuning handmade wonders while mopeds zipped by. I had a hammam (a Turkish bath) at an exquisite urban retreat and felt my entire body rejuvenate. I ate shakshuka from simmering clay pots. Venturing to the nearby countryside and Agafay Desert, my boyfriend and I rode camels into the sunset. Along the way, we met locals and European transplants whose passion for the city reaffirmed Marrakech's spellbinding allure. Here, a list of essential places to visit in this surreally dreamy destination.
Where to Stay
El Fenn: Meaning "fine arts" in Arabic, Fenn is a fitting name for this rightfully Instagram famous riad where every last detail of emerald green tiling and shabby-chic interior design evokes wonder. Centrally located in the Medina, El Fenn's lantern-filled courtyards offer utopian serenity after a day of sensory overload in the nearby markets. The hotel is the brainchild of Vanessa Branson (sister to Richard Branson) and design wizard Willem Smit, and houses Branson's stunning art collection.
We stayed in Room 20, or as I kept calling the entrancing space the "pink rooooom," and I fell in love with every square inch. Making it possible for us to ever leave our room's pink marbled bathtub and cozy fireplace was the sweeping allure of El Fenn's rooftop—where comfortable seats with Berber throw pillows, a small pool, and a scrumptious restaurant meet the scenic backdrop of the nearby Atlas Mountains and the Koutoubia Mosque, one of the city's most famous landmarks.
Beldi Country Club: Less than twenty minutes from the center of Marrakech, Beldi Country Club's sprawling 15 acres of rose gardens, olive trees and enchanting greenery inspire earthy glamour and true relaxation. The property also boasts two pools, a spa, a stunning restaurant and a surreally picturesque greenhouse. The rooms and suites are brilliantly arranged like a village, and each comes equipped with a fireplace and private garden (ours even had an outdoor bathtub).
Poppy Delevingne held her three-day destination wedding here, so you can expect sheer loveliness at every turn. One pro tip about Beldi Country Club: we only stayed here for a night and it was truly painful to say goodbye, so I'd recommend coming for a two-night stay, or moving in forever.
Where to Explore
Musée Yves Saint Laurent
Curated by the late Pierre Bergé, the recently opened Musée Yves Saint Laurent houses a dazzling collection of the designer's most influential creations in a sleek, awe-inspiring space. The Algerian-born French fashion icon was famously infatuated with Marrakech, taking residence in the winter with his partner, Pierre Bergé, and regularly sketching on the street. As Yves Saint Laurent once said, "Marrakech taught me color. Before Marrakech, everything was black."

Distinguished as Wallpaper Magazine's 2018 Public Building of the Year, the museum's terra cotta brick and terrazzo tiles seal Marrakech's place as North Africa's leading capital for arts and design. The Musée Yves Saint Laurent also features a gallery showcasing emerging artists and designers, landscape paintings by Jacques Majorelle, a stunning library with over 5,000 books on fashion, a chic screening room that regularly hosts events, and a charming Parisian style café.
La Jardin Majorelle
Footsteps away from the Musée Yves Saint Laurent awaits the serene Jardin Majorelle—whose array of cactuses, fountains and iconic pops of Yves Klein blue make for a truly wondrous stroll. Yves Saint Laurent and Pierre Bergé purchased the enchanting property in the '80s when they saved the site—which once housed French Orientalist painter Jacques Majorelle—from becoming a real estate development. The garden's Villa Oasis long served as the couple's beloved winter home, and has been perfectly maintained for visitors. In remembrance, both Yves Saint Laurent and Pierre Bergé's ashes are scattered on the property.
Jemaa el-Fnaa
Virtually all roads in Marrakech lead to the Jemaa el-Fnaa, the Medina's famed main square. Here, you'll find a labyrinth of souks selling spices, antiques, and the many staples of Berber design. Wandering into the square, you'll see weaved baskets and colorful leather goods at every turn, hear snake charmers playing the pungi to an audience of tamed cobras and smell the aromatic scents of Marrakech street food. Tours of the Medina are reportedly easy to book and quite cheap, but we opted to tackle it on our own, which was also very doable (thanks to a map, comfortable shoes and caffeine).
Royal Mansour for a Hammam
While there are likely less wallet-slimming hammam options in Marrakech, the spa at Royal Mansour is definitively the place to visit if you seek soul-elevating luxury. Proprietor King Mohammed VI created the grand hotel to showcase the best of Moroccan hospitality—and the spa proves his triumph. I immediately swooned over the glossy white floors and stunning floor-to-ceiling labyrinth of white, metal flowers when I visited—and that was before I even saw the palatial room where I'd have my hammam.
The hammam is a traditional Moroccan bathing ritual that involves cleansing the pores through deeply invigorating steam, hydrating the skin with a black olive oil soap, scrubbing the body with a kessa (a traditional type of mitt) and covering the hair with a clay mask and rose water. Magically relaxing, I left feeling like my skin had become anew. I also visited the hair salon for a blowout after my treatment, which I would highly recommend adding on, as this made for the most epic pampering of my life.
Agafay Desert (La Pause)
It would go against the earthy and tastefully private ethos of the eco-friendly retreat La Pause to name drop the remote destination's very famous clientele… but, think Hollywood royalty and actual royalty if you can't help but wonder. As suggested by its name, La Pause is a place to disconnect from Outlook and find balance in nature in the most boho-chic of Wi-Fi-free dwellings. A stunning 45-minute drive from the center of Marrakech, we came here for a camel ride followed by a mouthwatering three-course dinner overlooking a mesmerizing view of the sunset. Pro tip: this is a stone desert, so wear comfortable shoes that you're not emotionally attached to and dress in layers as temperatures fall at night.
La Maison ArtC
Located in the chic neighborhood of Gueliz lies Maison ArtC, the high-end boutique boasting Israeli-born, Marrakech-based fashion designer Artsi Ifrah's brilliantly avant-garde label. Farah's pieces are made from vintage clothing the designer unearths from shops all over the world. Currently available at Dover Street Market Tokyo, this is a brand for the truly unique and a store anybody who appreciates cutting-edge fashion absolutely needs to visit.
Where To Eat
Moroccan food is a delicacy and every last bite should be savored. Go for the couscous, kababs and tagines wherever you can. It should also be noted here that because Morocco is a Muslim-majority country, many traditional establishments adhere to Islamic dietary laws, wherein alcohol is prohibited. But many of the places I visited still had alcohol—very refreshing cocktails too, I might add—so I've noted these drink recommendations below.
Les Trois Saveurs at La Maison Arabe
Situated next to a dreamy pool in a candlelit courtyard, Les Trois Saveurs at the La Maison Arabe hotel is an essential place to visit for its culinary masterpieces, Old Hollywood glamour and harmonic live music. The creation of Italian nobleman Fabrizio Ruspoli, the atmosphere is intimate and sophisticated.
Serving both Mediterranean and Moroccan dishes, the menu by Essaouria native Hicham Matri offers a splendor of tender flavors and spices. The fish tagine was a personal favorite, as was the chocolate crème brûlée for dessert. For drinks, go for one of the soothing, locally produced red wines and check out the hotel's piano-jazz bar for a pre-dinner cocktail. The gin-infused Pink Lady is an especially delightful choice. One more thing to note: the guesthouse opposite the courtyard where Les Trois Saveurs sits once housed Marrakech's first restaurant aimed at serving foreigners—and saw patrons such as Jackie Kennedy, Charles de Gaulle and Winston Churchill.
Le Jardin
A stone's throw away from the recently redesigned Jardin Secret, the Medina's Le Jardin is a paradise of organic flavors, open for lunch and dinner. The space's avocado-colored walls, emerald floors and plants in every which direction are simply magical. For lunch, get the selection of salads as an appetizer and the meatball tagine as your main—and prepare to fondly drool at their memory long after your ceramic dishes have been cleared.

Le Marocain at La Mamounia
Located in the stunning gardens of what has long been considered North Africa's most luxurious hotel is the highly esteemed Le Marocain restaurant. Expect a grand dining experience from the second you recline into comfortable couch-like seats to the moment you wobble out with the most justified food baby of your life. Begin with the traditional Moroccan dish of pigeon pastilla and the selection of salads—an option that involves 16 small plates of distinct tastes and spices. If you fancy being overcome by an ecstasy of flavor, go with the monkfish embellished in saffron next as your main. Find room for desert by enjoying Berber Tea as musicians and belly dancers visit your table before ordering the raspberry sorbet. The lavender and gin fizz cocktail is also a delicious compliment to all three courses.
El Fenn
When I note that breakfast is included at El Fenn, I'm not referring to your typical continental breakfast situation of soggy cereals and picked over pieces of meat (ew). Rather, breakfast at El Fenn begins with a tray of freshly whipped up yogurt, granola, breads and fruit. The main course is a selection of typical Moroccan breakfast dishes, omelettes, and the North African delicacy of shakshuka (poached eggs in spicy tomato sauce). Get the shakshuka. Notably, the setting of this otherworldly breakfast is the aforementioned rooftop. Non-guests are able to make reservations here as well, and the restaurant also serves lunch and dinner.
Helpful Tips
1. Getting to Marrakech from the U.S. is easy, but from Europe it's even easier; it's only a four-hour flight from most European capitals and airfare is ridiculously affordable. I flew round trip from London, where I was visiting before and afterwards, and paid $65—AKA barely more than a week's worth of groceries in New York or a shirt from Zara.
2. Adopt a mindset of being a traveler and not a tourist when visiting Marrakech. Save the spring break outfits for when you're at your hotel and poolside, and wear comfortable, modest clothing when you're exploring. Be respectful of the cultural differences.
3. This might be one of the most Instagrammable places in the world, but you most likely won't have cell reception anywhere. Enjoy this break and lean into the Nomadic lifestyle. Use a map. Bring a book to read at night. It's all part of the adventure and it's truly magical.
Celebrity news, beauty, fashion advice, and fascinating features, delivered straight to your inbox!
Jaimie Potters is the Commerce Content Manager at Hearst Magazines Digital Media, where she covers fashion, beauty, tech and more.