Um, What? The Star Wars Action Figure Pack Is Missing the Main (Female) Character
Raise your hand if you're even surprised by this point.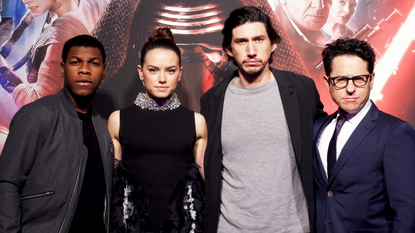 (Image credit: Archives)
Unless you've been living under a Wi-Fi-less rock, you know the recent Star Wars reboot is a big deal. Also a big deal? The fact that a woman was cast as the epic film's lead. So why is Daisy Ridley's character Rey is missing from the official Hasbro Star Wars: The Force Awakens action figure pack that's being sold at Target?
The pack includes characters who, while still important, are not the stars of the movie. Finn, Poe Dameron, Chewbacca, Kylo Ren, a First Order TIE Fighter and a Stormtrooper all made it into the set, seen above.
The Daily Dot reports Rey's character has her own Lego, which is great ... but doesn't really make up for her presence in the official action figure set.
Predictably, fans are upset and have begun contributing to an already existing #WheresRey hashtag:
Avengers set - no Black WidowGuardians set - no GamoraStar Wars - no Rey. She's THE MAIN CHARACTER. #WheresRey pic.twitter.com/TvYUeiA49oNovember 12, 2015
See more
Hell, @HasbroNews, *I* want a Millennium Falcon with a Rey doll flying it because WHY NOT. #wheresreyDecember 22, 2015
See more
#WheresRey bums me the hell out. What little merch she DOES have is always sold out so the demand is there.December 22, 2015
See more
#WheresRey people, what did you expect, the company is literally named HasBroDecember 21, 2015
See more
This isn't the first time Target has sold merchandise that overlooked a female Star Wars lead. Earlier this year, they replaced Leia with Luke Skywalker on a shirt that is no longer being sold.
In response to the action figure backlash, Target spokesperson Lee Henderson told The Daily Beast: "We expect fans to see more of her as new products roll out, now that the film has been released. We don't want to spoil any surprises, but fans will start to see more of her in 2016."
This is dumb and exhausting. Looking forward to 2016 and more excuses as to why she wasn't there in the first place.
Follow Marie Claire on Instagram for the latest celeb news, pretty pics, funny stuff, and an insider POV.
Tess Koman covers breaking (food) news, opinion pieces, and features on larger happenings in the food world. She oversees editorial content on Delish. Her work has appeared on Cosmopolitan.com, Elle.com, and Esquire.com.