'The Craft' Cast: Where Are They Now?
It's been almost 25 years since the cult classic made its witchy debut.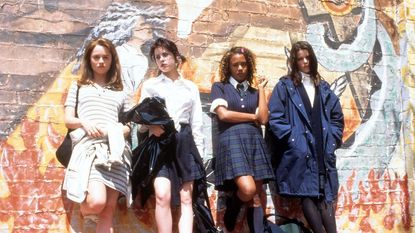 (Image credit: Getty Images, Archive Photos)
When it debuted in theaters in May 1996, The Craft, a horror-fantasy film about a group of teenage girls dabbling in witchcraft, wasn't expected to make a huge splash. But seemingly overnight, the witchy tale cast a spell (sorry!) on moviegoers across the country, earning nearly quadruple its budget in box office earnings, cementing its status in cinematic history as a cult classic, and, just this year, spawning a soft reboot-slash-sequel, The Craft: Legacy. In the more than two decades since The Craft premiered, the movie has only grown in relevance, with many citing it as a seminal example of "female outsiderdom" and of the rarely-seen-onscreen phenomenon of young women coming into their power outside of the bounds of the patriarchy. The movie also helped launch the careers of many of its young stars—here's what the coven (and the targets of their spells) are up to now.
1/20
Robin Tunney
Tunney played Sarah Bailey, the new girl at an L.A. private school who is recruited to join the coven of three aspiring young witches after they spot her showing off her supernatural abilities in class. Though her new friends end up turning on her after the effects of their spells take a turn for the worse, Sarah is the only one to keep her powers at the end of the movie.
2/20
Robin Tunney
Since starring in The Craft, which was one of her earliest roles, Tunney has had a busy and varied career in Hollywood, with lead roles on The Mentalist and Prison Break among her most prominent. She has two children with her fiancé, interior designer Nicky Marmet.
3/20
Fairuza Balk
As Nancy Downs, Balk played the most power-hungry of the young witches, and the one who ultimately leads her friends in tormenting Sarah. After casting a spell for more power, Nancy leaves a trail of death and destruction in her wake (and suddenly gains the power to walk on water?!) before being stripped of her powers and placed in a psychiatric hospital.
4/20
Fairuza Balk
Balk went on to star in dozens more film and TV roles, many of them just as dark—American History X, The Island of Dr. Moreau, and Ray Donovan, to name a few. She's also dabbled in music and art, and is the owner of an occult shop in L.A. where she researched her role in The Craft.
5/20
Rachel True
Upon gaining her occult abilities, True's Rochelle Zimmerman starts immediately by casting a revenge spell on the leader of a group of racist bullies. Though successful, Rochelle is then forced to contend with the effects of the spell and the unrest within the coven, eventually resulting in the loss of her powers.
6/20
Rachel True
Like her costars, True, too, has had a very successful Hollywood career since her breakout role in The Craft, including a long stint as Mona on Half & Half and, most recently, a guest appearance on Better Things. And, like Balk, she's also embraced her witchy side in the years since the 1996 film: As of 2017, she was working as a tarot card reader in L.A.
7/20
Neve Campbell
Campbell's Bonnie Harper was the only member of the coven who cast a spell that affected only herself—though that turned out to be her downfall, as her beauty spell eventually made her cripplingly narcissistic. Like Rochelle, though Bonnie first followed Nancy's orders and turned against Sarah, that plan quickly backfired and resulted in the loss of her powers.
8/20
Neve Campbell
When The Craft premiered, Campbell was already a certified star thanks to her long-running role on Party of Five, and she cemented her status as a horror darling when she appeared in Scream later the same year. More recently, she's had roles in House of Cards and the Disney film Clouds. Campbell has two children with actor JJ Feild.
9/20
Skeet Ulrich
Ulrich played Chris Hooker, the object of Sarah's affections and the target of her love spell. After Nancy becomes jealous of his infatuation with Sarah, he taunts her, to which she responds by throwing him out of a window to his death. A totally reasonable response.
10/20
Skeet Ulrich
The Craft was Ulrich's first credited movie role, and he also joined Campbell in Scream later that year. Though he's appeared consistently on the big and small screens over the years, he's now perhaps most recognizable as FP Jones on Riverdale. He has a twin son and daughter with ex-wife Georgina Cates.
11/20
Christine Taylor
Taylor's Laura Lizzie is the racist bully who becomes the object of Rochelle's spell. The spell causes her to start losing her hair, leaving her traumatized and forcing Rochelle to reconsider her actions.
12/20
Christine Taylor
Taylor had already made a name for herself in Hollywood before The Craft thanks to her role as Marcia Brady in The Brady Bunch Movie—she's the face of the "sure, Jan" GIF!—and she went on to star in a stream of blockbuster comedy films and shows, including The Wedding Singer, Zoolander, Dodgeball, and Arrested Development. She has two kids with ex-husband Ben Stiller.
13/20
Breckin Meyer
As Mitt, a friend of Chris, Meyer avoided the wrath of the four witches wreaking havoc on his school, though it's anyone's guess why, since his main personality trait is being a jerk to Sarah, their classmates, and their teachers.
14/20
Breckin Meyer
In the '90s and early 2000s, Meyer seemed to pop up in just about every teen/young adult/coming of age film: Clueless, Can't Hardly Wait, Josie and the Pussycats, and the list goes on. And he's continued to stay booked and busy, most consistently as writer, producer, and star of Adult Swim's Robot Chicken for the last 15 years. He also has two children (was that in The Craft's contracts?)—two daughters with ex-wife Deborah Kaplan.
15/20
Nathaniel Marston
Marston played Trey, another friend of Mitt and Chris. Like his friends, he seems to thrive on harassing his female classmates, and also is shown to be a friend or boyfriend of notorious bully Laura Lizzie.
16/20
Nathaniel Marston
After appearing in The Craft, Marston became a bonafide soap star, with contract roles on As the World Turns and One Life to Live, playing two roles in the latter. Sadly, Marston died in 2015 due to complications from surgery following a car accident.
17/20
Assumpta Serna
Serna had a small but powerful role in The Craft as Lirio, a witch who owns an occult shop that the teen witches frequently visit. She's also the first one to suggest to Sarah that she might be a natural witch, and helps the girl out when her friends begin to torment her.
18/20
Assumpta Serna
The Spanish actress has appeared in films around the world, written multiple books on acting technique, and taught communication and acting courses. She has been married to Scott Cleverdon, her costar in Sharpe's Company, since 1993.
19/20
Helen Shaver
Nancy's mom, Grace, played by Shaver, is one of the sole benefactors of the girls' spells: After Nancy kills her abusive stepfather, Grace immediately cashes out his life insurance policy so she and her daughter can move into a luxury apartment. No red flags here whatsoever!
20/20
Helen Shaver
Shaver has been working as an actress and director for decades, and has the Emmy noms to prove it. Directing has taken precedence in recent years, with Shaver at the helm of episodes of Westworld, Snowpiercer, and Lovecraft Country just in the last year alone. She has one son with Steve Smith, her husband of more than 30 years.
Andrea Park is a Chicago-based writer and reporter with a near-encyclopedic knowledge of the extended Kardashian-Jenner kingdom, early 2000s rom-coms and celebrity book club selections. She graduated from the Columbia School of Journalism in 2017 and has also written for W, Brides, Glamour, Women's Health, People and more.