Meet the Kardashians of the Middle East
Influencers from Amman to Dubai have adopted show-all, tell-all lives with a fevered passion, ushering in a new kind of celebrity culture in a region where women's thoughts and wardrobe choices are often kept private. These are the women snapping their way to social change.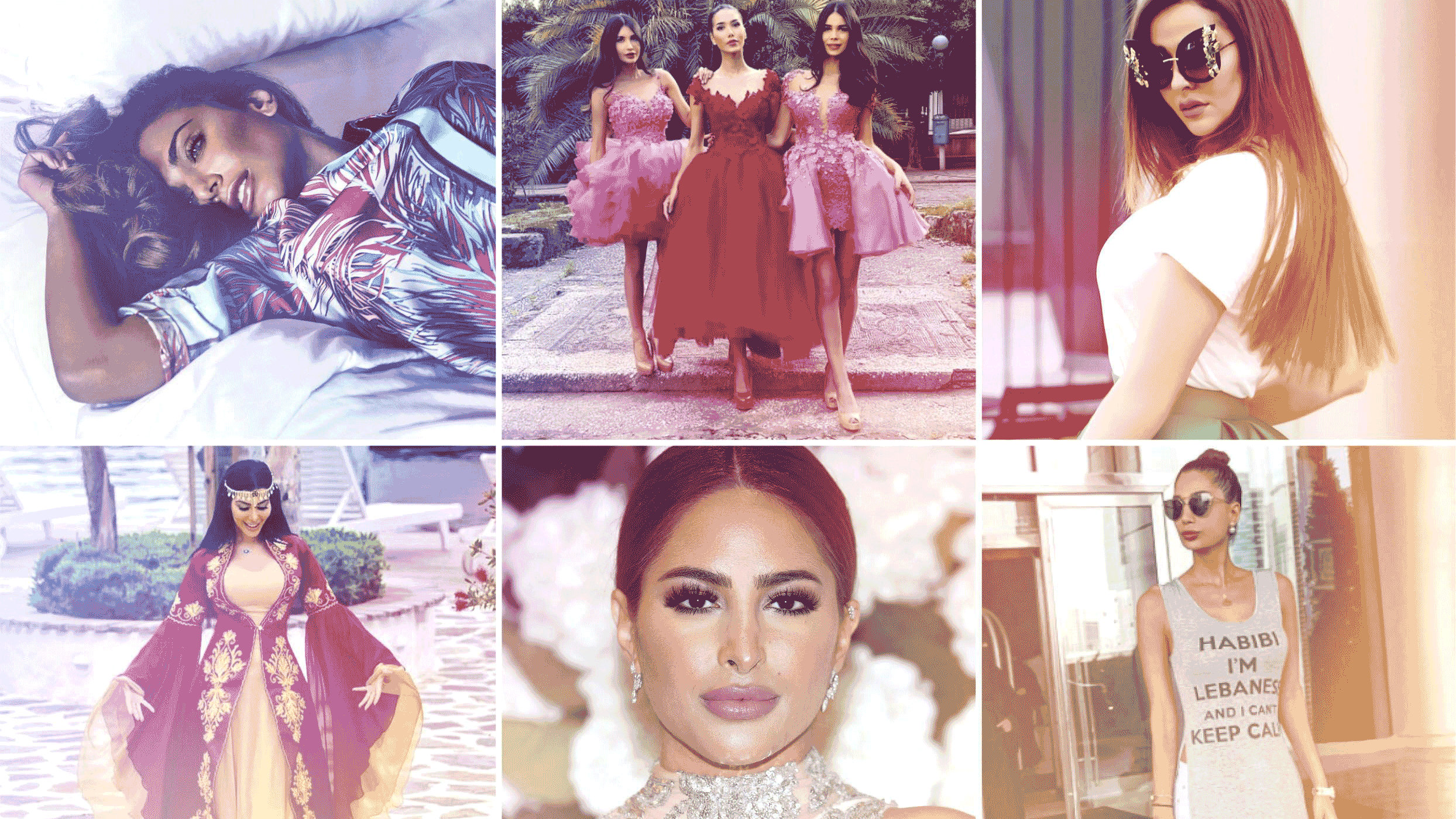 (Image credit: The Abdel Aziz Sisters; Mahmoud Othman; Sazdel el Kak; Pascal le Segretain/Getty; )
BONJOURRRRR! HOW ARE YOU, SNABIES?" Zain Karazon trills to her Snapchat followers on a gray morning in Amman, Jordan. She's just completed her lengthy beauty routine: her long, caramel hair expertly twisted into waves and fake eyelashes applied, giving her face a doll-like appearance. Her outfit is a Yeezy-esque ensemble of black tights, boots, and an oversize hooded denim tunic with distressed sleeves and the phrase "Where is my mind?" After posting a shot of her coffee, she grabs her two bedazzled iPhones and heads to a meet-and greet at a café, where she's welcomed by a small army of teenage girls who chant their nickname for her (Zoozoo) and by baristas, transfixed behind the counter.
"When I was young, I wanted all people to know who I was," says Karazon, 27. "Now, thanks to social media, I can say one thing and it reaches 1 million followers." She refers to her Snapchat as Zain TV, 24 hours a day. "Everyone knows me—even leaders and kings," she adds.
Everyone may know of Karazon, but they might not know what she does. She isn't a conventional celebrity; rather, Karazon is one of a homegrown coterie of social-media mavens in the Middle East bucking tradition and repressive laws to seek fame and fortune online. The women are not unlike their hashtagging counterparts in the West, but the influencers here are forging their public profiles in a region much less comfortable with women showcasing their bodies and speaking their minds.
In addition to Karazon, there are the Abdel Aziz sisters—Alice, 30; Nadine, 26; and Farah, 25, in Beirut—who work with Adidas and Tod's, and who spun a reality show out of their outfit-of-the-day posts on Instagram, where they collectively have more than 1.4 million followers; Fouz Al Fahad, 28, a makeup artist in Kuwait with 2.3 million Instagram followers who has collaborated with MAC Cosmetics on a lipstick; and Sazdel El Kak, 29, a Lebanese TV and radio host, who works in Kuwait and parlayed her social-media success (342,000-plus followers on Instagram) into a skincare clinic that launched in November.
Their lives are a seemingly endless stream of promoted products and party appearances, but they're not just helping to shape the hottest looks of the season. They're pushing the boundaries of acceptability by talking about everything from their love lives to body shaming to child marriage, inspiring other women in the region to chase different kinds of lives for themselves, too. "There are many people who are doing this for free things," Alice Abdel Aziz says. "That's not our goal. Our goal is to inspire and motivate people, and leave a mark."
The rise of social-media influencers in the Middle East began in a far-off yet familiar place: Calabasas, California. In 2012, after the Middle East Broadcasting Center started airing Keeping Up With the Kardashians, salons in the region started noticing a demand for a Kardashian-fueled trend: contouring. "It freaked me out," says Pierre Lahoud, a Lebanese makeup artist. "Women like to copy Kim Kardashian. They think she has that sexy look and Arabian curves"—referring to the family's Armenian heritage—"and they have half of what she has." And it wasn't just their looks: As the Kardashians became full-fledged moguls, women in the Middle East began pursuing similar branding opportunities. El Kak, who bears a striking resemblance to Kim, down to her long hair and penchant for bodycon dresses, was touted as a look-alike on local websites. "I thought, That's okay—they're comparing me to a pretty girl," says El Kak, whose goal is to franchise her name to beauty ventures.
Motivation for fame also comes from a source closer to home: Huda Kattan, 34, cofounder of the Dubai-based Huda Beauty, who amassed 24.8 million Instagram followers from the success of her beauty tutorials. With a relatable tone (she once candidly wrote about being "blessed with super-hairy syndrome") and an approach tailored to the region (she often reviews false eyelashes, an especially popular local trend), she developed a fan base that feverishly follows the trends she posts about. Kattan's popularity—and her classic Middle Eastern features (full brows and lips, olive skin, long hair)—led to her own line of fake eyelashes at Sephora, and, today, makeup artists aspire to be featured on her feed. Al Fahad, the Kuwaiti makeup artist, got a boost in 2014 when one of her photos appeared on @hudabeauty. She profusely thanked Kattan, calling her a "true inspiration."
Growing up in Kuwait, Al Fahad was a fan of Cindy Crawford. "I love a really strong woman who has it all," she says. She studied finance but was into makeup and began posting about it online. Once she hit 7,000 Instagram followers, she realized the potential of social media. She studied up on best practices, developed a signature look (her naturally straight hair blown out into a voluminous, honey-toned mass of waves), and caught the attention of brands. She began traveling to events: a salon opening in Doha, Qatar, a perfume launch in Dubai, a Carolina Herrera preview in Bahrain.
Soon, social media was taking over her life, but she had a day job as an administrative and faculty assistant at Kuwait University. She wanted to quit, but her parents, whom she lived with, objected. "You don't know what's going to happen with social media," they told her. But the double life was exhausting: She would finish work in Kuwait City around 3 p.m., then fly to Dubai or Bahrain for events, return home after midnight, and start her university job at 7 a.m. After a few months, she quit. "I didn't even tell my parents until a month later," she says with a laugh. "I had to pretend I was going to work!" When she finally confessed, they "didn't freak out much," she says.
Al Fahad is now sought after by major cosmetics brands trying to tap into the Middle East's market of young, makeup-obsessed women. Her manager declined to share how much she earns, but influencers in the region charge anywhere from $500 to $10,000 for appearances, says Zayna Al-Hamarneh, CEO and founder of MODE Marketing & PR in Jordan. Al Fahad now splits her time between Kuwait and Dubai and elsewhere; last year, she appeared at Rihanna's Fenty Beauty launch in New York and promoted Messika jewelry at the Cannes Film Festival. At an event celebrating her MAC lipstick in Saudi Arabia, abaya-clad women crowded around her to take selfies. "It's a weird thing, because I never thought social media could be this powerful," she says. "Now, when I meet people, they get me flowers, iced coffee from Starbucks—it's great."
Perhaps none of the Middle Eastern influencers knows more about just how great social-media stardom can be than the Abdel Aziz sisters. They developed a taste for European fashion on summer trips to visit extended family in Romania (their mother is a Romanian homemaker; their father is a Lebanese doctor). In 2012, Alice, the second-oldest (the eldest Abdel Aziz sister, Diana, lives in Nigeria with her husband and children), started an Instagram account, @styleinbeirut, and began by posting photos of her and her younger sisters' outfits each day. Soon, other fashion accounts began reposting the images, and the feed grew to more than half a million followers. The sisters attracted the attention of global brands. Their big break came in 2015, with the premiere of The Sisters, a reality show exhibiting their high-flying lives. The show drew comparisons to Keeping Up With the Kardashians and generated a slew of international press, but it was panned as boring (an animated spoof called The Cousins poked fun at the sisters' banal conversations) and went off-air after one season.
The short run had little negative impact on the sisters' success. Alice has since launched a line of sunscreen and tanning oil; Nadine has modeled for Guess and appeared on the Lebanese edition of Dancing With the Stars; and Farah has collaborated with Adidas. Social media is now the sisters' full-time job, netting them a collective $500,000 last year. "We make good money," Nadine says with a touch of pride.
One humid evening, Nadine arrives at Métropole café in Beirut's upscale Minet El Hosn neighborhood wearing Céline sunglasses and an off-the-shoulder dress, then seats herself at a sidewalk table. Soon, Farah walks up in sweats, a tube top, and Hermès logo flats; she looks around and notes how "everyone is in Mykonos these days." Alice arrives late, takes in the heat, and sweeps everyone inside to a table with air-conditioning and a view. It's clear she's the leader of the group.
The sisters insist on ordering a round of desserts. "Pain perdu!" they exclaim, promising it's the finest in Beirut. When it arrives, they halt their conversation to film the server drizzling caramel over the dish, while Alice narrates into her phone, saying, "This is the best part!" as she posts to Instagram. As they dig in, they bicker like, well, sisters. "I think people don't know my romantic side," Alice muses. "Yes, they do, because you post about it!" Nadine interjects. They talk about boys: "It's very important for a guy to be supportive of his girlfriend's job, because it's not easy," says Alice, whose fiancé manages the sisters. "We have to take pictures all the time and know how to deal with fame." In any case, she says, men can't really object, since "almost all girls have public Instagrams." The ideal man is "smart," Farah says. "We should be able to have a conversation at the table."
Being outspoken about equality in romantic relationships is the kind of talk that has gotten the sisters noticed for more than fashion. Their Instagram posts—many snapped by their personal photographer—reflect people living in a relatively free city, in a social class where they don't have to contend with many of the cultural restrictions governing other women. As a result, rather than play nice with critics, the sisters are empowered to talk back. Alice has had fiery words about body shaming for those who say she and her siblings are too skinny; in 2015, Farah was quick to correct an interviewer who asked if the sisters were "scared to be taken for another Lebanese bimbo." "Lebanese women are not bimbos," she said. "Just because women of our society like to dress up and take good care of themselves, people will rush to categorize them....Who ever said that a beautiful woman must be stupid?"
There are limitations—for example, they don't collaborate with alcohol brands. "Most of our followers are from Saudi Arabia and the Gulf, and we cannot promote something that is taboo for them. They'll find it offensive," Alice says. "You have to respect their lifestyle." But that doesn't stop them from posting selfies in bathrobes or hitting clubs in thigh-skimming dresses. "We live in a society that will criticize no matter what," says Nadine. "We're in the 21st century and the world is changing," adds Alice. "Look at our ancestors, it wasn't like they could go out wearing skirts. So the world is improving, and with all the social media and technology, we have to be different."
But the spread of flashy, selfie-driven Instagram culture is in opposition to the moral codes of the Middle East. Conservatives are not happy with how the growing popularity of social media is changing the region. At a 2016 conference on the impact of technology on families organized by the National Council for Family Affairs in Amman, attendees from Palestine, Lebanon, Algeria, and Egypt discussed how social-media obsession was increasing moral degradation. In 2017, a Jordanian television host launched into a diatribe on Facebook, calling on women in Jordan to "repent" for how they dress and saying they encouraged "prostitution, adultery, and rape."
Images of women defying conventions online have caught the eye of law enforcement, too. Karazon, the Jordanian Snapchat star, spent a week in jail in 2016 over an allegedly defamatory post in which she accused a doctor of having conducted the wrong surgery, leading to a woman's death. In the same year, a woman named Malak al-Shehri was arrested in the Saudi capital of Riyadh for tweeting a photo of herself walking without an abaya, which is mandated by the country's dress code.
More recently, a 27-year-old aspiring Saudi model was seen walking around a historic site in a miniskirt in a viral Snapchat video. (She was detained by the Saudi police and released without charges.) Haya Awad, 35, a fashion designer in Amman who has more than 78,000 Instagram followers, knows to tread carefully. "People following you online are really curious about your lifestyle, but, as a woman, I know my limits," she says. She remembers once receiving a call from a friend who thought she was revealing too much. "I bought a pair of 'hot shorts' and snapped them—I wasn't even wearing them—and my close friend in Dubai called me and said, 'Haya, why are you posting this? This is too intimate!'" Awad says.
Despite such critiques—and the risk of arrest—a growing number of women are boldly sharing their opinions on a range of topics, including feminism and cyberbullying. In January 2017, a woman in Saudi Arabia used Twitter to call attention to the fact that her infant daughter was being abused by the baby's father (the baby was removed from the father's custody and given to the mother). Also in 2017, Ghina Ghandour, 38, an image consultant in Lebanon, posted an Instagram about an anti-sexual-harassment campaign in her country known as #mesh_ basita (which translates to "It's not a small thing" in Arabic), writing "sexual harassment is not okay, it should not be normalized, and there is need for legislative reforms." Even in the most conservative countries in the region, women are increasingly posting photographs of themselves from the neck down, or focusing cameras on their shoes or coffee cups. "The more you grow, the more you're exposed to different mentalities and beliefs," says Al Fahad, the Kuwaiti makeup artist. "I feel like there's a long way to go, but in the Middle East, people are more accepting that there are different kinds of girls and guys."
The influencers are gratified by their impact. "I always have women tell me, 'Because of you, we changed our life and started caring about ourselves, not only about brands and looks,'" says El Kak, the Lebanese TV and radio host. Karazon thinks her outspoken nature has helped other women find their voices. "When I started, it wasn't possible for Jordanian girls to speak out on Snapchat," says Karazon, who has opposed underage marriage and stood up to criticism she receives for not wearing a hijab. "I was the first woman to start talking about modern issues, and that made people start following me." Now her fans clamor for her commentary. "It's not possible for me to take a day off," Karazon says. "People say, 'Zain, please, you're like family; we need to get your advice.'"
What women like Karazon have achieved is more than just fame and freebies. Their success is what makes a teenager capture herself on Snapchat as she tells the world how she styled her headscarf, confident that she has the right to do so. It's a change evident throughout the Middle East and one that isn't driven by a government or a campaign to rid women of their burkas—it's real and organic, and it's being narrated 24/7, through filters and emojis. "When many people said to me, 'Without a man in the house, you would not be able to succeed in life,' Zain taught me that we don't need anybody to succeed," says Inès, an 18-year-old who ran the now-defunct @ZainKarazonFans account on Twitter. "We have to persevere, and then we can do anything."
This article originally appeared in the May 2018 issue of Marie Claire, on newsstands now.
Celebrity news, beauty, fashion advice, and fascinating features, delivered straight to your inbox!