It's Official: 'The Hills' Is Getting a Reboot
'The Hills: New Beginnings' was announced at the 2018 VMAs.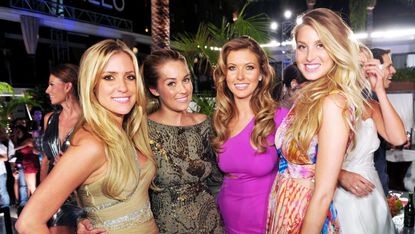 (Image credit: Getty Images)
Though it's been rumored for awhile, we finally got confirmation at the 2018 MTV VMAs that The Hills would be coming back for a reboot. The news was dropped by way of Audrina Patridge's red carpet hint about an "announcement," followed a mysterious commercial played toward the end of the broadcast, featuring the telltale "Unwritten" theme song. This time, the track was a pretty acoustic duet, rather than Natasha Bedingfield's 2004 bop.
Now for what we know about the new show: It's official title is The Hills: New Beginnings, and it's slated to premiere in 2019. Though there's no official announcement about who's going to be on the show yet, the members of the original series present at the VMAs for the announcement included Patridge, Spencer Pratt, Heidi Montag, Justin Bobby, Jason Wahler, and Frankie Delgado. No Kristin Cavallari, so we'll see if she shows up. (She has her own show, Very Cavallari, to look after, though.)

See the announcement below: