A Ballet Dancer Claims Nude Photos Were Taken Without Her Consent. Now She's Suing the New York City Ballet.
The company has faced other allegations of abuse already this year.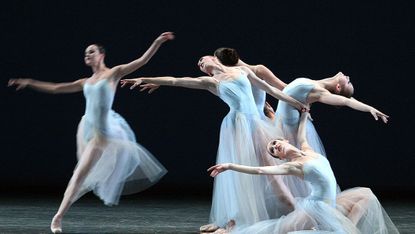 (Image credit: AFP)
Marie Claire Newsletter
Celebrity news, beauty, fashion advice, and fascinating features, delivered straight to your inbox!
Thank you for signing up to Marie Claire. You will receive a verification email shortly.
There was a problem. Please refresh the page and try again.
The misogyny of the ballet world has been whispered about for decades; now, it's being shouted. A lawsuit brought forth on Tuesday by a 19-year-old former ballerina alleges that the New York City Ballet—one of the most legendary ballet companies in the world—allowed the creation of a "fraternity-like atmosphere" in which male dancers mistreated their female peers. The woman, Alexandra Waterbury, had been a student at the company's affiliated dance academy, School of American Ballet, and was recently dating male principal dancer Chase Finlay, whom she names in the suit alongside two other company members.
According to the New York Times, Waterbury says that after discovering photos and videos of herself on his computer, which she alleges were taken and shared without her consent, she decided to come forward with charges. Finlay resigned from the company last month, and City Ballet suspended the other two other male principal dancers—who allegedly passed around sexual photos of women—without pay until next year for violating what it calls "norms of conduct."
Waterbury's allegations are awful, though they're not the first time the New York City Ballet has been at the center of #MeToo accusations. At the beginning of the year, Peter Martins—the company's then-Ballet Master, who had worked there for nearly 30 years—retired abruptly amid accusations from five City Ballet dancers of sexual harassment and physical and verbal abuse. Martins has denied the claims and said he retired to "bring an end to this disruption." A two-month investigation by the company did not corroborate the accusations, according to the Times.
That failure to corroborate charges against Martins, Waterbury's suit alleges, created an environment at the company in which the male dancers she named found it possible "to abuse substances and degrade, demean, dehumanize and sexually abuse women."
Waterbury's suit details horrific conversations about and threats to women, not only among fellow dancers but up the ranks. Per the Times:
Ms. Waterbury's lawsuit says that she was not alone in being victimized and that nude photos of other female dancers were also shared on the text-chain, often accompanied by lewd and misogynistic language.
The suit says a donor wrote to Mr. Finlay about his desire to "violate" dancers at another company, and added, "I bet we could tie some of them up and abuse them like farm animals." It said Mr. Finlay replied "or like the sluts they are."
A lawyer for Mr. Finlay, Ira Kleiman, said that he had no comment.
Though it sometimes seems like the #MeToo and #TimesUp movements have slowed in the wake of newer and more distracting stories, it's heartening to know that brave women are still coming forward to share their stories.
Clarification: An earlier version of this story identified Waterbury as a dancer with New York City Ballet. She is not. She is a former student at the company's affiliated ballet academy, School of American Ballet, which she attended from 2013 to 2016.
RELATED STORY
Celebrity news, beauty, fashion advice, and fascinating features, delivered straight to your inbox!
Cady Drell is a writer, editor, researcher and pet enthusiast from Brooklyn.