In Praise of TV's Frumpy Women
An ode to all the UGG wearers out there—may you live long and prosper.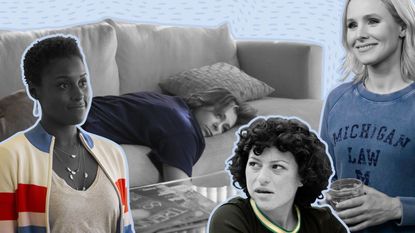 (Image credit: Design by Perri Tomkiewicz)
Marie Claire Newsletter
Celebrity news, beauty, fashion advice, and fascinating features, delivered straight to your inbox!
Thank you for signing up to Marie Claire. You will receive a verification email shortly.
There was a problem. Please refresh the page and try again.
This year, women on TV—the fictional ones at least—were allowed to get a little messy. We've reached a point where our on-screen counterparts are more complicated than ever: They go to prison, they get abortions, sometimes they even age over 60. They also cheat on their spouses, suck at their jobs, and question the patriarchy. They're perfectly imperfect. And, much like real life, some of them don't know how to dress.
Thankfully, the realness of TV style has come a long way in the eight years since Carrie Bradshaw crawled into bed wearing her "night pearls." For every female character we see in an outfit that would cost a month's salary (Rory Gilmore, I'm looking at you), there's another sporting the inappropriately casual work attire I find when going through my own closet (👋 , Ilana Wexler).
Take Crazy Ex-Girlfriend. The cringe-worthy and ultra-relatable moments that make the show so great extend to the lead character's very real-girl wardrobe, which only makes the show stronger. Rebecca Bunch is a Harvard-educated lawyer who leaves her life in New York to pursue an old boyfriend in Covina, California—she's successful on the surface but a bit of a mess underneath. And she dresses the part: Her outfits are the non-costumes that women everywhere tug on before running to the office, with go-to looks like boxy "work shirts" and the bad kind of Mom jeans.
"Rebecca doesn't know who she is, so her style has an 'anything goes' mentality," show costume designer Melina Root tells MarieClaire.com. "There's nothing curated about her clothing." To hammer home the point, Root shops for Rebecca's wardrobe at the real-life West Covina Mall, where she often ends up with Gap T-shirts, Theory business suits, and the occasional "splurge."
Without personal taste to guide her, Rebecca's often just dressing to please others—a familiar feeling for women the world over, no doubt. On a big club night, she rocks the same strappy minidress we've all squeezed into at some point in our lives—which, on the show, is also worn by her crush's girlfriend, and which prompts the following hilariously on-the-nose song:
"I want to kill you and wear your skin like a dress / but then also have you see me in the dress / and be like O-M-G you look so cute in my skin."
There is now a third tier of female style on TV: not an ultra-tailored Olivia Pope, not a Snuggie-wearing Liz Lemon, but a woman who doesn't understand herself enough to pick out her own clothes.
HBO's Insecure, as the name suggests, also features a woman—and a sense of style—in development. We see Issa Dee (played by Issa Rae) in a fraught fashion moment in the very first episode when she faces a classroom of teens (as the lone black member of an educational outreach program), and they promptly take down her career, hair, and outfit. Issa's printed blazer is more of a fashion risk than a fail (fun fact: it's what costume designer Ayanna James wore to her job interview), but the teens immediately realize that she isn't comfortable with the attention that statement clothes can bring.
It's especially endearing to see Issa and her best friend Molly—a Ted Baker-loving fashionista—dress down around each other. Out to brunch, Molly goes low-key in a black tank top while Issa wears a Prince tee. "They portray different spectrums of the same woman," James told us about character by way of clothes. "When they're together, we wanted it to feel warm, comfortable, like they know each other." Like how you dress. In real life.
Even aspirational costuming—the kind of outfit you'd save to a Pinterest board—is becoming more relatable in the 2016 television landscape. Search Party's Dory Stewart (played by Alia Shawkat) works as a personal assistant to a "rich lady" and doesn't have the funds for designer threads, so costume designer Matthew Simonelli chose items that could have been bought at a thrift shop. In keeping with the show's heightened environment, Dory's allowed to have a sense of style—just one that's within her means.
And then there's the fact that TV is finally featuring "regular-sized" actors, which begets more regular-looking clothes, and more representational confidence for the women—of all body types—who wear them.
As a woman watching these shows at home in sweatpants, it's thrilling to see a female lead on primetime cable sport a baggy college sweatshirt, like Kristen Bell on The Good Place, whose uniform is simple jeans, Uggs, and plaid shirts. But when there's a full 30-minute episode of television starring a woman staring blankly into her closet, that's when we'll know we've made it.
Follow Marie Claire on Facebook for the latest celeb news, beauty tips, fascinating reads, livestream video, and more.
Celebrity news, beauty, fashion advice, and fascinating features, delivered straight to your inbox!