'Cam' Is the Sex-Positive Horror Movie You Have to See
It's a super-creepy cautionary tale for the social media age.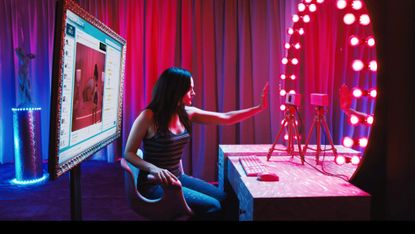 (Image credit: Netflix)
Isa Mazzei was getting tired of the typical reactions when she talked openly about being a cam girl. If you're not familiar with the term, it might be that you're simply not the target market: "Cam girls" and "cam boys" perform live shows on adult streaming sites, often (but not always) solo, and to varying ranges of explicitness. "People assumed I needed to be desperate or broke," Mazzei tells Marie Claire. "They had a hard time wrapping their heads around the fact that I chose this career." But with her new Netflix movie Cam, a collaboration with her director friend Daniel Goldhaber, Mazzei's hoping to challenge that assumption.
Cam, streaming now, takes viewers deep into the webcam world, adding some surreal twists along the way. Horror fans, female film critics, and icons like Stephen King are all certified fans, thrilled about how the movie delivers the scares without losing its empowering, sex-positive viewpoint.
The flick centers on Alice (played by Madeline Brewer), a cam girl who performs online as "Lola," bringing the wit and creativity of a burlesque performer to her broadcasts. As Alice/Lola moves through her daily routine, she establishes herself as a complex character, whose unconventional approach to camming—including a darkly comedic stunt with a butcher knife—helps her crack the top 50 ranking on the streaming site that hosts her show. But when a mysterious look-alike takes over her account and pretends to be her, Alice must struggle to get back her identity.
The process of prepping for the role, Brewer recalls, took her from being "super-judgey" about sex work to feeling much more empathetic. "I have an appreciation for their work—not just as human beings doing their job, but as artists," says Brewer (who had just finished filming the first season as Janine on The Handmaid's Tale). "It's baffling how some women will found entire careers on activism and feminism and still treat sex workers as second class."
Those kinds of revelations happen for the audience too, thanks to the fact that Mazzei's firsthand experience in camming informed much of the script. But when she first approached budding filmmaker Goldhaber about collaborating on a movie about life as a cam girl, the conversation was awkward—mainly because they had dated in high school. "At first he was kind of resistant, like, I don't even know what camming is," she says. She flew him out to Boulder, Colorado, to get up to speed.
"I was hanging out with her while she was prepping for her shows, while she was talking to her guys," Goldhaber recalls. "Seeing the passion she was approaching it with was really special." This is when Goldhaber, also in his mid-20s, began to question his own attitudes about porn and sex work—and why the two filmmakers decided that, instead of going the documentary route, theirs should be a genre film that would "bring an audience inside of sex workers' heads," as Mazzei puts it.
Also prominent in the script is a meditation on how we, as a social media culture, curate online identities. "I was an an online dating addict, and it reduces your sexuality to something algorithmic," Goldhaber explains. "I really wanted to talk about feeling like I'd lost myself in my internet identities."
That might be how an element of Black Mirror-esque techno-horror got into the story: Alice is forced to reckon with this sleeker, savvier, more sinister version of her cam persona, and anyone who's ever had an account hacked will relate to how thoroughly her life is upended.
In trying to make sure their story brought dignity to sex work, Mazzei realized it would also necessarily challenge negative depictions of women in thrillers. From the original stalker films of the '70s and '80s to more recent entries in the so-called "torture porn" genre, female characters are often treated as disposable eye-candy. "A gripe that I have with a lot of genre films, specifically horror, is that women often make really dumb choices that no woman I know would actually make," Mazzei says. Similar negative stereotypes, she adds, also plague the sex worker community. "While I was camming, two films came out in theaters where the entire plot—the entire joke of the film was—'Ha ha, we killed a prostitute, what do we do now?'" And bad representation, says Mazzei, has real-world repercussions, including "a legacy of law enforcement not treating sex workers with respect," which leads to sex workers underreporting crimes that happen against them. In Cam, Alice is far from disposable, taking matters into her own hands after the police prove to be unhelpful.
Mazzie and Goldhaber found an ally in producer Isabelle Link-Levy, who got involved after reading an early draft. "I fell in love with the project and the premise and the politics," Link-Levy recalls. "Isabelle was so important," Mazzei emphasizes, "not only in motivating us and kicking our butt...but also, she held us to our vision and she would always refer back to it."
As director of the project, Goldhaber was grateful to have Mazzei and Link-Levy on-set to guide the project in a more feminist, sex-positive direction. He followed their leads on everything from wardrobe to scene blocking. "I was lucky to have collaborators who were patient enough to work with me, to educate me," Goldhaber says.

If Mazzie found a shot too objectifying, they would reframe it. If there was a scene that called for nudity, the team actively made sure the actors never felt exploited by it. "We had heard so many stories from friends of ours who had been bullied with nudity riders on set...producers saying, 'Oh, you said you would be topless in this scene, so you have to be topless,'" Mazzei says. "If you hire an actress to be naked, it's your job to make her feel safe and empowered."
That meant that Goldhaber and Mazzei allowed the actors to determine, on a scene-by-scene basis, how nude they would be. Brewer sometimes went against their first instincts, like when she insisted on being clothed during Alice's climactic showdown with her double. "Maddie made some decisions that absolutely, fundamentally bettered—if not completely saved—the film," Mazzei concludes.
"At the end of the day, we wanted to just make a film about an artist—as well as about a woman—who is ambitious, who's putting all of her energy into this one task, and when that's ripped away, how painful that can be," says Link-Levy. "She just happens to be a sex worker."
For all those reasons, you should watch Cam, though maybe don't do it alone—not just because it's scary and intense, but because you'll want to have someone to talk to about it with after the credits roll.
For more celebrity news, beauty and fashion advice, savvy political commentary, and fascinating features, sign up for the Marie Claire newsletter.
RELATED STORY
Celebrity news, beauty, fashion advice, and fascinating features, delivered straight to your inbox!
Carl Kelsch is the Managing Editor of Harper's Bazaar. He's also a screenwriter whose short films of varying quaility can be found smattered among the interwebs.