The Creators of PEN15 Present Their Hilarious, Oddly Harrowing New Show
On the Hulu series, Anna Konkle and Maya Erskine relive their middle school days—and yours, too.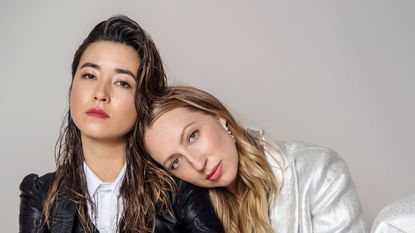 (Image credit: Lindsey Byrnes for Marie Claire)
PEN15, the now-streaming Hulu series named for the very immature anatomy joke perennially popular among youths (if you're confused, try writing the title), so captures what it was to be a tween in the early 2000s that it belongs in the Library of Congress. Among the painfully relatable plot points are the early and very loud days of dial-up Internet, the Irish pop band B*Witched, and "freaking" at school dances—and if any of that hits close to home, you're in good company. Maya Erskine and Anna Konkle, the show's 31-year-old stars and creators, each play versions of their awkward 13-year-old selves. "I'd say it's about 75 percent autobiographical," says Erskine. "The masturbation plotline is true, the divorce is true, but that isn't how things happened exactly."
The show follows two best friends (named Maya and Anna, naturally) as they navigate seventh grade in all its weirdness: the hopeless crushes and unfortunate haircuts, the pubescent changes and constant humiliation, the struggle for acceptance from peers and adults alike. And in part because it was executive produced by Lonely Island (comedy trio Andy Samberg, Akiva Schaffer, and Jorma Taccone), PEN15 is spectacularly offbeat. Konkle and Erskine are the only adults playing teens, for example, and are surrounded by actual tween costars. "There was always something we found really funny about being rejects among a bunch of children," says Konkle.
"We thought a way to make it comedic is to see adults playing middle schoolers so that there's some distance to watching it," adds Erskine. "If you watch an actual middle schooler go through it, it can be really sad and heartbreaking." That might explain why, despite PEN15's jokes, the laughs aren't brought on by a punchline so much as by a cringing sense of recognition. You were this tween, and so were Erskine and Konkle.
The two women—who you'll be pleased to learn are best friends in real life, too—were introduced at NYU's international theater program in Amsterdam, where they bonded over a shared fear of performing live. Years later, they were meeting up in Los Angeles to brainstorm projects they'd want to make. "We would go to these parties in L.A. and feel like we were stuck in middle school again," says Erskine. "You never fully leave that place. No matter what age you are, you can revert so easily back to that feeling of being out of place." Exploring that, they thought, would make a pretty good TV show, and together with their third co-creator, Sam Zvibleman, PEN15 was born.
Of course, working around real preteens upped the verisimilitude. "As soon as you're around these kids, you're like, How do I impress them?!" says Erskine. "They were saying, 'I ship that!' And I was like, 'Yeah, I ship that too, you guys!' I had to ask other people what it meant."
That dynamic is part of what makes PEN15 so brilliant. Because its creators take teenagers seriously, the show compels its viewers to take them seriously, too—and not just because they're played by adult actors. If last year's sleeper hit Eighth Grade showed grown-ups how to empathize with a tween, PEN15 demonstrates how our preteen selves are much closer to us than we think. "I don't want to say we underestimate kids, but there is a feeling of departure from them as we get older," says Konkle. "But I'm the same person inside."
The show's relatability goes deep. One plotline deals with parents' divorce, something that Konkle went through as a teenager and that, she says, it felt weird to play out again as an adult. Another deals with the toll casual racism takes, in an episode with a group of kids "playing Spice Girls." (It really is ripped from your middle school stress-dreams.) "That age is the first time you're confronted with a lot of adultish things and you're actually able to comprehend them," says Konkle.
That's what allows what is, on its face, an extremely weird show to pack such an emotional punch. "When you're 13, you're becoming who you're gonna be," says Erskine. So for all of its gags about feverish masturbation (and there's an entire episode dedicated to it), the show treats relationships with dignity and respect. "It's a love letter to your friends," she continues. "And that's meaningful too."
A version of this story appeared in Marie Claire's April 2019 issue.
Lead image: On Maya: Dolce and Gabbana jacket, top, and pants. Manolo Blahnik shoes. On Anna: Fabiana Filippi top and pants. Cartier earrings.
Photographs by Lindsey Byrnes; Fashion Editor: Sarah Cobb; Hair: Clayton Hawkins for GHD at Starworks Artists; Makeup: Christian McCulloch at TraceyMattingly.com
For more stories like this, including celebrity news, beauty and fashion advice, savvy political commentary, and fascinating features, sign up for the Marie Claire newsletter.
Celebrity news, beauty, fashion advice, and fascinating features, delivered straight to your inbox!
Cady Drell is a writer, editor, researcher and pet enthusiast from Brooklyn.