Yara Shahidi on How She's Closing the Dream Gap
I want to be Yara when I grow up.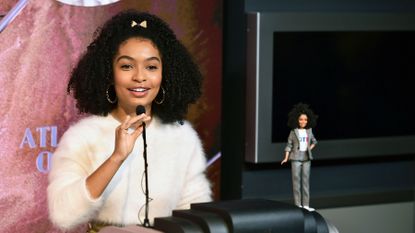 (Image credit: Steven Ferdman)
When I first started at Marie Claire almost a year ago, I was most excited about the opportunity to work with so many incredible women, and it was fitting that the first cover to hit stands during my stay here was the 2018 Fresh Faces, in which Yara Shahidi was one of the five women featured. As a result, I've kept a special place for her. I've seen her grow up on my television screen as Zoey Johnson on Black-ish and then Grown-ish, and am constantly in awe of how thoughtful and poised she is, both on-screen and IRL.
So when Barbie announced that, for their 60th year anniversary, Yara was being added to their Sheroes lineup, I knew I had to talk to her about it. After talking about authenticity and dreaming big, needless to say I'm more obsessed with Yara than ever—and after reading her responses, you will be too.
Marie Claire: Let's chat a little bit about your new Barbie. Did you have any part in the creative process? What was that like?

Yara Shahidi: The creative process was so much fun because it was really collaborative. [My mom] and I were walking around with parts of dolls for quite some time because we were mixing and matching, which was fun because you could tell that it's really important to Mattel to make sure that the doll authentically represented me in a way that I really liked, and a way that I felt is genuine to who I think Yara really is. Everything from my outfit to my curls to my eyebrows were all things that we discussed.
MC: Why was it so important for her to have curls and be as natural as possible?
YS: I think it was important partially because that's just who I am. I feel like when I think of who I am, my curls are undoubtedly apart of that just because of my heritage that it represents. And I think what we see in the entire Barbie collection is this expansion of who is included, and I think it's really important that we get to see curly girls. We get to see all sorts of different facets of ourselves that usually go overlooked.
MC: One hundred percent. Speaking of curls, do you have any old school tricks you use for keeping them looking as great as they always do?
YS: A satin pillowcase and a pineapple in my hair. It's when you do a ponytail, a very loose ponytail to the front of your head so that you can appreciate Day Two curls.

MC: Can you talk about what it means to be apart of the Shero campaign?
YS: I'm honored because I love all of the other Sheroes on the list. Like, those people [ice dancer Tessa Virtue, mountaineer Karla Wheelock, visual artist Chen Man, among many others] are people that I genuinely have been following and admiring for such a long time, both personally and from afar. But I also love this idea of young girls and young humans— anyone who plays with a Barbie—being able to see different types of representation but also different job possibilities. Different, expansive ways you can go about your life, and hopefully that's opening up what they think is possible in their own life.
MC: What does helping close the Dream Gap mean to you?
YS: Helping close the Dream Gap means multiple things. I think on the most personal level it's finding ways to instill in young girls that not even the sky is the limit, and that they have the potential and possibility to do whatever they want to. Not even in an ideal world, but in every version of the world that we live in.
And then I think it also means, how do we close the external barriers that prevent us from believing in ourselves? I mean, the amount of studies done on when you're in a mixed gendered classroom and in knowing that girls feel less confident speaking up because of the male presence in the classroom? I think there's more and more stats about every kind of moment in our lives where we're told, "You don't belong in this space" or "Your opinion doesn't matter." I think closing the dream gap is not only setting an internal precedent and saying, "I can do what I believe in and what I want to do," but also setting the external precedent of, "Other people around me are going to believe in what I want to do, because we're going to show them and normalize the idea of a successful woman."
MC: What advice do you have for young girls who may feel like they are at a disadvantage, whether it's socio-economically or it's to the many girls around the world who don't have the opportunity to seek out an education?
YS: I think, first and foremost, we have to recognize that that is a reality and that these aren't self-made barriers but things that have been put in place forever. I think the one thing that has been crucial for me to know is that there have been support networks in place, not only for us personally but people who are dedicated to help in our success. People who have been dedicated to knocking down barriers. The freedom that we do experience is from other women who have invested their time, their money, their energy, their being into making sure that we have that we have space.
MC: Marie Claire just launched our first-ever Change Makers issue and we spoke to members of Times Up Entertainment about the realities they face in Hollywood. We've come so far, but there is still so much to do, which you know firsthand with your work on Black-ish and now Grown-ish. What has the process been like to be both in front of and behind the camera?
YS: I'm so grateful for that entire process because I've been Zoey for going on six years now, I feel like it's a character anniversary. We've been together for six years. But you know, [Black-ish creator] Kenya Barris is an incredible creative who I think similarly takes on the mindset of, How do you bring in new voices? How do you bring in people that usually aren't allowed into these rooms?
And so I think what I love most about Grown-ish is not only our writers room—because ultimately I'm not the one writing it, it's a ton of other talented people—and the directors that we get. I think we get to hear from so many voices who have put in so much work and put in so much effort into perfecting their craft and still have unorthodox backgrounds. And so I love this idea of being able to be one of the opportunities on their soon-to-be-long careers, and to be able to invest in people that aren't always usually invested in.
MC: We're all looking forward to your film with Charles Manning, The Sun Is Also A Star. What is it like to be representing, not only black women in a love story, but also a bi-racial love story?
YS: I think what I love most about the film is that it's a film in which we're proud of our cultural heritage and a film about immigration and how it affects us in different ways. I appreciate the fact that these are people that you usually don't see in a film together. But I also love this idea of, like in anything that we're doing, it's less about this one film but, again, in setting the precedent and saying that this is a love story that you could invest in as an audience. Which is why you should invest in these other stories that are even more in the margins. So yeah, I'm excited for what that's going to do.
The Sun Is Also A Star premieres May 14.
Celebrity news, beauty, fashion advice, and fascinating features, delivered straight to your inbox!
Krystyna was the former Social Media Editor of Marie Claire where she oversaw all things social media and connected with MarieClaire.com readers. She came to Marie Claire from Racked.com, where she was the Community Manager. Before that, Krystyna was at Latina Mag and Cosmo for Latinas. She graduated with a Marketing major from Fordham University.