The Best Silk Pillowcases of 2023
A beauty sleep-obsessed editor weighs in.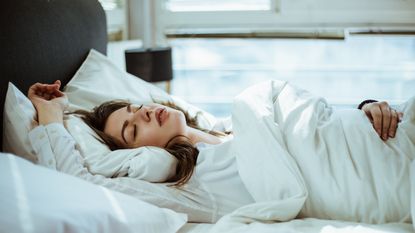 (Image credit: Lazar Obradovic)
There are opinions to be had when it comes to silk pillowcases. Some beauty editors describe them as beauty sleep's (opens in new tab) secret weapon, extending the lifespan of your blowout and keeping your skin silky-soft, not to mention the additional benefit of preventing split ends (opens in new tab) and facial wrinkles (opens in new tab)—and others think they're overpriced pieces of soft, slippery fabric, designed to wind up on the floor, leaving your hair a mangled mess. The buzz around silk pillowcases come from the fact that silk allows your hair and skin to move smoothly along the pillowcase without sucking up all of the moisture you worked so hard to get there in the first place. Also, did you know that moisture absorbed by cotton can draw allergens and bacteria into your pillowcase?
As a writer who wishes she could put "sleeping" on her resumé under "skills," I'm forever looking for more ways to improve my Olympic-level beauty sleep regimen. Bye-bye, cotton pillowcases and sheets. Falling into a bed completely full of silk every night makes me feel like I'm in a lotion commercial. There are a million and one options for silk pillowcases on the market now, and I've done my best to gather the best silk options for your hair and your skin.
Amanda Mitchell is a writer and podcaster with bylines at Marie Claire, OprahMag, Allure, Byrdie, Stylecaster, Bon Appetit, and more. Her work exists at the apex of beauty, pop culture, and absurdity. A human Funfetti cake, she watches too much television, and her favorite season is awards season. You can read more of her work at amandaelizabethmitchell.com or follow her on Instagram and Twitter @lochnessmanda.