Editors handpick every product that we feature. We may earn commission from the links on this page.
Yes, a Silk Pillowcase Is Worth It
A beauty sleep-obsessed editor weighs in.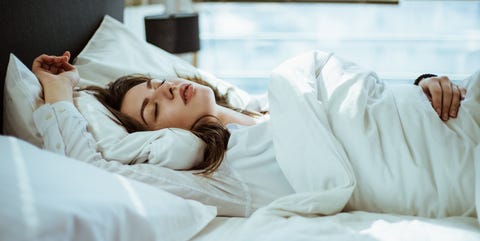 Lazar Obradovic
Getty Images
There are opinions to be had when it comes to silk pillowcases. Some beauty editors describe them as beauty sleep's secret weapon, extending the lifespan of your blowout and keeping your skin silky-soft, not to mention the additional benefit of preventing split ends and facial wrinkles—and some beauty editors think they're overpriced pieces of soft, slippery fabric, designed to wind up on the floor, leaving your hair a mangled mess.
The buzz around silk pillowcases come from the fact that silk allows your hair and skin to move smoothly along the pillowcase without sucking up all of the moisture you worked so hard to get there in the first place. Also, did you know that moisture absorbed by cotton can draw allergens and bacteria into your pillowcase? While it's no lie that everything you put on your hair and face will end up on your pillow, silk is the best way to make sure some products—not all of the products—stay on your face.
As a writer who wishes she could put "sleeping" on her resumé under "skills," I'm forever looking for more ways to improve my Olympic-level beauty sleep regimen. Bye-bye, cotton pillowcases and sheets, mama's a silky girl now. Falling into a bed completely full of silk every night makes me feel like I'm in a lotion commercial. There are a million and one options for silk pillowcases on the market now, and I've done my best to gather the best silk options for your hair and your skin. Here are ten of the best silk pillowcases on the market, and how they'll help you wake up feeling—and looking—better than ever before.
This content is created and maintained by a third party, and imported onto this page to help users provide their email addresses. You may be able to find more information about this and similar content at piano.io