Who Was Anne Lister, The Woman HBO's 'Gentleman Jack' Is Inspired By?
The woman kept a four-million-word diary of her life.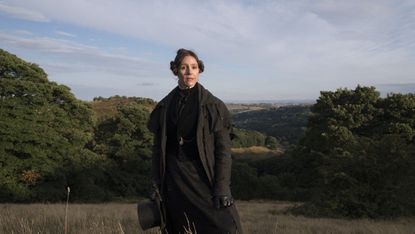 (Image credit: HBO)
Marie Claire Newsletter
Celebrity news, beauty, fashion advice, and fascinating features, delivered straight to your inbox!
Thank you for signing up to Marie Claire. You will receive a verification email shortly.
There was a problem. Please refresh the page and try again.
Raise your rainbow flags up high, because Anne Lister is finally getting the recognition she deserves: On April 22, HBO will release a new eight-part series, Gentleman Jack, based on the real-life story of Anne Lister. Lister was a 19th century gender-nonconforming businesswoman and landowner who positively radiated BDE long before Ariana Grande came into the world.
In the HBO trailer below, you get the sense that Lister (played by Suranne Jones, pictured above) is a no-nonsense woman. With a cane in hand and black top hat resting above her pin-curled hair, she returns to her home in Halifax, England, to restore her estate, reopen the local coal mines, and marry a well-off woman. Lister's mannerisms, confidence, and non-heteronormative preferences were all frowned upon in the 1800s—not that any of that stopped her.
Here's everything you need to know about the real "Gentleman Jack," Anne Lister:
Lister has been called the "first modern lesbian"
Though she never explicitly identified herself as a lesbian, Lister openly engaged in same-sex relationships and had several female partners—the first when she 15 years old, according to The Guardian. In her diary, Lister wrote, "I love, & only love, the fairer sex & thus beloved by them in turn, my heart revolts from any other love than theirs."
She was a landowner, businesswoman, and mountain climber
Not only did Lister ignore the status quo when it came to who she loved, but she also bucked tradition when it came to society. Lister lived in the 1800s, a time when women were expected to let men provide for and give permission to them. Lister had no problem tossing that tradition out when, in 1826, she inherited around 400 acres of land, including Shibden Hall. She was able to bring in money from rent, wood, tolls, and shared canals all on her own, according to the Daily Mail. The land also had tons of coal, which Lister used to start two collieries, creating another source of income.
In her spare time, Lister traveled. According to the Daily Mail, she was the first woman to climb Monte Perdido in the Pyrenees, and the first person to ascend Mont Vignemale, the highest peak in the French Pyrenees. There's even a memorial for her at the top of the slopes.

Lister documented her life in a coded, 27-volume diary...
From the age of 15, Lister kept a detailed diary of her most intimate encounters between herself and other women. But she knew better than to write out her more explicit thoughts and desires in plain English, so instead she developed a code.
According to The Guardian, Lister's "crypthand" as she called it, was a mixture of algebra and Greek letters. Though not all of the diary was written in this code, the parts about her same-sex relationships were.
In the 1890s (50 years after Lister's death), her descendent John Lister inherited Anne's home of Shibden Hall, found the diary, and figured out the code. But instead of telling the world about Anne's same-sex sexual encounters at the risk of exposing his own, he put the book back in it's hiding place, where it remained until the house was turned into a museum nearly a century later.
Those who found the diary were able to read beautifully detailed pages about Lister and her life in England, but it wasn't until the 1980s that the code was broken and her love life was revealed. Up until then, most people just made assumptions based on public interactions, her mannerisms, and of course, gossip. But when Lister's diary was found and decoded for the second time, her sexual preference was confirmed.
That diary is now considered an English national treasure
Lister wrote so vividly, openly, and honestly about her life that her words were deemed a valuable to posterity. According to BBC, in 2011 Lister's diaries were added to the UK Memory of the World register after a vote by UNESCO. The organization described the four-million-word tome as "a comprehensive and painfully honest account of lesbian life and reflections on her nature."
But...she wasn't a full-fledged feminist
Lister wasn't 100 percent progressive when it came to women's rights. She has an entry in her diary about a Manchester Observer article that discussed a woman's right to vote. She called it "a curious list of authorities in support of the rights of women to take part in these reform meetings—to vote in the House of Commons and in short, to be in every sense of the word, members of the body politic." Ultimately she thought the idea was outrageous. "What will not these demagogues advance, careless what absurdity or ruin they commit!" she wrote.
I'm assuming this lapse in judgement was a sign that, despite her progressivism in a host of other issues, Lister was nevertheless a product of her time. I like to think that if she were around today, she'd probably have a different stance.
She has a plaque at Holy Trinity Church
According to The Guardian, on Easter Sunday in 1834 Anne Lister and her partner Ann Walker went to the Holy Trinity church in Goodramgate, York. The two exchanged rings, vows, and took communion that day. Helena Whitbread, who has studied Lister's diaries for 35 years, told The Guardian that Lister viewed this act as their official "matrimonial pact." That means that the Holy Trinity Church was the site of the first lesbian marriage in Britain.
In 2018, the church honored Lister and her marriage with a blue plaque lined in rainbow colors. The plaque is the first of its kind in the UK, recognizing LGBTQ culture and history.
Gentleman Jack premieres on HBO April 22.
For more stories like this, including celebrity news, beauty and fashion advice, savvy political commentary, and fascinating features, sign up for the Marie Claire newsletter.
RELATED STORIES
Elmo Just Won the Game of Thrones
Celebrity news, beauty, fashion advice, and fascinating features, delivered straight to your inbox!
Alexis Jones is an assistant editor at Women's Health where she writes across several verticals on WomensHealthmag.com, including life, health, sex and love, relationships and fitness, while also contributing to the print magazine. She has a master's degree in journalism from Syracuse University, lives in Brooklyn, and proudly detests avocados.