23 Katie Holmes Movies That Range From Good to Great to "Um..."
Katie Holmes is best known for her TV work, thanks to her iconic role as Joey Potter in Dawson's Creek. But the actress has also had a prolific movie career—here are some of her best movies of all time.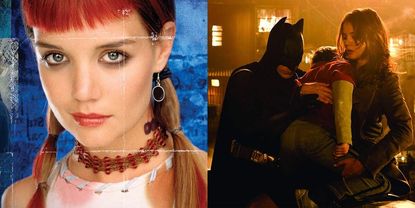 (Image credit: Warner Bros/ united Artists)
Katie Holmes will always be Joey Potter in our hearts, but the actress has also had an impressive career on the big screen. Over the years, she's done it all—weighty dramas, dark action movies, twisty suspense, zany comedies. Basically, think of a genre and Katie has problem made a movie (some great, some...less than great) in said genre. Below, take a journey with me through the highlights of Katie's movie résumé. Let's start from the beginning...
1. 'The Ice Storm'
Release date: September 26, 1997
Starring: Kevin Kline, Joan Allen, Henry Czerny, Adam Hann-Byrd, Tobey Maguire, Christina Ricci, Jamey Sheridan, Elijah Wood, Katie Holmes, and Sigourney Weaver.
Fun fact: This was Katie's first-ever movie role. She didn't have a huge part in the ensemble film, but she does get to be the object of both Tobey Maguire and David Krumholtz's affection.

2. 'Disturbing Behavior'
Release date: July 24, 1998
Starring: James Marsden, Katie Holmes, Nick Stahl, Bruce Greenwood, and William Sadler.
Katie's first foray into twisty thrillers. Disturbing Behavior follows a high school class with a creepily-perfect clique called the "Blue Ribbons" (think Stepford Wives, but high school students and guys aren't safe) that two misfits (James Marsden and Katie) have to get to the bottom of.
3. 'Go'
Release date: April 9, 1999
Starring: Taye Diggs, William Fichtner, J. E. Freeman, Katie Holmes, Breckin Meyer, Jay Mohr, Timothy Olyphant, Sarah Polley, and Scott Wolf.
It's a crime comedy with a somewhat convoluted premise, but what you really need to know is that Katie's character ends up being given to a drug dealer as collateral, because that's reasonable. It's a cult classic, though, and totally worth a watch.
4. 'Teaching Mrs. Tingle'
Release date: August 20, 1999
Starrring: Helen Mirren, Katie Holmes, Jeffrey Tambor, Barry Watson, Marisa Coughlan, Liz Stauber, Molly Ringwald, and Vivica A. Fox.
Katie teamed up with fellow WB teen star Barry Watson (a.k.a. Matt from 7th Heaven) and Dame Helen Mirren for this high school thriller about a goody good student who accidentally attacks and low-key kidnaps her heinous teacher.

5. 'Muppets from Space'
Release date: July 14, 1999
Starring: Dave Goelz, Steve Whitmire, Bill Barretta, Frank Oz, Jeffrey Tambor, F. Murray Abraham, David Arquette, Josh Charles, Hollywood Hogan, Ray Liotta, and Andie MacDowell.
Okay, so Katie isn't really a character in Muppets from Space, but she makes a cameo as Joey Potter and we have to include Joey's one technical film appearance, right?

6. 'Wonder Boys'
Release date: February 25, 2000
Starring: Michael Douglas, Tobey Maguire, Frances McDormand, Katie Holmes, Rip Torn, and Robert Downey Jr.
Katie flexed her indie drama muscles in 2000's Wonder Boys. She plays a talented writing student who's a little hot for teacher (but teacher isn't hot for her back).

7. 'The Gift'
Release date: December 22, 2000
Starring: Cate Blanchett, Giovanni Ribisi, Keanu Reeves, Katie Holmes, Greg Kinnear, and Hilary Swank.
Katie cemented her eery thriller vibes in The Gift, a movie about a psychic who helps solve the murder of a young woman (unfortunately for Katie, her character is the dead woman, but she gets plenty of flashbacks so we get plenty fo Katie).

8. 'Abandon'
Release date: October 18, 2002
Starring: Katie Holmes, Benjamin Bratt, Charlie Hunnam, Zooey Deschanel, Fred Ward, and Melanie Lynskey.

Another year, another twist-filled thriller for Katie, emphasis on the twist.
9. 'Phone Booth'
Release date: April 4, 2003
Starring: Colin Farrell, Forest Whitaker, Katie Holmes, Radha Mitchell, and Kiefer Sutherland.
Remember when Colin Farrell had his big, early-aughts moment? Phone Booth was part of that Colin Farrell boom and Katie played a woman Colin's already-married scumbag character was trying to woo before he got trapped in a phone booth by a vindictive sniper.
10. 'The Singing Detective'
Release date: October 24, 2003
Starring: Robert Downey Jr., Robin Wright Penn, Jeremy Northam, Katie Holmes, and Mel Gibson.
In spite of an amazing name and a stellar cast, this musical noir has pretty dismal reviews. Watch at your own risk.
11. 'Pieces of April'
Release date: October 17, 2003
Starring: Katie Holmes, Derek Luke, Sean Hayes, Alison Pill, Oliver Platt, and Patricia Clarkson.
Behold: Katie's entry in the quirky indie family Thanksgiving dramady genre. Katie's hair in this movie sums up every quirky black sheep girl in indie movies everywhere.
12. 'First Daughter'
Release date: September 24, 2004
Starring: Katie Holmes, Marc Blucas, Amerie, and Michael Keaton.
A rom-com starring Katie as the daughter of the president, getting into hijinks. Not to be confused with Chasing Liberty, the Mandy Moore version of the same movie.

13. 'Batman Begins'
Release date: June 15, 2005
Starring: Christian Bale, Michael Caine, Liam Neeson, Katie Holmes, Gary Oldman, Cillian Murphy, Tom Wilkinson, Rutger Hauer, Ken Watanabe, and Morgan Freeman.
Katie played Bruce Wayne's childhood friend/love interest in the first of the insanely successful and highly-lauded Dark Knight trilogy movies, but was recast with Maggie Gyllenhaal after this film.

14. 'Thank You For Smoking'
Release date: March 17, 2006
Starring: Aaron Eckhart, Maria Bello, Cameron Bright, Adam Brody, Sam Elliott, Katie Holmes, David Koechner, Rob Lowe, William H. Macy, J. K. Simmons, and Robert Duvall.
This political satire from Jason Reitman is smart and hilarious and Katie shines as a sharp Washington reporter.
15. 'Mad Money'
Release date: January 18, 2008
Starring: Diane Keaton, Queen Latifah, Katie Holmes, and Ted Danson.

Just three ladies, plotting to steal millions in supposed-to-be-destroyed cash. The movie's not great, but the cast definitely is.
16. 'Don't Be Afraid of the Dark'
Release date: August 26, 2011
Starring: Katie Holmes, Guy Pearce, Bailee Madison, Jack Thompson, Alan Dale, Garry McDonald, and Julia Blake.
Katie made a hard turn into horror movies this 2011 flick about a family who move into a creepy, obviously haunted house and find themselves terrorized by the creatures that live there.
17. 'Jack and Jill'
Release date: November 11, 2011
Release date: Adam Sandler, Katie Holmes, and Al Pacino.
This movie is not good, and sadly, Katie plays the wife of the titular Jack.
18. 'Miss Meadows'
Release date: November 14, 2014
Starring: Katie Holmes, James Badge Dale, Callan Mulvey, and Stephen Bishop.

Katie plays a mild-mannered, prim and proper elementary school teacher, who moonlights as a vigilante. YES. TO. THIS. PLOT.
19. 'The Giver'
Release date: August 15, 2014
Starring: Jeff Bridges, Meryl Streep, Brenton Thwaites, Alexander Skarsgård, Katie Holmes, Taylor Swift, Cameron Monaghan, Odeya Rush, and Emma Tremblay.
Everyone and their mother signed on to appear in the film adaptation of The Giver, from Meryl Streep to Taylor Swift. Katie made the cut for the all-star ensemble.

20. 'Woman in Gold'
Release date: April 10, 2015
Starring: Helen Mirren, Ryan Reynolds, Daniel Brühl, Katie Holmes, Tatiana Maslany, Max Irons, Charles Dance, Elizabeth McGovern, and Jonathan Pryce.
Katie teamed back up with her Teaching Mrs. Tingle costar Helen Mirren for Woman in Gold, a biopic about an elderly Jewish woman who, 60 years after World War II, tries to reclaim her family's belongings that were taken by Nazis.
21. 'All We Had'
Release date: December 9, 2016
Starring: Katie Holmes, Stefania LaVie Owen, Richard Kind, Mark Consuelos, Eve Lindley, Judy Greer, and Luke Wilson.
This drama, set during the 2008 financial crisis, follows a mom and her teenage daughter as they relocate to the Midwest to start over.
22. 'Logan Lucky'
Release date: August 18, 2017
Starring: Channing Tatum, Adam Driver, Seth MacFarlane, Riley Keough, Katie Holmes, Katherine Waterston, Dwight Yoakam, Sebastian Stan, Hilary Swank, and Daniel Craig.
Finally, Katie gets cast in a crime comedy gone right. This one features an ensemble cast that includes Channing Tatum and Adam Driver and follows a group of siblings who hatch a plan to steal money from the Charlotte Motor Speedway in North Carolina (spoiler: the plan gets complicated).
23. 'The Boy 2'
Release date: July 16, 2019
Starring: Katie Holmes, Ralph Ineson, Owain Yeoman, and Christopher Convery.
The sequel to 2016's The Boy focuses on a creepy, too-human-seeming doll that will give you nightmares for weeks.
Celebrity news, beauty, fashion advice, and fascinating features, delivered straight to your inbox!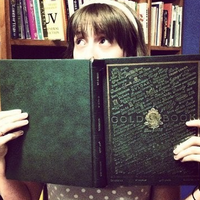 Kayleigh Roberts is a freelance writer and editor with more than 10 years of professional experience. Her byline has appeared in Marie Claire, Cosmopolitan, ELLE, Harper's Bazaar, The Atlantic, Allure, Entertainment Weekly, MTV, Bustle, Refinery29, Girls' Life Magazine, Just Jared, and Tiger Beat, among other publications. She's a graduate of the Medill School of Journalism at Northwestern University.