What to Know About Jed W.'s Music Career That Caused So Much 'Bachelorette' Drama
Jed Wyatt, one of the Bachelorette frontrunners for Hannah Brown's heart, admitted that he maybe didn't initially come into this season as a contestant for totally the right reasons. But he's now fully falling for Hannah, and his future on the show seems pretty bright.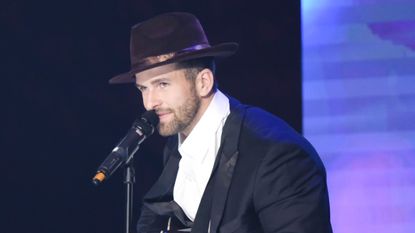 (Image credit: John Fleenor )
One of the Bachelorette frontrunners for Hannah Brown's heart, Jed Wyatt, admitted last night that he maaaaybe didn't initially come into this season as a contestant for totally the right reasons—he figured the platform would be good for his music, he explained in his one-on-one date. But the singer and guitar player from Nashville now fully falling for Hannah, and his future on the show seems pretty bright.
So how far along was his career before he came on the show? And has it had the intended consequences he was hoping for?
Now you can listen to that dog food jingle he wrote.
In the first part of the Bachelorette finale, Jed got to do a meet-and-greet with Hannah's family. In the midst of a kind of awkward exchange—Tyler's family date went much better—the singer got fans intrigued when he mentioned something about a dog food jingle and it being a big deal for him. This revelation gave us the most perfect responses from Hannah's parents (a.k.a. Southern politeness covering some serious shade), and PopSugar very kindly found the jingle for us all. I present it here for your listening pleasure(?):
Honest reaction: This doesn't feel like the right vibe for a dog food commercial. The John Mayer-lite sound seems better for, like, a cruise vacation or a commercial for hammocks. Also, as a creative person, I totally understand how a little win that's so exciting for me might come off as...anticlimactic to someone who hasn't seen the hustle that went into it. It did, however, make me lol a bit that Jed's big argument about his own success comes down to dog food.
Also, someone burst our bubble with the whole burlesque dancing situation too:
If you can't see the video, let me summarize: We see Jed on stage kind of bopping back and forth and grabbing his crotch, instead of dancing. The male revue thing is one of Jed's other streams of income that he (vaguely) mentioned to Hannah's parents. Oops.
His career, and motivations for coming on the show, became a big thing.
So for context, here's the full conversation. Jed loves music, since he was a kid listening to his grandmother, and it's all he's ever wanted to do. "When I signed up for the show, I was skeptical...my first thought was, 'This is a huge platform,'" Jed explained. "I came in with that mindset." On their one-on-one, he said he wanted to be up front with Hannah about his original intentions. Hannah was a bit confused, at first, as to why all of a sudden he's pivoted from "wanting to be a famous musician" to "fully in on marriage."
Jed continued and was insistent that his feelings had changed. "Now, more than anything, I want to be with you," he explained.
Jed's very recent ex-girlfriend Haley Stevens had...let's call it a slightly different take on that particular situation.
Jed's already got music for sale.
His music is on iTunes and Spotify, and here's one of his latest:
He's also got a little music on YouTube:
And here's what that track sounds like:
It's got a very low-key, John Mayer vibe to it.
He plays for fun, too.
It's also not just his career: Jed apparently likes to play for fun as well, in this case a cover of "Fools Rush In":
And holiday music covers:
He also plays the piano (ugh, I really love that):
He's not just a singer.
We haven't seen this on the show yet (and Jed didn't reference it in his big reveal to Hannah), but I'm hopeful we might get a chance to see some of his other creative talent: dancing.
He used to be a burlesque dancer, apparently.
He's made up multiple songs for Hannah.
During the Mr. Right pageant on episode 2, Jed sang a sweet little made-up tune for his "talent" portion. He also sang a "roll tide" tune on night one:
And he made up a few bars of "Hannah B., gettin' down on one knee" in his (unaired) intro video:
It's like Cam Ayala's rapping (i.e., we're going to see him do it a lot on the show), but less annoying.
He's gotten a ton more followers.
As an added bonus of being a frontrunner for The Bachelorette, Jed's follower count is now up to over 147,000 followers. Obviously Jed hasn't talked about whether that's translated to music sales, but it probably bodes well.
For more stories like this, including celebrity news, beauty and fashion advice, savvy political commentary, and fascinating features, sign up for the Marie Claire newsletter.
RELATED STORIES
Katherine's a Boston-based contributor at Marie Claire who covers fashion, culture, and lifestyle—from "Clueless" to Everlane to news about Lizzo. She's been a freelancer for 11 years and has had roles with Cosmopolitan and Bustle, with bylines in Parents, Seventeen, and elsewhere. It's "I go to dinner," not "Her huge ego," but she responds to both.