Why Jed Wyatt's Pre-'Bachelorette' Girlfriend Went Public With Her Story
Just as we discovered how much Jed Wyatt meant to Hannah on 'The Bachelorette', his ex-girlfriend, Haley Stevens, went public with her story about dating Jed pre-show.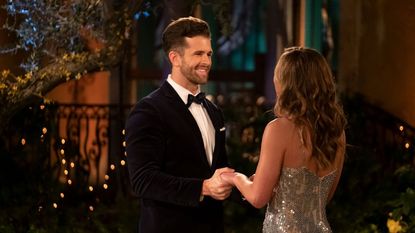 (Image credit: John Fleenor)
Marie Claire Newsletter
Celebrity news, beauty, fashion advice, and fascinating features, delivered straight to your inbox!
Thank you for signing up to Marie Claire. You will receive a verification email shortly.
There was a problem. Please refresh the page and try again.
Spoilers for The Bachelorette ahead.
The rumors have really been been flying about Hannah's season, specifically the man that she reportedly ends up with—spoiler alert!—the musician and singer Jed Wyatt. Just as Bachelor expert Reality Steve revealed that Jed was her final choice, Jed's pre-Bachelorette girlfriend, Haley Stevens, went public to People with her story about dating him before the show and, she says, being blindsided by his ghosting once he returned to their home of Nashville, Tennessee. Here's what we know about their relationship—brace yourself.
Jed has finally spoken about the situation.
Update, 7/30/19: Ugh. Hannah finally, finally had the opportunity to confront Jed about his behavior, thanks to the People article she (and the rest of Bachelor Nation) after her finale wrapped. Initially, he got defensive. "There two very different views of what actually happened," he said, explaining that they were dating but not exclusively, they did go on trips, they did sleep together, she threw a surprise birthday party for him, and he did use the "L" word even though it was a mistake (big ouch).
He was quasi-honest about what had happened—mostly because Hannah told him she had seen the texts, thanks to the article. He just said He and Haley weren't on the same page of the relationship. "I held back [from telling you] because I was scared," he admitted. He said he didn't come forward on day 1 when fellow bachelor Scott was kicked off the show because he didn't feel he had a girlfriend (OUCH).
Hannah called him selfish, and said she felt humiliated. Not only that—girls had sent her pictures about being at Jed's place AFTER he got back to Nashville, although he insisted nothing happened. "This experience has been taken away from me," said Hannah. "This is not what I said yes to." And she put the ring onto the table, ending their engagement. In a one-on-one with Chris Harrison, she confirmed she's not with Jed anymore.
So, essentially, if Haley hadn't spoken up about her side of the story, Hannah might never have found out. It's just sad that Haley has gotten so much pushback, given what happened.
Original post, 7/18/19:
Haley is a musician, like Jed.
Haley is a singer and guitar player, just like her ex.
She's a member of the band Sweet Leah (they've been together for a year and a half), and they perform locally.
They were together for four months.
Per E! News, "According to Haley, their 'whirlwind' romance included meeting each other's families and taking a vacation together to the Bahamas, where they allegedly expressed their love for one another." So that means that she very likely met Jed's parents, not too long before they met Hannah. Can someone say awkward hometown dates, much?
Jed was absolutely demonstrative.
Reality Steve unearthed some Instagram comments that show just how much Jed was into Haley:
Thanks to those who sent. Those comments though, Jed pic.twitter.com/UVerPgF3zuJune 18, 2019
See more
Oops.
He reportedly told her he loved her before he left.
Jed was honest with her that he was doing the show for the platform. Haley says she was supportive. "As a fellow musician and as somebody that just loves this person I'm like, 'Why would I hold him back from this opportunity?' I know the premise of the show. Even though that's not an ideal situation for our current relationship, when you're not in it, it seems like a movie. It seems like it's just a TV show."
Haley says that he told her just before he left, "I love you! Don't forget that. Everything is always working out."
But he might have been chatting with other girls at the same time.
This is such a bummer, but Jed may have been texting other girls while he was with Haley, according to Reality Steve.
I'm gonna say this once: after that accidental reveal towards the end of the podcast with Haley about yet ANOTHER woman he was with, if any of you saw the text exchange between Jed and this woman, there might be rioting. With pitchforks. He's lucky she doesn't want those public.June 27, 2019
See more
So I think it's been a rough road for Haley. Haley said she was unaware of anyone else before the show.
She thanked her supporters on Instagram.
Haley said, "To everyone who sent an encouraging or supportive message: Thank You. You will never know how much each one has meant to me. To everyone who sent messages relating to my story I hope you know that you're not alone. Your story matters. Your heartbreak matters. Thank you for reassuring me that mine matters too."
Jed responded, vaguely, to some of the drama.
Mainly, Jed explained in a lengthy Instagram post, he couldn't go into details. "I'm not able to answer right now, but as soon as I'm able to, I will," he explained. He asked for people to reserve judgment and spoke about the very negative impact the critics have had on his family. "Threatening letters and phone calls have been sent to our homes. My parents and sister are being verbally attacked in public. I beg you to remember what seems like a harmless action is damaging to real people."
All of this is a very fair point—trolling isn't harmless behavior, and he doesn't deserve to be threatened for his appearance on The Bachelorette even if people don't like what he's done. But some of the criticism about his actions may be warranted.
Haley hasn't commented, but she's gotten criticism.
Haley's also gotten trolling for her decision to come forward, despite people coming to her first with the allegations, and her desire to tell her own story instead of having people tell it for her (which she's said in interviews). Looking at her Instagram comments, people are either praising her honesty, especially via the podcast she did with Reality Steve. Or, people are just calling her some version of a fame whore.
A surprising voice in all this is Bachelorette host Chris Harrison. "She seems like a wonderful woman. She seems like she also has her own career in mind too," he told Us Weekly. "I know she also wants to be a singer-songwriter."
And Nick Viall and Rachel Lindsay didn't have nice things to say about her either, insinuating that she wasn't doing things for the right reasons. This whole response seems, to me, to be short-sighted. Haley isn't the person who decided to go on a Bachelor show in the first place, and she's the one who was unceremoniously dumped. I'm not sure there's a right way to handle this, but it's easy to forget that the person who started this whole saga is Jed.
Besides, screenshots of some of the text messages between Jed and Haley have also been made public recently, and they seem to speak for themselves.
Given that this has impacted Jed's arc on and off the show (spoilers at that link), it's going to be intriguing how he chooses to respond on "After the Final Rose." I wonder whether he'll take a page from Chris defending his own actions/diminishing Haley's perspective, or if he may just apologize about the situation. After that happens, Haley may or may not respond, but all eyes will be on her anyways.
For more stories like this, including celebrity news, beauty and fashion advice, savvy political commentary, and fascinating features, sign up for the Marie Claire newsletter.
RELATED STORIES
Celebrity news, beauty, fashion advice, and fascinating features, delivered straight to your inbox!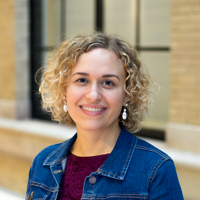 Katherine's a Boston-based contributor at Marie Claire who covers fashion, culture, and lifestyle—from "Clueless" to Everlane to news about Lizzo. She's been a freelancer for 11 years and has had roles with Cosmopolitan and Bustle, with bylines in Parents, Seventeen, and elsewhere. It's "I go to dinner," not "Her huge ego," but she responds to both.