Dear Parents-to-Be: Stop Celebrating Your Baby's Gender
Cutting into a pink or blue cake seems innocent enough—but honestly, it's not.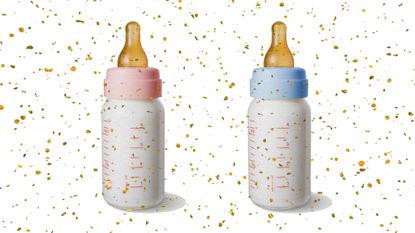 (Image credit: Monica Park)
A few weeks ago, I waddled across a backyard in suburban Pennsylvania with a ping pong ball between my knees. After 20 feet, a woman I've never met snapped photos of me squatting over a metal saucepan. I opened my legs and released the ball, which tinged off the edge of the pot and bounced into the grass. The group of women behind me let out a collective "Nooo!" and applauded my effort. I was the last member of a relay team in a game called Tinkle in the Pot, which pokes fun at an expectant mother's near-constant urge to pee.
This game was the piece de resistance at a friend's baby shower. If you're like me—a woman in her early 30s—your weekends are increasingly planned around these pastel celebrations and their games. And, if you're like me, you swallow your feminist pride long enough to eat fetus-shaped cookies, finger-paint bibs in gender normative colors, and support a pregnant friend. I've accepted that, when it comes to the baby industrial complex, there are some things I'm better off embracing…no matter how antiquated or absurd.
But I cannot stomach the latest fad of the knocked-up set: gender-reveal parties. The It's A Boy/It's A Girl fetes have been an economic boon to stationary companies and party supply stores nationwide; a search for "gender reveal" on Etsy yields 46,711 results. One former supervisor of a high-end bakery in Champaign, Illinois, told me she received queries about gender-reveal cakes once or twice a week. But despite the popularity, the ritual is a lot like a rousing game of Pin-The-Umbilical-Cord-On-The-Newborn: cutesy in theory, taxing in practice. At a time when work, family obligations and, you know, the dismantling of patriarchal social structures are stretching us all thinner than Anne Hathaway in Les Miserables, why are we focusing our energies on yet another afternoon of baby bagatelle? Laugh as we throw sperm confetti at mom-to-be! Eat from this bassinet-shaped fruit tray! Cast your vote for the sex of our fetus!
All this builds suspense for That Magical Moment when the future parents jointly cut into fondant cake, gasping at the surprising sight of pink or blue filling. Or pink or blue balloons are released from an artisanally hewn box. Or a rifle is fired at explosives packed with pink or blue chalk. Because nothing speaks to the miracle of life better than target practice, amirite?
But my discomfort with the gender-reveal party goes beyond my standard objection to fanfare surrounding gestational markers—which is primarily that, because we don't celebrate non-pregnancy-related milestones with the same enthusiasm, we're reinforcing the archaic notion that a woman's value rests squarely in her ability to grow tiny humans. The issue with gender-reveal parties in particular is: Aren't they potentially damaging to said tiny humans?
For starters, gender-reveal parties don't actually reveal gender—they reveal anatomy. Gender is a wholly different thing, inextricably tied to the social constructs around it. (Fun fact: Blue used to be the color most associated with little girls, due to its association with the Virgin Mary. But Hitler—yes, Hitler—feminized the color pink by forcing gays to wear triangles in that shade during World War II.) A gender reveal conflates the two.
"Some of the themes we're seeing are so backwards and biased," says Carly Gieseler, PhD, assistant professor at The City University of New York and author of "Gender-Reveal Parties: Performing Community Identity in Pink and Blue," a report published last January in the Journal for Gender Studies. "I'm thinking of 'Tutus or Touchdowns' and 'Bows versus Badges.' Women can't become a sheriff and wear a badge? At a time when these expectations about gender are eroding, this type of ritual is working against that progress. We're affixing a label to a child who hasn't even had a chance to enter the world and assume that identity."
Projecting gender perceptions onto a fetus becomes especially thorny when you take into consideration that, globally, one in every 1000 to 1500 children is born with a visible form of Difference of Sex Development (DSD), which means being neither entirely male nor female, since the chromosomal/genital makeup falls somewhere in between—an enlarged clitoris capable of erections, for instance. (Broader definitions of DSD put this number closer to 1 in 100 children.) Then there are the millions of kids assigned a sex at birth with which they don't align: 150,000 American teenagers identify as transgender. In a ritual that celebrates only a binary way of thinking about identity, we're leaving a cross-section of the population out, adding to a culture of trans and intersex shame. And for what? Confetti poppers?
Katie Baratz Dalke, MD, is familiar with the feelings of isolation attached to existing outside this binary. She was born with androgen insensitivity syndrome, a condition that caused her to have external female anatomy and, internally, undescended testes instead of a uterus. Now the former part-time model is an assistant professor of psychiatry at Penn State College of Medicine, and mother to an 18-month-old daughter she and her husband had via egg donor and surrogate.
As an advocate for intersex awareness, Dalke says she's spent a lot of time thinking about the artificiality of gender norms. And yet, finding out the likely sex of her baby in utero ("likely" because these tests carry a margin of error) helped her feel closer to the unborn child, and lessened the anxiety of pregnancy.
RELATED STORIES
"The popularity of gender-reveal parties speaks to how powerful and central this binary is to our sense of identity," Dalke told me. "Still, they make me a little queasy. By collapsing gender expression, gender identity, and sex, you're doing everyone a disservice, because no one buys into the whole package all the time." She adds that "you're especially doing a disservice to those who are intersex or transgender, who must spend their lives explaining it. It's frustrating that this is now a commercialized ritual, when it can be so alienating."
Remember that bakery manager in Illinois? Her name is Hann Lindahl, and despite presenting as female, she discovered at the age of 15 that she was born with XY chromosomes. Having to supervise the making of gender-reveal cakes as her first job out of college was, she says, a "weird" experience, and though she enjoyed the work otherwise, she did feel a certain measure of relief when she left that heteronormative environment. Now, she works with the nonprofit interACT, advocating for intersex youth.
"It's important to be aware how much we project onto children, especially in terms of gender, because it can be so rigid, so harmful," she says.
Some readers will roll their eyes at these arguments, I'm sure, complaining that America is overwhelmed with political correctness and that there's nothing wrong with some guns-or-glitter-themed fun before the birth of your baby. So instead consider this most basic criticism of the trend: It's a little, well, narcissistic. It exists, as one journalist put it, "at the intersection of All About Me Avenue and Oversharing Boulevard."
"I'm glad people are having children and celebrating that, because the birth rate is dropping in America," says W. Keith Campbell, PhD, nationally recognized expert on narcissism and head of the department of psychology at University of Georgia. "And there is something to be said for the communal aspect of sharing something meaningful with friends, which I don't want to downplay. But there's self-celebration taking place here as well. We can link this to narcissism and individualism."
This is not to say that everyone who's ever hosted a gender-reveal party is a raging egomaniac with a Kardashian-level selfie collection. But the trend may have started out that way, Campbell says. And thanks to social media, there's a keeping-up-with-the-Joneses factor at play. Future moms and dads increasingly feel social pressure to participate and outdo their peers (see: skydiving gender-reveals) or risk coming across as subpar parents before their child is even born. The problem is compounded for low-income families who cannot afford the price tag attached to these events (the specialty cakes, for one, can run as much as $1,000).
Despite the problematic consumerist imperative, most experts will tell you they understand the impulse to congregate. Babies are a milestone and should be celebrated! And I can see the need for levity at a challenging time. Perhaps the fears a pregnancy generates—financial and emotional—necessitate a little frivolity. But once you've played Tinkle in the Pot, I think you've reached a turning point.
Besides, making guesses about anatomy under a canopy of tissue paper pompoms is doing little to assuage a new mom's very real fears about motherhood, nor is it sending a great message to any of the kids running around the yard. We'd be better off showing the little girls in attendance that changing the world is every bit as much a female prerogative as bedazzling onesies. And that step one is celebrating who—not what—a child will be.
Follow Marie Claire on Facebook for the latest news, long reads, video, and more.
Celebrity news, beauty, fashion advice, and fascinating features, delivered straight to your inbox!