Awkwafina & Director Lulu Wang on Their New Movie The Farewell
Lulu Wang stuck to her guns and made a movie true to her experiences. Here, Wang and the movie's star, Awkwafina, talk family, culture, and finding your identity as an immigrant.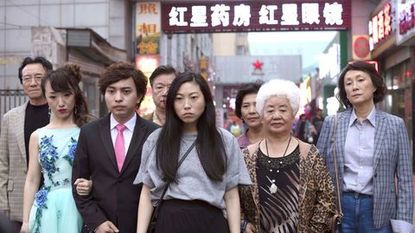 (Image credit: Courtesy of A24)
Sundance smash The Farewell, in theaters July 12, is based on a big true lie. Billi (Awkwafina) learns that her grandmother is dying, but per tradition the family doesn't tell its matriarch, who thinks she just has a cold. Instead, they gather in China to see her under an elaborate ruse: The family throws an impromptu wedding as an excuse to see their grandmother without creating suspicion. Here, director and writer Lulu Wang, who based the film on her life, and Awkwafina (who plays Lulu's on-screen manifestation) talk family, tropes, and why we need more Asian American stories on screen. Oh, and beheading a ceremonial (roasted) pig.
Awkwafina: We should start with your story.
Lulu Wang: I was in Berlin editing my first feature film, Posthumous, when my mother called and said, "Your grandma's dying, and we're not telling her. We're going to see her by pretending your cousin is getting married. Promise you're not going to lose your shit." That kind of all happened in a week. I kept thinking that this is a real-life screwball situation, but it's really sad. That's how I started thinking about it as a film.
A: There was this other version of [the movie], right?
LW: I talked to my agent at the time, and I pitched the story with some companies. They thought the main character, Billi, she should be the bride, and she should bring her boyfriend. People very much saw it like the next My Big Fat Asian Wedding. That was not really what I was going for.
A: That's why I really respect you. You wanted to tell a specific story. You knew what you wanted to do because it happened to you. What came of it is something really special.

LW: Thank you. I was in this exploration period because I had made a film that stuck to a particular genre for my first feature, and I was trying to break out of the genre. To me, there are all these boxes that we get put in: If you're Chinese American, so you have to do Chinese American; if you've made romantic comedies, that's the only thing that you can make. I think at that point I just wanted to break out of this box.

[pullquote align='center'] There are all these boxes that we get put in: If you're Chinese American, so you have to do Chinese American; If you've made romantic comedies, that's the only thing that you can make. —Lulu Wang [/pullquote]
A: We had a lot of fun filming in China. The night before we started filming, when we blessed the camera... There's a certain ceremony that takes place, and it's a traditional Chinese banquet, and there's a ceremonial duck—
LW: Pig, no a pig.
A: Pig, the ceremonial pig.
LW: The tradition is that the director cuts the head off [of a roasted pig]. I cut the head. I have a video of me holding the head, running up to you to freak you out, and you were just like, "What the fuck?" And then we blessed the camera. There are a lot of traditions.
A: That was really fun. I think that it was really cool to work with international crews because you see how other countries do film. And there is a universal language there. Growing up Asian American in this country is something we share. I think you reveal a lot of things that I've related to in terms of negotiating identities growing up. You came to America when you were how old?
LW: Six.
A: So, you were old enough to still feel like you were so brand new, right? I feel like that resonates a lot, feeling like a bit of an outsider.
LW: Right. The things that you lose when you're an immigrant. The families that you left behind.
A: It's cool to tell a story from this perspective and I think it also speaks to a very generational thing. How does our generation treat our elders and how do we deal with loss?
LW: There's so much of an emphasis on universality, and people tend to think that being as broad as possible is how you be universal. And that's not true. It's through specificity. I only know my own grandma, but the closer I am to depicting her, the more people who have come up and said, "That was my nana."

A: There's a cinematic trope we see often in sitcoms: We see family dysfunction, but only in a National Lampoon's Christmas Vacation way, not the complicated ways parents show love. Asian parents are the last to compliment you, but they show love in stronger ways, I think.
LW: It's different love languages. In America, you see love expressed in one particular way. When Billi's in China, love looks and sounds different, but that doesn't make it any less valid.
[pullquote align='center']There really isn't a shortage of female minority directors or writers. It comes down to giving them the chance. —Awkwafina[/pullquote]
A. How do we get more women behind the camera?

LW: The challenge is that so many women and people of color are given very little resources, but they're expected to be extraordinary. It's so difficult because when you're given such limited resources and no support or the proper confidence to make something in your own voice, it's that much harder because you're set up for failure...then when you fail it becomes your responsibility.
A: I think there's a myth that there's just aren't enough [women], but there are. When it comes to writers, as well, there's this myth in Hollywood that there just aren't enough women of color. What I've found is that there really isn't a shortage of female minority directors or writers. It comes down to giving them the chance.
LW: People said, "Before Crazy Rich Asians, it had been so long since there was a full Asian cast." Then it did really well. With The Farewell, they said, "Your film is subtitled, so it's not going to work." Then it does. Nothing works until it does, so you have to take the chance.
This interview has been edited for length and clarity. A version originally appeared in the July 2019 issue of Marie Claire.
RELATED STORY
These Women Are Revolutionizing Hollywood
Marie Claire email subscribers get intel on fashion and beauty trends, hot-off-the-press celebrity news, and more. Sign up here.
Megan DiTrolio is the editor of features and special projects at Marie Claire, where she oversees all career coverage and writes and edits stories on women's issues, politics, cultural trends, and more. In addition to editing feature stories, she programs Marie Claire's annual Power Trip conference and Marie Claire's Getting Down To Business Instagram Live franchise.