Heidi Montag and Spencer Pratt Are Living the Good Life Again
At the beginning of the show, they were making millions. Towards the end, not so much.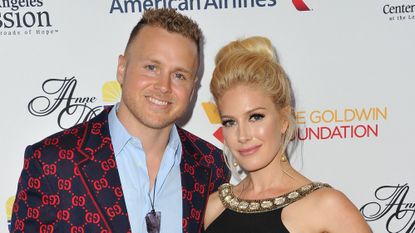 (Image credit: Getty Images)
The year was 2008, and Spencer Pratt and Heidi Montag were filthy rich. No exaggeration here, folks—by the end of that year, Speidi had already raked in over $10 million, starring as the couple we loved to hate on the early 2000s MTV reality television series The Hills. The series may have centered Lauren "LC" Conrad (and later Kristin Cavallari) as its plucky protagonist with big dreams of making it in the fashion industry, but super villains (or misunderstood anti-heroes, depending on how you looked at it) Spencer and Heidi were known to steal the show with their flair for the dramatic. Love them or hate them, it didn't really matter to the dynamic duo; together, they were raking in almost $200,000 for each episode of The Hills.
Fast forward two years to the season finale of The Hills, and Spencer and Heidi were living a totally different life. When the reality show ended, the Pratts found themselves in a new category: washed up and, without mincing words, broke. In 2014, In Touch Weekly released an interview with the flashy couple, and they revealed intimate details about what contributed to their unfortunate financial downturn.
"We were immature and we got caught up," Spencer admitted to the magazine. "Every time we'd go out to eat, we'd order $4,000 bottles of wine. Heidi was going to the mall and dropping $20,000 to $30,000 a day. We thought we were Jay Z and Beyoncé."

In just a few short years, they had completely run through the millions that they had earned from The Hills and were in search of a more sustainable hustle and their way back into celebrity status.
Today, the Pratts are making a major comeback. Even before the reboot of The Hills was announced, the married couple found themselves back in the limelight for something more positive than their controversial appearances on other reality shows: social media. Snapchat is their latest platform, and it's been serving them well. Spencer used the multimedia messaging app to share his life, and his numerous idiosyncrasies, with thousands of fans, giving them a sneak peek into his ultra zen world. His Snapchat audience grew so much so quickly that Spencer ended up taking home the 2018 Shorty Award for Best Snapchatter of the Year.
This new social media fame also helped Spencer monetize his obsession with crystals, which he and many others believe harness powerful energy to affect the way we live our lives. Snapchat became the main avenue for free advertisement of his brand Pratt Daddy Crystals, and orders for the different crystals (which are sold in original crystal form, as necklaces, and even as dog collars) came pouring in as he debuted them on his story. Just last year, he told Money.com that he sells about 200 hand-carved pendants ranging from $120-$300 a week.
The Hills: New Beginnings premiered late last month, and just three episodes in, we're already getting a better understanding of how Spencer and Heidi's lives have changed. Yes, they're still trying to build their brand, but now, their reason is anything but materialistic. The 2017 birth of their son Gunner led them to reevaluate their priorities and start creating a legacy, which means that they have to be way more responsible with their money than they were as fresh-faced youths rocking Ed Hardy and Von Dutch on The Hills.
Case in point: The Pratt Daddy brand. On the most recent episode of The Hills: New Beginnings, Spencer revealed that he's in charge of social media for the brand (a.k.a. gifting influencers with free crystals and putting them on his Snapchat story) while Heidi handles the money side of things, keeping Spencer and his whims in check in order to make sure that the business is profitable. That's responsibility right there, folks.
The last ten years have definitely been a wild roller coaster ride for the pair, but today, Spencer and Heidi are looking towards the future with nothing but positive vibes—the energy of their million-dollar crystal collection probably helps.
For more stories like this, including celebrity news, beauty and fashion advice, savvy political commentary, and fascinating features, sign up for the Marie Claire newsletter.
RELATED STORY
Celebrity news, beauty, fashion advice, and fascinating features, delivered straight to your inbox!