Heidi Montag Has Always Been the Hero of 'The Hills'
And, like any good complicated lead, we can see ourselves in her.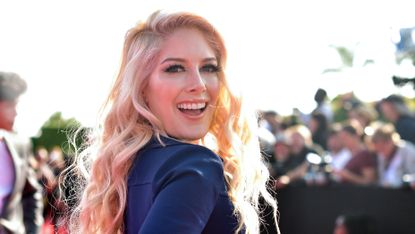 (Image credit: Matt Winkelmeyer)
Near the finale of the second season of Laguna Beach, Lauren Conrad helps organize a charity fashion show and watches in horror as then-boyfriend Jason canoodles with (and kisses!) his ex-girlfriend, Jessica. The scene is horrific, and it's made even more terrible when Jason lies and claims nothing happened (note: Lauren saw you, idiot!) and keeps following and grabbing at Lauren even after she's told him to leave her alone.
But worst of all is that nobody else really seems to care. Despite Jason's egregious display of disrespect, the majority of Conrad's friends make the traditional high school move and more or less disengage, leaving Lauren to cry while hanging up clothes. Minus, of course, Heidi Montag, future hero of The Hills. Heidi is livid and unquestioningly has Lauren's back, making viewers consider who the Heidi of their own lives might be.
In this era of The Hills: New Beginnings, a reboot of a spin-off of a reality spin-off of The O.C., it's easy to forget that once upon a time, Heidi Montag was a suburban teen who walked a Laguna Beach catwalk at the request of her pal, Lauren. It's also easy to forget that by the time Lauren arrived in Los Angeles for the premiere of the original Hills, Heidi was already there, having secured them an apartment long before they began to drift further and further apart, eventually becoming enemies-turned-neutrals-turned-relative strangers.
But where Lauren was touted as the star of the show, Montag was and always has been its main character. After all, Pratt was the one who used the reality series to work through everything from breakups to friendship fall-outs to her mental health—and then stuck around, maintaining enough relevance for us to somehow still care about what she's up to for the reboot. An anti-heroine at her finest.
Of all the love-to-hate-'em stars in TV history, Heidi is among the most memorable. She breaks from the well-worn Lauren Conrad–approved path and drops out of school to begin working for entrepreneur Brent Bolthouse, and then repeatedly jeopardizes her career on the whims of her friends and boyfriend-turned-husband Spencer Pratt. She, like so many of us in our twenties, barrels towards chaos in pursuit of figuring out who she is, what she wants, and how to resurrect herself after a bevy of professional and personal disasters.
And isn't that the formula for all great anti-heroes? After all, Don Draper and Tony Soprano spend their respective series ostensibly trying to overcome their demons while brazenly leaning into them. Walter White uses his life-and-death circumstances to morph into the person he's always secretly wanted to be. And the Jennings's (of The Americans) doubling down on their beliefs brings them closer and closer (kind of like Heidi and Spencer whose relationship over the course of the show shifts from problematic to dysfunctional to a bizarre kind of couple goals).

But Heidi goes beyond those imaginary icons. She, of all the cast-members, was the only one audacious enough to work through the darkest parts of herself on national television. While Lauren grappled with whether or not to go to Paris and the late-2000s sex tape rumors started by Spencer, and Adriana navigated her relationship with human haircut Justin Bobby, Heidi's journey took some decidedly more upsetting turns. At the same moment she asked her mom in front of cameras whether her multiple plastic surgeries made her look good, she was also the subject of wall-to-wall tabloid coverage shaming her for her changing face. As she told Lauren, years after their fall-out, that her favorite memories were the ones with her, bloggers cruelly went in on the duo's friendship and fanned the flames of their conflict with cruel commentary.

Really, Heidi's trajectory took her on the same path many of us find ourselves on in our twenties: Reconsidering school, taking jobs we eventually abandon, dating people who are terrible for us, and battling ourselves in a futile attempt at perfection. It's a notoriously terrible time in a person's life, and the last thing any of us want is for strangers to watch us live it out. Meanwhile, Heidi aired hers on MTV.
That isn't to claim Heidi's actions were always fine and justifiable, because there's no excuse for her complicity in spreading those aforementioned sex tape rumors. But where other celebrities rarely take stock of their actions while trapped in the bell jar, Heidi revisits those moments out loud. Recently, she spoke up about the mental and emotional pain that fed her 10 plastic surgeries in 24 hours, and admitted that she wants to repair her relationship with Lauren. She's now a mother and has used multiple pre-Hills interviews to imply she's hoping to have more.
She, in the immortal words of Don Draper, is moving forward. And also like Don Draper, she still has a long way to go. For example, she believes that dark hair makes someone "diverse." She puts an onus on Lauren to fix their friendship, not seeming able to grasp the effects the sex tape rumor may have had. And she's still very much working out the trauma she underwent at the hands of reality television.
Of course, like the fictional anti-heroes we're fascinated by, none of us know the real Heidi (no matter how many hours of The Hills we clock). But even years later, we're compelled to see how the character-slash-real-person Heidi Montag develops. We want her to be redeemed, or see that she's still searching. Like us, did she have to crawl out of the trenches we dig for ourselves to shield our young, 20-something minds from the damage we inflict on them? Will she, in effect, create the Coke ad, or find herself sitting in that (metaphorical) diner? Can she shed Heisenberg long enough to celebrate the woman from Colorado? Or does she owe us nothing because, unlike those other TV antiheroes, she's a real person and her demons aren't for us to analyze in the first place?
This season, on The Hills.
The Hills: New Beginnings airs Mondays at 10pm EST on MTV.
For more stories like this, including celebrity news, beauty and fashion advice, savvy political commentary, and fascinating features, sign up for the Marie Claire newsletter.
RELATED STORY
Celebrity news, beauty, fashion advice, and fascinating features, delivered straight to your inbox!
Anne T Donahue is a writer and person originally from Cambridge, Ontario, and is the author of the essay collection, Nobody Cares.