Heidi Montag and Spencer Pratt's Son Gunner Is Off-the-Charts Adorable
Get to know the cutest (and littlest) addition to The Hills: New Beginnings.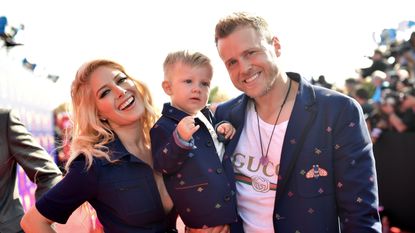 (Image credit: Getty Images)
If you would've have told fans of The Hills in 2010 that Spencer Pratt and Heidi Montag's dramatic and turbulent love affair would last beyond a few short months, they would have laughed and laughed and laughed. From what viewers witnessed during the show's four-year run, the couple, affectionately dubbed "Speidi," was anything but built to last: Spencer was eccentric and at times volatile, and Heidi had pretty much isolated herself from her friends and family to be with him. No way it was going to work...right?
Well, it looks like the joke was on us, because almost a full decade after the series finale, Speidi is still going strong. Aside from a few minor hiccups here and there, the dynamic duo, who exchanged vows in April 2009—the elopement that we saw on The Hills was a total sham—has really been feeling the love.
Once known for their attention-chasing and paparazzi-summoning antics, Spencer and Heidi are now in the spotlight for a different reason: their family. Their respective Instagram pages are a sneak peek into la Casa Pratt, a home overflowing with assorted crystals and Spencer's tie-dye T-shirts. The Pratts celebrated their 10 year anniversary last year and have totally morphed into the quintessential cool millennial mom and dad, and it's all thanks to the 2017 birth of their son Gunner. Gunner's birth truly changed the couple for the better, ultimately grounding them and strengthening their relationship.
So who exactly is the little man who turned some of the most notorious reality TV villains into the modern-day version of Ward and June Cleaver (you know, if they had social media)? Here's everything you need to know about the littlest Pratt before you catch him and his parents on The Hills: New Beginnings.
He's a baby influencer!
Gunner, an influencer in his own right, also has a pretty substantial Hollywood following; some of his famous fans include Dwayne "The Rock" Johnson, the Jonas Brothers, and "uncle" Chris Pratt. Killing the IG game at only two years old.
He's a total mama's boy.
In a recent conversation with Us Weekly, Spencer revealed that Heidi could be what some might call an "intense attachment parent" when it came to little Gunner, and having to step away from him to film for The Hills: New Beginnings was a big deal for the first-time mom. "She had not left Gunner even for five seconds for, like, almost a year to that point," he shared. "That was a major adjustment and process for her. To be honest, if it [wasn't] for The Hills, I don't know if she would have ever left Gunner's side."
Given the fact that Heidi has always been very open about wanting to be a mother, it makes perfect sense for her to want to be with her son 24/7—he's everything she's ever wanted. "Gunner's given me a whole new strength that I didn't know," Heidi told PAPER Magazine in 2018. "I feel like I am stronger than I've ever been emotionally. At the end of the day, I'm his mom, and that's my main priority."
He might be getting a little brother or sister sometime soon...
OG fans of The Hills might remember Spencer vehemently rejecting the idea of fatherhood, but it's safe to say that he's turned a new leaf thanks to his son Gunner. He opened up about his new mindset in an interview with Flare shortly after Gunner was born. "Fatherhood has absolutely changed me. It's the best thing that ever happened to me. I think I finally found my calling," he admitted. "Now all I'm thinking about, always, is how will this or that affect Gunner's life. I think, how can I set up this or that so that Gunner can do this. And, oh I can't wait to learn and teach Gunner this. Just everything now is about looking toward the future and making it good for him. It's not about me anymore. I've retired my motivations, and I'm on the Gunner Team."
In fact, Spencer loves being a father so much that he wants to expand his family even more, and family-oriented Heidi is fully onboard. "I'd love a girl or a boy," the proud mama gushed to E! News. "I love having a son. It's so much fun. So if we have another boy, we'll probably have three [kids]."
In the meantime, you can find out what the Pratt family and their friends have been up to when The Hills: New Beginnings airs on MTV on June 24.
For more stories like this, including celebrity news, beauty and fashion advice, savvy political commentary, and fascinating features, sign up for the Marie Claire newsletter.
RELATED STORIES
Celebrity news, beauty, fashion advice, and fascinating features, delivered straight to your inbox!