New Shows Put Women at Center of the Male-Dominated Fantasy Genre
Undone continues a refreshing trend of recent TV shows that focus on women who can bend the universe to their will (see also: Russian Doll, The OA).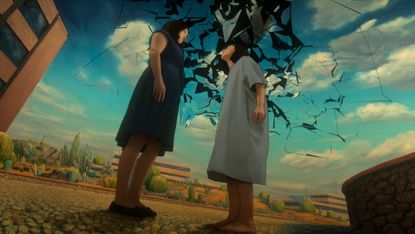 (Image credit: amazon prime)
UndoneThe OA
When we meet Alma (played by Rosa Salazar) at the start of Amazon's stunning new series Undone, she is speeding down the street in state of panic and ends up with her car wrapped around a telephone pole. Suddenly, Alma's having visions of her dead father. More troubling, she keeps getting transported to moments from her past, often without warning. Is it the result of brain damage from the accident? Or is the mental illness that runs in her family catching up to her? Over the course of eight half-hour episodes, a more tantalizing possibility unfolds: What if Alma has an inborn ability to manipulate time? With guidance from her dead (imaginary?) father, she might even be able to change the events that led to his untimely death.
Watching Alma—sardonic and jaded at age 28—start to take control of her life, you might have the tingly sensation of your own mind expanding along with hers. That's because Undone is animated with a hypnotically trippy technique known as rotoscoping (in which animators digitally trace over video footage of actors). It looks like nothing else on TV, but in spirit, it has much in common with two recent shows that also focus on a woman navigating fantastical circumstances. Netflix's The OA revolves around Prairie (played by Brit Marling), a young woman who recruits a handful of local outcasts to help her break through the barrier between parallel universes. And the Emmy-winning Russian Doll charts the misadventures of Nadia (Natasha Lyonne), a video game designer who finds herself caught in a metaphysical time loop in downtown New York City.
The fantasy genre has long been dominated by boys and men who suddenly find themselves with the power to change the universe, from Back to Future's Marty McFly to Neo in The Matrix to Harry Potter. It's easy to take for granted the sense of agency this steady media diet of male heroes instills in the male audience. But does this void of female superhuman role models put girls at a formative disadvantage? Do years of ego-boosting fan-boy entertainment lead to society's cabal of mansplainers and office bullies? You can bet the over-talker in your last meeting is fresh off his 10th viewing of Guardians of the Galaxy 2. Dude thinks he's Chris Pratt.
As the conversation around female representation in media evolves, the showrunners at the helm of Undone, Russian Doll, and The OA have found creative ways to portray female agency. Each show pulls elements from fantasy and sci-fi flicks like Groundhog Day (repeating loops) and Donnie Darko (time travel), while managing to stay grounded in relatable settings. For Russian Doll, it's an East Village birthday party. Undone's plot hinges on Alma's sister's wedding. Many of the characters in The OA are just ordinary high school students. By keeping one foot in reality, the shows are able to connect with viewers who might normally veer away from anything with a sci-fi label.

Watching this trio of well-realized characters is like a TV tutorial for tapping your own superpowers. Here, how streaming each offers an empowering boost that will help you crush your everyday dilemmas.
Ever feel like family-related baggage is making every day 2 percent more stressful than it needs to be? Undone's prickly protagonist Alma knows your pain. Stuck in a rut with her daycare job and a perfectly nice boyfriend, Alma's life-altering car accident is triggered by an ugly fight with her younger sister. And it's at this rock bottom point, recuperating in the hospital, that she starts slipping into scenes from her past. She ends up with a fly-on-the-wall view of some painful memories, like the Halloween night that her father left her alone on a sidewalk and never returned. By reliving these difficult moments from a new vantage point, Alma starts to see how her present-day family dynamic was shaped by his mysterious death that night. Her mother and sister carry the loss in different ways, and for Alma, it makes her push away anyone who gets too close. If Alma's time trips are more than a figment of an injured brain, then she's actively moving toward the kind of closure that can redefine her current relationships for the better. One standout moment late in the series finds Alma recklessly sabotaging her sister's wedding with an ill-advised rant; but her developing powers allow her to rewind the moment and make a different choice.
Binge benefit: Juggling your own family issues? Alma's journey is a mini-masterclass in how to not let your buttons get pushed by the people who know all your buttons.
Russian Doll's first season found a rabid audience soon after its February premiere, thanks to its unforgettable lead character, Nadia. Hard-partying, pessimistic, and lacking a filter, she'd be a lot to take if actress and series co-creator Natasha Lyonne didn't imbue her with sad-sack charm. She floats through life in a careless way that's almost enviable until her 36th birthday, when she finds herself caught in a time glitch that forces her to question everything. Repeating the same day allows her to see the ripple effects of her actions and gain insight into her relationships. The show is all about choices, and most of the fun is in seeing Nadia experiment with little changes to her routine. The way she deals with her ex-boyfriend John, her BFF Maxine, and her fellow East Village denizens evolves in telling ways over the course of Season one's eight episodes. She dies by electrocution, gas explosion, freezing temperatures, and a very sinister flight of stairs. But she lives in just as many new ways, and it's thrilling to see her uncover new possibilities with every decision.
Binge benefit: Watch this show if you're wanting to reignite an ailing friendship. By channeling Nadia, you'll come at the situation with a more open energy, mindful of the bigger picture.
The OA has a very compelling take on female agency because Prairie, the show's somewhat mysterious central figure, has endured years of captivity as part of a rogue science experiment. She knows what it's like to have no freedom, and the trauma hangs over her even after she finds her way back home. But Prairie does something quite bold that many of us actively avoid doing: She asks for help. In a series of nighttime meetings in the attic of an unfinished house, she relays her harrowing backstory with gut-wrenching honesty to a rag tag handful of kids (and one teacher). Little do they know, Prairie is enlisting them in a mystical undertaking to save her friend Homer who wasn't fortunate enough to escape the basement lab where she was imprisoned. By the time Prairie has convinced her friends to perform the Five Movements, a wild series of choreography that can open dimensional gateways, you'll be rooting hard for them—even if they all look like they're dancing in Sia music video.
Binge benefit: Dealing with a group project at work? Take inspiration from Prairie's ability to get even the biggest skeptic on board with her plan.
Next up in the fantasy TV universe: Based on a Philip Pullman's beloved Y.A. trilogy, HBO's His Dark Materials premieres November 4. A resourceful girl named Lyra finds that she holds the key to saving multiple universes. Just don't call her Harriet Potter.

For more stories like this, including celebrity news, beauty and fashion advice, savvy political commentary, and fascinating features, sign up for the Marie Claire newsletter.
RELATED STORY
Carl Kelsch is the Managing Editor of Harper's Bazaar. He's also a screenwriter whose short films of varying quaility can be found smattered among the interwebs.