Jurnee Smollett-Bell on Becoming Black Canary in "Birds of Prey"
The actress and activist talks about how she connects with her character and her role in changing the future of Hollywood for women.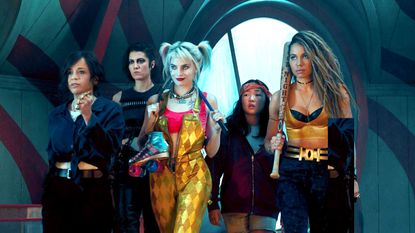 (Image credit: Photo by Claudette Barius/ & © DC Comics)
Jurnee Smollett-Bell has been a fan of martial-arts superhero Black Canary (her power: a deafening sonic scream) for years; the actress has even used the DC Comics character as her avatar when playing video games. This month, the 33-year-old Angeleno takes Black Canary to the big screen in Birds of Prey (Warner Bros., February 7), with Margot Robbie reprising her role as Harley Quinn. Below, she talks about the trip that changed her life, how she's seen Hollywood shift, and owning her power.

Marie Claire: What was it like training for the role?
Jurnee Smollett-Bell: I'm that obsessive actor who's like 'Throw me in, coach! I can do it.' We started training with 87eleven's stunt team, one of the best stunt teams in the business. They trained us in this nondescript warehouse in L.A. for five months. I was also working out five days a week with my trainer, and then again with the 87Eleven team. I was still nursing and coming off a mom bod. I lived in a constant state of pain!
MC: What was the audition and casting process for Black Canary like?
JSB: It was a role my manager actually had first mentioned to me. Initially, they weren't so interested in me even auditioning because I wasn't available—I was shooting Lovecraft Country for HBO, which was a direct conflict [Smollett-Bell's upcoming HBO horror drama, created by Jordan Peele and Misha Green]. Then, Misha said to me 'Aren't they casting for Birds of Prey?' I talked to her about it. I was, 'Yeah. It really sucks. They won't even let me audition for it because I'm not going to be available.' She said, 'Bitch, go after it!'
I went to my manager and my agents and said, 'Listen, Misha said I should go for it and that there's a chance they actually won't be shooting during that time.' I did a self-tape in Chicago while I was shooting the pilot for Lovecraft Country; they weren't telling us what the character was, but we had assumed it was Black Canary. I knew her from Injustice 2, the video game, which I played once in a while with my husband. Honestly, when I did the audition, I just thought All right. I'm going to do this, but they're never going to cast me. Then, I sent the tape in and they responded to it very enthusiastically and asked if I could come to L.A. to meet with the director, Cathy Yan. That went well. They asked for me to do a chemistry read with Margot [Robbie]. That went well. Then, they asked for me to screen test at Warner Bros., which was a grueling day. They were mixing and matching all of us girls into different pairings to see what the best chemistry was. I think I ended up doing this one scene over 30 times because there were so many different pairings. Black Canary was just so second nature to me. I just inherently understood her.
MC: What connected you to her as a character?
JSB: In the film, we're meeting Black Canary before she actually becomes Black Canary, in the sense that she hasn't really owned her power. She's struggling with the gift she has. She struggles with the fact that she has a gift that she doesn't want to own. To me, that's something I can honestly just relate to. I think we all can.
MC: Have you ever felt like you weren't ready to take on a role, but you just had to go for it? How have you moved past that intimidation?
JSB: Oh my goodness. Yes. It happens in waves, for me at least. There are moments where I feel like I'm completely walking in my calling. There are moments where I am truly struggling.
One of the moments was I was just on a flight, on my 20th birthday, to South Africa. I had it in my head that I was going to become more of an activist and not as much an actor or an artist. I was a part of an organization called Artists For A New South Africa, and I was broke. This organization was made up of all these artists I had grown up with, who were mentors of mine, like Samuel L. Jackson and his wife, LaTanya Richardson, Alfre Woodard and Blair Underwood. They were all taking a delegation to South Africa to build a well [so that villagers could have access to clean, safe water].
This trip changed my life. What I saw on the ground was the power of art. I saw how my mentors could use their art to manifest tangible change. We would go to these small villages and walk inside a hut where the roof was made of tin. The local people there were so beautiful and so kind and so humble. You had children who were raising their siblings. Children who had lost both parents to HIV/AIDS. They were walking five kilometers one way, five kilometers back, just to get water. Putting a well inside the village could impact it greatly. It took these artists and the art that they had created, and to come to the village and to see how all these people were so impacted—it blew my mind. I realized, if I have a gift, how dare I not use it?
MC: That ownership of power can be channeled in so many ways. You grew up in Hollywood, starting your career as a child star in Full House. How have you seen the industry evolve over the years? How has the balance of power shifted?
JSB: I've absolutely seen it evolve. I think what we're witnessing right now is a real shift in the balance of power within the industry. So many have stopped asking for a seat at the table. They've just said, 'I'm going to go and build my own table.' I very much feel a part of the Time's Up Movement, and have worked closely with the organization since the beginning. I focus a lot of my work within Time's Up on WOC, which stands for Women of Color. Working with Time's Up to really make sure that women of all kinds are the nucleus of this movement has been a real passion of mine. I think in the past we've seen how the women's movement can be so splintered. I think what's so powerful about #MeToo and about Time's Up is that you have women of color right in the center. That's unprecedented. That's never happened in our history before. The goal is to truly make it intersectional. You have women of all abilities, women of all kinds, coming to the table and saying, 'No. This is what we need,' and using their voice. It's been incredibly powerful to see. It's powerful to see how it's affecting the industry. It personally me affected me greatly.
MC: How so?
JSB: Reese Witherspoon is incredible to me. I adore her so much. She's been so vocal, and so instrumental at really seeing change happen on the ground. When I started going to the meetings for Time's Up and really doing the work and volunteering, I wasn't expecting it to impact me how it did. When it came time for me to sign on for Lovecraft Country, I saw the effects of Times Up in the negotiation phase. There were things that happened that wouldn't have happened to me prior to Time's Up. Reese had gone to Casey Bloys, the head of HBO programming, and had spoken to him about the importance of gender parity within his company. That conversation lead to so many of us having pay adjusted. He really went and looked at the salaries of the women who were working on his shows. A lot of it stemmed from the conversation with Reese.
MC: Before Time's Up, you had said that things that happened to you. Do you mean in terms of pay disparity?
JSB: Yes, absolutely. I found out several times after the fact that it didn't matter what billing I was getting, I was still getting less than my male counterparts. I mean, shocking. We all are doing the same work. We're doing the same hours. The commitment's not going to be any less. Why should our commitment and our vision and our gift be valued less? Honestly, it's criminal that it has been valued less for so long. It just took us all joined together to say, 'No.' To say Time's Up. I'm just seeing that the industry shift is a magnitude I've never seen.
MC: So many fans (and the original writer, Gail Simone) were excited about your casting, while others expected Black Canary to be white like she is in the comic. How do you respond to them?
JSB: For so long, so many people have been shut out. There are so many of us who are hungry to see the world the way it actually looks in cinema.
Interview edited for length and clarity. A version of this interview originally appeared in the February 2020 issue of Marie Claire.
Celebrity news, beauty, fashion advice, and fascinating features, delivered straight to your inbox!
Megan DiTrolio is the editor of features and special projects at Marie Claire, where she oversees all career coverage and writes and edits stories on women's issues, politics, cultural trends, and more. In addition to editing feature stories, she programs Marie Claire's annual Power Trip conference and Marie Claire's Getting Down To Business Instagram Live franchise.