Julia Garner Stars in 'The Assistant,' the #MeToo Film Hollywood Needs
The Ozark actress talks about the challenging role—and why such a story is so important to share on-screen.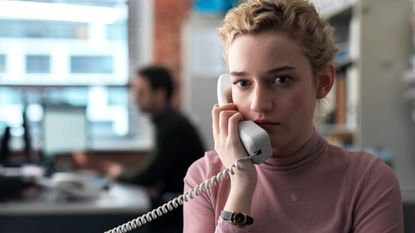 (Image credit: Ty Johnson / Bleecker Street)
The Assistant, in theaters January 31, is one of those films that sneaks inside you, uninvited, and lingers there like a disease that hasn't yet been diagnosed. It's also a movie that's deeply necessary, particularly for Hollywood, baring not only the sexual abuse that runs rampant in the industry, but also the emotional abuse that plagues its entry level employees.
Emmy-nominated Julia Garner (you know her from Ozark) stars as Jane, a young overworked and mistreated assistant to a big-time film producer. Though her media-mogul boss remains unseen (you see his looming silhouette though a door pane or hear him snarl at Jane on the phone) the clues—insulin syringes in in the trashcan, hotel room meetings—suggest that the faceless exec could be Harvey Weinstein.
But, at its core, The Assistant isn't about one abusive man wielding his power recklessly and unchecked. He remains faceless because he could be any man with power in any industry. It's a more macro examination of what keeps said man in power, and the people complicit. "I didn't want it to be just about sexual assault," Garner tells Marie Claire. "I wanted it to express that everybody—even the ones who aren't getting sexually abused—is a victim in a way. It's a whole system."
Indirect complicity feels evident on every level of the food chain in the film: The executive who waits in the black sedan for his boss while he finishes a "meeting" with an aspiring actress; the junior male producer who laughs along at crude jokes, and finally Jane—the lowest on the totem pole, the person we ache for—the immobilized subordinate who has to make the hotel room reservation or lose her job. Like many character's in the film, she falls somewhat complicatedly in that area between victim and victimizer, and Garner skillfully wears her character's petrified confliction on her face.
In a particularly brutal scene, Jane approaches a man in Human Resources to report her boss's bad behavior, which he responds to with not-so-veiled threats to her career and gaslighting to make her reconsider what she knows. After her failed attempt, Jane sludges on through her day (the entire film takes place over the course of a single day) clearing dirty dishes from conference rooms and discarding syringes into biohazard bags, an empty shell of a person with few options. You empathize fiercely with her. But you can't forget about the girl in the hotel room. The film begs the question, can we decide who is guilty, and who is another victim? It's not something any piece of pop culture can easily answer, but it's something for all of us to consider.
At least one person wants to protect Jane: Garner. "People are quick to judge Jane," she says, "but realistically, with such a traumatic experience, you don't really know it's happening. You don't really see how bad it is because it's so shocking that you don't really know what to say or how to react. Jane is just so powerless."
Jane has very few lines throughout the film (most definitely a metaphor for her silenced voice); most of the movie plays out on Garner's face. To embody her character, Garner first studied her own manager's assistant, taking on her mannerisms. Then, she met a former assistant at a production agency who was physically and verbally berated with the objective of learning what it feels like to be treated as less-than. But to create a persona that had to handle sexual abuse, she had to dig deeper—and she had the unfortunate true stories of abuse in Hollywood to guide her. "I've been very lucky that I've never been sexually assaulted or abused, verbally, physically," she says. Entering the headspace was trying on her. The film was shot over 18 days, and during that time it was hard to shake Jane after hours. "[I kept thinking,] Why do I feel so alone? And it's because Jane was very alone," she says. "I can't tell you how much I manipulate my mind, my headspace," she says. "It's not the healthiest thing, but I want to get a good performance."
Her performance was good, very good, in a crushing kind of way: Raw and excruciatingly hard to watch. But it is a must-watch—if not to learn how the system keeps bad people in power, than to witness how the ripple effects are felt by everyone in it's wake.
Spoilers ahead: If you want a happy, "we got him" ending, you'll be disappointed. Much like most real cases of gross injustice, the movie doesn't wrap with a satisfying arrest scene, or even a comforting moment for Jane that gives us hope for her future. You leave the theater emotionally exhausted, slightly nauseous, and most importantly, agonizingly aware. For Garner, that's exactly the point.

"This film is a reminder that people are human. I want everyone to see it—not because I'm in it—but because it's such an important film. It's a reminder to keep everybody in check."
For more stories like this, including celebrity news, beauty and fashion advice, savvy political commentary, and fascinating features, sign up for the Marie Claire newsletter.
subscribe here
Celebrity news, beauty, fashion advice, and fascinating features, delivered straight to your inbox!
Megan DiTrolio is the editor of features and special projects at Marie Claire, where she oversees all career coverage and writes and edits stories on women's issues, politics, cultural trends, and more. In addition to editing feature stories, she programs Marie Claire's annual Power Trip conference and Marie Claire's Getting Down To Business Instagram Live franchise.