Megan Angelo's 'Followers' Asks Us the Price We're Willing to Pay for Likes
In February, Marie Claire read Megan Angelo's debut novel, 'Followers.' See what the #ReadWithMC community thought about the book here.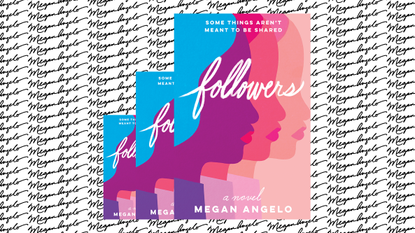 (Image credit: Design by Morgan McMullen)
Marie Claire Newsletter
Celebrity news, beauty, fashion advice, and fascinating features, delivered straight to your inbox!
Thank you for signing up to Marie Claire. You will receive a verification email shortly.
There was a problem. Please refresh the page and try again.
Megan Angelo's Followers, Marie Claire's February book club pick, is supposed to make you feel uncomfortable—mainly because of the eerie parallels to the social media dystopia we're currently living in (yes, I said currently!) that's described as the future. The story alternates between the years 2015 and 2051 as Orla and Marlow seek success and fame, respectively, and achieve it thanks to the help of Orla's roommate, Floss. Fast-forward to 2051 where government-appointed celebrities exist, and the world watches their every move on a livestream. Suddenly, success nor fame seems ideal for any character.
"It's partly a cautionary tale about what happens if you try to get famous, but it's also just a story about what can happen if you share too much," Angelo told Marie Claire. "And sometimes the two things kind of blur together actually because these days it seems like we're all curating ourselves in a way that makes it look like we want to get famous...even if we don't. All of the social media sharing stuff is definitely what makes it timely even though I didn't really set out to lecture anybody."
Overall, Angelo's debut novel reminded the #ReadWithMC community of a Black Mirror episode (in the best way), and they enjoyed how Angelo illustrated the relationship between social media and privacy through complex female relationships. Find out exactly why readers recommend the book, below.
"Timely book about what happens when our need for followers and 'likes' takes over civilization as we know it. Fun & interesting premise, ruthless & flawed protagonists, and a scary look into what could be our future. The storyline is broken up between two main characters' stories, 30 years apart. The variety and intrigue this creates is great for the flow of the book. One timeline is present-day and it really plays up our own changing world and the technological atmosphere we're living in and then how it may look in 30 years. I said this was a Black Mirror episode in book form—definitely holds true. Good one if you're into dystopian lit or interested in the effects social media may have on humans." —@bookforte

"I found the premise of this book really interesting, and the author didn't disappoint. She delivered an intriguing tale, split between two time periods (pre and post 'internet spill' — 2015 and 2051), following the lives of two girls on a quest for fame and success. In the post-spill America, no one wants to share anything online anymore, so a whole community has been set up to live-stream the daily lives of government-appointed celebrities, including product placements and brand 'endorsements.' It is a book about technology and how it shapes society, but it's also equally about relationships, family, and the choices we make to get where we want to go. There were certainly aspects of each character that I identified with, and it's a topical book that I would definitely recommend." —@latestbookcrush
"I'm behind on my February reading, but finished listening to Followers! I'm a sucker for dystopia and found this to have lighter vibes. While there is an event that leads to mass deaths, the plot is focused on a handful of women that aren't in imminent danger. I liked that it almost read as speculative fiction about technology, social media, and privacy." —@read.gram.repeat
"The book is told in the perspectives of two women—Orla and Marlow—between two alternating timelines, 2015 and 2051. Orla dreams about being a writer, but she's stuck writing for a celebrity gossip blog, she's tired and weary so when her new roommate, Floss―a striving, wannabe celebrity—comes up with a plan for launching them both into the stardom they so desperately crave, she agrees. Thirty-five years in the future, Marlow is one of the many government appointed celebrities living in a closed-off village in California whose lives are broadcasted 24/7 to their followers. Marlow isn't happy but she doesn't get the courage to leave until she discovers something shocking about her past.
What I loved most about this book was the characters. Sometimes when there was a lot going on, I wasn't too confused as the characters were there to ground me to the story because of how real and relatable they were. Orla, Floss, and Marlow are very flawed. Floss is kind of a terrible person, Orla knows what she wants in life but doesn't seem to take any action, while Marlow doesn't know what she wants because she was never given the choice. I loved watching them grow, especially Marlow, as she realized how strong and independent she was when she was given the freedom to choose.
And this book is a lot of about freedom and choice and self-worth. It's thought-provoking, making readers think of issues like the importance of privacy and freedom. It's constantly reminding readers to pay attention to what really matters in life, the things and people that make you happy in life. There's also a bit about online bullying and the terrifying impact it could have on the lives of others. That people need to be more considerate because you never know what is happening to someone else behind their phones. I really enjoyed Megan Angelo's debut novel and I'm definitely interested in the next book she releases." —@teacupbooks_
"Very relevant topic and quite funny to be reviewing this on social media, as one of the themes of this book is about society and social media. It's a groom that makes us question how social media will play a part in our lives in the future. It's kind of Big Brother reality tv mixed with social media outlets like Instagram, Twitter, and Facebook. I really liked the extreme scenario of all or nothing in terms of technology. What would you choose? The character development was a bit lacking for me and the dual timelines weren't always the easiest to follow. With characters in both the past and present, it took some concentration to stay focused. In a culture that's always looking for more likes and more followers as a way to validate experiences, I liked that this book raised the question of what price are we willing to pay for those likes?" —@readtotheend
"You'll never look at 'Error 404' the same way again. This tongue-in-cheek story follows Orla and Marlow through their lives in 2016 and 2051. Both characters are involved in reality TV but in different ways and with different freedoms. Bots are everywhere and have successfully learned from us. Heed the warnings we issue today about giving our lives up to the airwaves.
The author has done a great job of referencing current events in a less than subtle way that makes this book all the better. Maybe a bit of nuance might have made this book a little more literary but I was here for all the nods to current history, cursive coding, and presidential speeches." —@pomoevareads
"This is a very timely book. Social media is very prevalent in all of our lives. This novel explores some interesting ideas as to where it can go and the downfall that can come from that. I thought this was a good debut and I'd read more from this author. I couldn't find out for the longest time how the timelines were connected." —@bookaddict1986
"Finished this futuristic look at a social media crazy world with no privacy...here fame comes from just being seen, but not because real influence from intelligence or value. Followers is a female-focused story with a warning of a possible future." —@murielreadsbooks
Missed out on our February book club pick? In March, we'll be reading Jenny Lee's YA novel, Anna K . Read an exclusive excerpt of the book here.
For more stories like this, including celebrity news, beauty and fashion advice, savvy political commentary, and fascinating features, sign up for the Marie Claire newsletter.
RELATED STORY
Celebrity news, beauty, fashion advice, and fascinating features, delivered straight to your inbox!
Rachel Epstein is a writer, editor, and content strategist based in New York City. Most recently, she was the Managing Editor at Coveteur, where she oversaw the site's day-to-day editorial operations. Previously, she was an editor at Marie Claire, where she wrote and edited culture, politics, and lifestyle stories ranging from op-eds to profiles to ambitious packages. She also launched and managed the site's virtual book club, #ReadWithMC. Offline, she's likely watching a Heat game or finding a new coffee shop.