What Is Gunther From 'Friends' Doing Now, Anyways?
Actor James Michael Tyler shared he was diagnosed with stage 4 cancer in 2018.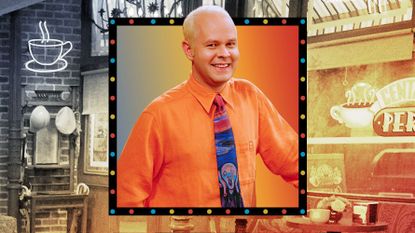 (Image credit: Alamy + HBO)
Since its mid-aughts finale, we've been on an unofficial break with Friends. But now, in honor of HBO Max's highly-anticipated Friends reunion—which is bringing together the beloved sixsome on that iconic orange couch for the first time in 17 years—Marie Claire is celebrating, criticizing, and obsessing over the show that was always there for us.
Update, 6/21/21: Almost a month after the HBO Max Friends reunion, James Michael Tyler shared with fans his ongoing battle with cancer. Speaking to Today, the actor opened up about being diagnosed with advanced prostate cancer in 2018 following a routine physical. The cancer had spread to his bones by the time it was detected.
"I was 56 years old at the time, and they screened for PSA, which is prostate-specific antigen," Michael Tyler said in the interview, per E! News. "That came back at an extraordinarily high number...So I knew immediately when I went online and I saw the results of my blood test and blood work that there was obviously something quite wrong there. Nearly immediately, my doctor called me and said, 'Hey, I need you to come in tomorrow because I suspect that you may have quite a serious problem with your prostate.'" He is now urging others to get tested regularly.
While early hormone treatment was helping, his cancer mutated during the pandemic leaving him no longer able to walk. He is currently undergoing chemotherapy. "Late stage cancer. So eventually, you know, it's gonna probably get me," he told Today.
Michael Tyler added that the Friends producers know about his deteriorating health and that most of the cast had likely also been told, specifically noting that David Schwimmer had reached out to him via Instagram.

Equal parts lovestruck and acerbic, the supporting character of Gunther remains one of the most beloved figures in the Friends universe. James Michael Tyler, who played the Central Perk barista, was the show's most frequent guest star. The gang was always in the coffee shop, and Gunther was always hovering, hoping to catch a glimpse of his longtime crush Rachel Green (Jennifer Aniston). We know what's going on with the main cast, who have all remained in the public eye to varying degrees—but what happened to Gunther, e.g. Michael Tyler, in the 17 years since Friends went off the air?
Until 2018, Michael Tyler was still a working actor. While his income is supplemented by the money he gets from Friends' syndication revenue, he continued to book roles. "I didn't rest on my laurels and say, 'I was Gunther, I'm gonna buy an island!' I couldn't do that anyway," he told the New Zealand Herald in 2019.
What has Tyler been doing?
Though known primarily for his role in Friends—and let's face it, who in the cast isn't?—Michael Tyler continues to work on more small-scale projects. According to his IMDb page, he filmed two shorts last year; before that, he made a cameo as himself on Episodes, alongside Matt LeBlanc, in 2012. He also appeared on five episodes of the show Modern Music. During and after Friends' run, he also appeared on Scrubs, Sabrina, the Teenage Witch, and Just Shoot Me. He was also in a music video for British musician Chicane (you can catch him in the first minute; he plays a mailman):
Michael Tyler has also appeared in several Friends pop-ups and events. In 2009, he opened a Central Perk pop-up in London, and in 2014, he appeared at another pop-up located in New York's SoHo neighborhood. He also lent his voice to the 2005 Friends-themed video game, "The One With All the Trivia."
Although Gunther was known for his bleached blonde hair, Tyler went back to his naturally dark brown hair after the show wrapped up. (He would dye it back only for his Friends appearances.) Here he is in 2019 on The Today Show:
And here he is at FriendsFest in 2015:
In 2014, Michael Tyler filed for divorce from his wife of almost 20 years, Barbara Chadsey, citing "irreconcilable differences."
How does Tyler feel about Friends now?
"I never would have imagined I'd be here sitting here 25 years after it began, still talking about [it]," he told the New Zealand Herald. "They had the 20th anniversary and the first FriendsFest in the UK, and I retired Gunther. I thought that has to be it. And then it launched on Netflix and, of course, it garnered an entirely new audience of millennials and young people."
In 2019, he reflected on the origins of the character of Gunther in an interview with E. "I remember the first day I walked on set as a background actor. Gunther was not a role. I was just a coffee guy for a year and a half. I came in with bleached blonde hair—that had happened the night before, because my friend was practicing to be a stylist, so that was accidental...It was the happiest accident, mistake, I ever made in my life."
Will Gunther be in the Friends reunion on HBO Max?
Yes, Michael Tyler appeared via Zoom for the special, which hit HBO Max on May 27. He made a short appearance alongside the main cast and other beloved guest characters, including Jack and Judy Gellar, Janice, Dr. Richard Burke, and more. "It was the most memorable 10 years of my life, honestly," he said during the reunion. "I could not have imagined just a better experience. All these guys were fantastic and just a joy to work with. It felt very, very special."
In 2009, when asked about what he thought Gunther would be doing in the present day, Tyler said: "He'd probably have a very traditional marriage, with lots of white-haired babies running around with hair brighter than the sun."
Celebrity news, beauty, fashion advice, and fascinating features, delivered straight to your inbox!