Greg Grippo From 'The Bachelorette': What We Know
He was the one to watch—until it all fell apart.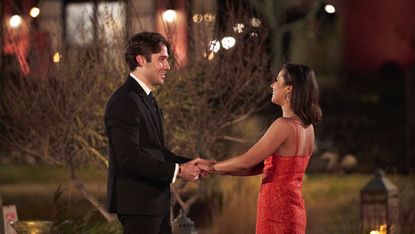 (Image credit: Craig Sjodin)
Marie Claire Newsletter
Celebrity news, beauty, fashion advice, and fascinating features, delivered straight to your inbox!
Thank you for signing up to Marie Claire. You will receive a verification email shortly.
There was a problem. Please refresh the page and try again.
Hello, by now you and the internet are probably talking about Bachelorette contestants Greg Grippo. Right away, on the very first night of the 17th season of the show, Grippo made the new Bachelorette Katie Thurston and viewers *swoon* when he gifted her a pasta noodle necklaces that one of his nieces made. Romantic! Wholesome! The adorable move earned the sweet contestant Thurston's coveted first impression rose. I'd normally be like, well played, Greg, but coming from him, the gesture actually seemed sweet and sincere and jusssst the right amount of saccharine instead of scheme-y or too try-hard-y.
From there, Grippo maintained his spot as a frontrunner and Thurston seemed very keen on making sure he feels solid in their relationship. He also flawlessly maintained his wholesome demeanor. (Remember when he cuddled Cat Guy?! We love a bromance!) He was vulnerable on dates (he's gotten two one on ones, which is a testament to Thurston's obvious feelings for him), fun in the group, and relatively ~low drama~ in an otherwise drama-packed season.
But then. In the show's penultimate episode, Greg...fell apart. He turned on Katie in a way that Katie—and many fans—have described as gaslighting, and promptly stormed off the show, leaving Katie in shock and devastated. "I want to leave, if I'm being completely honest, because I didn't see any of this happening," she sobbed. Greg lost a lot of fans with his behavior, and divided Bachelor Nation—some of whom said he was just really upset, while others called out his behavior as derogatory.
Here's everything we know about Grippo.
He's from New Jersey.
According to his ABC bio, Greg is from Edison, New Jersey. He went to Edison High School then transferred to Rutgers Prep.
He played basketball for St. Michael's College in Vermont.
After some light online stalking, we discovered that Grippo was a college athlete, and often posted about his teammates on Instagram. Academically, he majored in business and minored in gender studies.
He's a family guy.
When we first met Grippo, he shared with Katie that he loves hanging with his many nieces and nephews and is super close to his family. On Grippo and Thurston's first one on one date, he opened up about his father's passing. (Thurston's father also passed away.) He has a brother named Joe and a sister, Samantha.
He likes farm animals.
We actually do not know this as a fact, but just look at this Instagram picture:
Seems like a solid bet to me.
He works in marketing.
Grippo currently is an account manager at Mondo, a national marketing staffing agency. Prior to his current gig, he worked in marketing at Melaleuca, a health and wellness company.
He's a "hopeless romantic"
His ABC bio divulges how he cries during movies and hates slow drivers, but more importantly that he's looking for genuine love with someone he can travel the world with.
He was cut from Clare Crawley's season.
In July, Reality Steve shared that that Greg was one of 15 guys who didn't make it on Clare Crawley's season, for reasons unknown.
He reportedly pursued a career in acting before coming on the show.
According to an unverified source cited in The Sun, Grippo deleted posts from his social media accounts before coming on the show, including removing evidence that he attending an acting school, William Esper, between 2017 and 2019. The source told The Sun: "Greg thought he could pull a fast one on the audience by just not acknowledging he's a trained actor and pretending to be some marketing guy." The insider continued: "I don't think he has the purest intentions going on the show… it just doesn't add up."
To be clear, there is nothing wrong with being an actor. But it does seem a bit shady that he's, allegedly, trying to hide it. Wannabe actors can be like the kiss of death on the Bachelor/Bachelorette.
At first, the internet loved him.
Grippo's wholesome hotness not only won over Thurston, but Twitter (which is a HARD task). Bachelor Nation was thrilled when Thurston gave Grippo her first impression rose and swooned over their first one on one date during episode 2. Since, every time we see him on screen, Twitter explodes. Some delighted reactions below:
how im going to sleep tonight knowing katie gave greg the first impression rose #thebachelorette pic.twitter.com/OOGsiOng55June 8, 2021
See more
GREG FIRST IMPRESSION ROSE I KNOW THAT'S RIGHT #thebachelorette pic.twitter.com/TyuG8q7WzQJune 8, 2021
See more
GREG GOT THR FIRST IMPRESSION ROSE!!! #bachelorette #TheBachelorette pic.twitter.com/UvOYTAnkAUJune 8, 2021
See more
But then, things went south.
Much of Bachelor Nation weighed in on what had happened with Greg. Bekah Martinez, of Arie's season, wrote on social media: "I know he opened up to her and she said 'the wrong thing' but shutting down emotionally being like, 'wut, nothing's wrong why would you think that' and then punishing with silence is emotional manipulation 101."
Kaitlyn Bristowe, who was seen onscreen comforting Katie after Greg's meltdown, said on the Click Bait podcast: "He just wanted to quit before he got fired...I think his ego was so hurt in that moment that he was like, 'I'm gonna just flip this sh*t and get out of here."
As for the other men on Grippo's season? Andrew Spencer wrote on Twitter: "Most importantly hope they get to smooth things over they're two very good humans with a lot of great moments together." John Hersey wrote on Instagram: "Watching these actions get defended (and therefore normalized) strikes me as extremely unhealthy and a step in the wrong direction." And Connor Brennan wrote: "There was no gaslighting in this episode, there was a fight between two people that you saw maybe 20 percent of."
Katie and Greg will reunite on After The Final Rose.
Tayshia Adams promised that Greg's acting background will be addressed, and ABC confirmed that Greg will return for ATFR with a press release promising a "tense confrontation" between the two.
Celebrity news, beauty, fashion advice, and fascinating features, delivered straight to your inbox!
Megan DiTrolio is the editor of features and special projects at Marie Claire, where she oversees all career coverage and writes and edits stories on women's issues, politics, cultural trends, and more. In addition to editing feature stories, she programs Marie Claire's annual Power Trip conference and Marie Claire's Getting Down To Business Instagram Live franchise.