Spoilers for Katie Thurston's 'The Bachelorette' Season: What We Know
Spoilers ahead, obviously.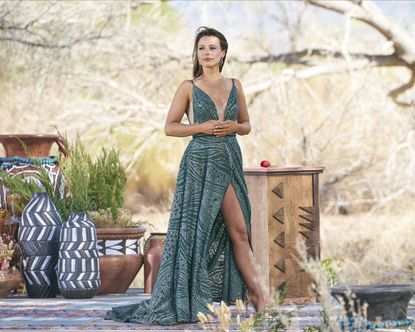 (Image credit: Getty/Craig Sjodin)
It's a Bachelorette season—or should I say seasons?—like no other. In 2021, Katie Thurston is the first of two Bachelorettes, followed in the fall by fellow Matt James contestant Michelle Young. You'll remember Katie, whose season premiered June 7, 2021 and will end August 9, as the straight talker who wasn't afraid to put the other girls in their place—and as the girl who hilariously brought a vibrator to meet Matt on night one. If you're here because you're wondering if Katie got engaged—or if you just crave spoilers in general—you're in the right place.
First, some context: Thurston's season comes at a turbulent time for the Bachelor franchise. As the first Black Bachelor, Matt James's season was meant to be historic—but instead, it was marred by bullying and, later, the racist social media activity of James's winner Rachael Kirkconnell. (They broke up, but it seems they're back together now.) Chris Harrison went on Extra to defend Kirkconnell's behavior—something even Kirkconnell had begged people not to do—and tried to mansplain the situation to former Bachelorette, and Black woman, Rachel Lindsay. (Lindsay has now said she's removing herself entirely from the franchise). Harrison was suspended as host, which is why he isn't on Thurston's season—her hosts are former Bachelorettes Tayshia Adams and Kaitlyn Bristowe—nor on Bachelor in Paradise. The day after Thurston's season began airing, ABC confirmed that Harrison will not be returning to the franchise at all.
Ahead, everything you wanted to know about Katie Thurston's season, start to finish. Spoilers ahead, obviously.
Does Katie get engaged?
Let's get straight to the big question, shall we? Namely, did Katie find the man of her dreams on her season and get engaged to him?
Yes, she did! Per Reality Steve: "Katie definitely got engaged at the end of this. And unless she breaks up before the finale, which I guess anything can happen, but she's happy and engaged as we speak, so I'd expect that to last til the finale you'd think."
Reality Steve is usually, but not always, correct about his end-of-his season predictions. But even outside of that, we know that filming ended a week ahead of schedule. Obviously, we don't know why—but it's possible that Thurston was so certain about her decision that she didn't want to waste any time.
Katie, for her part, revealed to The Hollywood Reporter: "I found love more than once, I'll say that! Through it all, everything happens for a reason, and I am happy."
And even though Katie ends up engaged (more on who she gets engaged to in a minute), the ending may be...messy. "The end gets crazy. It's, like, not traditional at all. And I'm like, 'What the f—k is happening?'" Katie said on Nick Viall's podcast. She also said she got her "heart broken." Speaking to Us, she said: "I don't think that this has ever happened. I'll say that. So it's a first, for sure. And a shocking ending."
Says Reality Steve: "We know who she eventually ends up with, but how she gets there is another story. Seems like it's gonna be pretty messy."
Who wins Katie's season?
The even bigger question! Her final four are:
Justin Glaze
Michael Allio
Allio self-eliminated to be with his son, and Grippo dramatically stormed out after a meltdown that many Bachelor fans–and Katie herself–described as "gaslighting." Which left Justin and Blake as Katie's final two men.
And the winner of Katie's Bachelorette season, according to Reality Steve, is...
Blake Moynes.
Moynes, of course, was a contestant on the last season of The Bachelorette, falling first for Clare Crawley and then for Tayshia Adams. You'll remember Crawley left her own season to be with Dale Moss, leaving Moynes heartbroken—and Adams ultimately rejected him too. Meaning that Moynes gets engaged to Katie (yay!) while his ex watches (oof).
Some in Bachelor Nation have questioned Moynes ~intentions~. Said Nick Viall on Us Weekly's podcast about The Bachelor: "Blake is going to get crap, obviously, for someone who fell in love with Clare without validation, fell in love with Tayshia, without validation. So, when he's [saying], 'I'm in love with Katie,' it's fair to question."
One thing is certain: Thurston and Moynes were in communication before her season. "I definitely knew who he was, which also Tayshia's ex-boyfriend! So that's weird," Thurston told Us Weekly. "We had chatted before, but usually what happens is, like, the guys will reach out to the women once they're eliminated and be like, 'Good luck, you did great.' Like very generic, you know? And so to see him, I was like, 'Why is he here?' Like, 'What's happening?'"
She went into more detail on the Chicks in the Office podcast. "I will say coming off my season with Matt, people were really shipping [Blake] and I before...So I was a little familiar with who he was and his background." But she was still thrown when he showed up, she added. "I was shocked. I was not expecting that at all."
As for Moynes, he's said of the exchange: "It was right after her first episode, it was right away...She came out of that limo with that vibrator, I was like, 'Yeah, I like what she's about.' It was a simple reach out," he told Us Weekly. "It was like, 'I f–king love that you did that. That was f–king awesome, like, good for you,' this and that...When I actually reached out that first time, after the first episode, her responses were very cold back. She was nice, but she didn't open up her dialogue in any way. It was shut down right then and there."
But what about Katie and Michael?
Michael Allio made the final four, but self-eliminated to be with his son in a bittersweet moment that saw fans clamoring for him to be the next Bachelor. (Michael, for his part, told People: "I have to think about what it would be like to get engaged in and introduce someone to my son in such a quick timeframe. I'm not sold on the idea.")
Although Reality Steve is certain that Katie is happily engaged to Blake, there have been hints that things may not be completely over between Michael and Katie: In late July, he left a very thirsty comment on a lingerie photo that Katie posted—"Can't say what I'd like to," he wrote, alongside an embarrassed emoji and two flame emojis—which is interesting. He then promptly deleted the comment. Plus, Ben Higgins told E: "I think [Michael] was 'the one,' if he was around...At the end of all this, if it doesn't end in that one true love that she's been talking about, I think they're going to try."
It does seem like Katie is not single, for what it's worth: She tweeted: "Woke up this morning and realized I used toy cleaner instead of lube last night," on July 30.
And what about Katie and Greg?
During the overnight date portion of the season, Grippo turned into a late-stage villain. Weeks earlier, on Viall's podcast, Katie had hinted that there would be another villain towards the end of the show: "I tried to get rid of the villains. I tried to get rid of them... 'Boom, boom, boom, go,' and then they just keep reappearing."
After the episode aired, Katie wrote on Twitter: "Thank you for the virtual hugs tonight." Katie also shared to her Instagram Stories a guide to gaslighting, implying that she—and plenty of Bachelor Nation—believed that was what Grippo had been doing:
Other Bachelor alums weighed in on the fight between Grippo and Thurston. Bekah Martinez, from Arie's season, wrote: "I know he opened up to her and she said 'the wrong thing' but shutting down emotionally being like, 'wut, nothing's wrong why would you think that' and then punishing with silence is emotional manipulation 101."
The men on Katie's season were divided. Andrew Spencer, who was on Katie's season, wrote on Twitter: "Most importantly hope they get to smooth things over they're two very good humans with a lot of great moments together." John Hersey wrote on Instagram: "Watching these actions get defended (and therefore normalized) strikes me as extremely unhealthy and a step in the wrong direction." And Connor Brennan wrote: "There was no gaslighting in this episode, there was a fight between two people that you saw maybe 20 percent of."
What'll happen on After the Final Rose?
Co-host Kaitlyn Bristowe had strong words about Grippo's exit. On the Click Bait podcast, she said: "He just wanted to quit before he got fired...I think his ego was so hurt in that moment that he was like, 'I'm gonna just flip this sh*t and get out of here." And in regard to Grippo's acting background, which has caused some controversy among Bachelor Nation, her co-host Tayshia Adams said, "That will be addressed. So just wait."
Adams is talking about After the Final Rose, which will feature a "tense confrontation" between Greg and Katie, according to an ABC press release. In the teaser, we see Katie tell him, "I don't think you know what love is."
It's likely to be an explosive confrontation. After Greg's exit, Madi Prewett from Peter's season wrote, in a seemingly unrelated tweet: "Never trust your tongue when your heart is wounded. Hush until you heal"—and Katie replied on Twitter: "should have read this before AFTR" and a side-eye emoji.