Simone Biles on Her GOAT Leotard: Don't Be Ashamed of Being Great
The world's greatest gymnast shares how she takes care of her mental health, the road to Tokyo, and the story behind her epic new leotard style.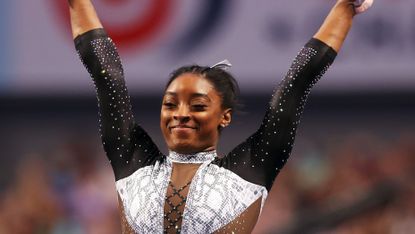 (Image credit: Jamie Squire)
Marie Claire Newsletter
Celebrity news, beauty, fashion advice, and fascinating features, delivered straight to your inbox!
Thank you for signing up to Marie Claire. You will receive a verification email shortly.
There was a problem. Please refresh the page and try again.
Simone Biles is in the business of making history. On June 6, she won her seventh national women's-all around title at the U.S. Gymnastics Championships in Fort Worth, Texas—more than any other woman, ever. She nails tricks that no one else has attempted or even seen before. She's a 19-time World Champion and a four-time Olympic gold medalist, making her the winningest gymnast of all time. And in Tokyo next month, she could become the first woman to win back-to-back Olympic all-around gold in more than 50 years.
It's difficult to fathom Biles's G.O.A.T-ness, but a new Facebook Watch original docuseries gives fans a glimpse into how Biles achieves the unthinkable. Called "Simone vs Herself," the seven-episode series, produced by Religion of Sports and directed by Gotham Chopra, is an intimate and exclusive look inside the athlete's life and training from the postponement of the Olympics last year to now. (The first five episodes will air before the Olympics this summer, the last two after competition ends.) The documentary not only explores her rigorous pursuit of excellence, but also how Biles conquered the challenge of the Olympic postponement, both physically and mentally, and how she manages immense expectations as one of the world's premiere athletes.
We caught up with Biles to chat about mental health, gearing up for Tokyo 2021, and those epic new leotards.
Marie Claire: We're obsessed with your new leotards bedazzled with a goat (a.k.a. Goldie). How did you come up with the idea?
Simone Biles: The idea was to hit back at the haters. I didn't feel like it was necessarily fair how they could keep saying whatever they wanted, but then if I said something, it wasn't fair. [The haters] were joking like, "I swear, if she put a goat on her leo, blah, blah, blah." That would make them so angry. And then I was like, "Oh, that's actually a good idea. Let's make the haters hate it, and the fans love it." And so that's exactly what we did and why we did it.
I just hope that kids growing up watching this don't or aren't ashamed of being good at whatever they do. And that's my problem: when people kind of harp on other people that are good at something. And it's like, everybody can say you're good, but once you acknowledge it, it's not cool anymore. And I want kids to learn that, yes, it's okay to acknowledge that you're good or even great at something.
MC: You just won your seventh national all-around championship, the most in history, with the help of your floor routine and a new move named "The Biles." How are you feeling right now?
SB: It was a huge honor, and I was excited to finally go back out there, have a crowd, compete, and do what I love. It definitely felt nice again; it felt like some sort of normalcy.
MC: In "Simone vs Herself," you talk about how hard it was to go to the gym and do your job during the pandemic, which is something many of us can relate to. Did that mental shift freak you out? And, if so, how do you adjust your mindset?
SB: In the beginning, it was really hard because I was going through so many emotions about the postponement. But then at the end of the day, it was like, "Okay, you know what? I'm not the only athlete going through this. We do know there's going to be a postponement, it does suck, but what are we going to do about it? Am I going to sit here, moping around, or am I going to try to gear up and get ready and change my mindset?" So that was exactly what I did.
MC: In the show, you and your coaches talk about how adjusting mentally is in some ways just as tough, if not tougher, than getting into shape physically. Recently we've heard other athletes, like Naomi Osaka, speak about mental health. Do you think mental health is stigmatized in professional athletics, especially for women and women of color?
SB: I think it has been, [though] obviously the conversation is now more open and people talk about it a little bit more. There's a long way to go, because at the end of the day, people think we're just athletes and entertainers, but we're also humans and we go through our own issues that you guys might not be able to see. So I'm happy that the conversation has been opened to the public, and they're starting to realize that we're more than just an athlete at the end of the day.
MC: How do you take care of your mental health in moments of turbulence or uncertainty, like this past year?
SB: For me, I saw a therapist quite frequently and that helped me a lot. I also was put on anxiety medicine, which has helped. Everybody has different ways of doing it, whether it's meditation, medicine, [and/or] therapy. I feel like there's so many avenues that you can try, but that's what worked for me.
MC: When you heard the Olympics were going to be postponed, did you ever think, I'm not going to do this?
SB: I did, but then obviously there were so many emotions all over the place. So your first reaction is like, "I'm not going to do this." But you also have to let yourself feel all those feels and go through all those emotions, and that's what I was doing. But at the end of the day, I was like, "Okay, I didn't come this far to only come this far. I'm not giving up." I don't think anybody looked at it and was like, "Oh, another year, this is going to be great." Another year on our bodies, mentally, physically, is a lot on any elite athlete.
MC: I imagine at the time you found out, you were in a taper period, meaning you had already hit peak training and had pulled back, but then had to re-ramp back up. Is that right?
SB: Yes. So I was training for a World Cup and I was so ready and I was so prepared. I have never been in that time of year and been so ready before. And so I was [thinking], I'm finally ready, and then this happens, what else? But obviously, it was for the best, we all figured it out. We're still figuring it out, but everything happens for a reason. And it is what it is at the end of the day.
MC: The title of the documentary is "Simone vs Herself." You're in a league of your own, and I imagine a big goal must be besting your own past performances. But is there another meaning of "Simone vs Herself" for you in terms of managing self doubt?
SB: Well, for me, it's kind of me battling myself in and out of the gym, but also what else goes on in my life. There's so much going on around my life and I have to stay focused and keep my calm.
MC: You're the winningest gymnast in history. How do you manage the enormous pressure and expectations at this level? And, as a follow-up, how do you find joy in the sport when it's so competitive?
SB: I feel like most of the expectations that are on me are from myself. I've tried not to let anybody else's expectations impact how I go into a meet or my mindset. I still do the sport because I find joy and it's what I love. I love to entertain, I love to compete, and I love to train. Although some days are harder than others, I've been doing it for so long, so I know exactly how I'm going to be going into the gym each and every day and all of that stuff. But I think what brings me joy is having such a great team that I've been surrounded with and they keep motivating me and pushing me to be a better gymnast.
MC: As you're headed into Tokyo, what are you feeling?
SB: I feel like it's just a stepping stone to what's going to happen. We still have more work to put in, we still have trials ahead of us. And then after that, if I do make the Olympic team, then we'll be gearing up for the Olympics. So there's still a lot of variables going into it, so we can't give up now and we have to keep peaking and just keep the same path. So once the time comes, we'll be ready.
Lightning Round
Pump up playlist?
Oh, goodness. Anything today's hits.

Pandemic binge-watch
Riverdale, Outer Banks, and Tiger King. But I get so distracted sitting down for long periods of time. So all of that took me quite a while.
Three words to describe yourself?
Fun, loud, and tired.
Where do you keep all of your hardware?
In a safe.
Post-Olympic plan?
I'm doing a post-Olympic tour. And then after that, just relax and go on vacation with my family.
Interview was lightly edited for length and clarity.
RELATED STORY
Celebrity news, beauty, fashion advice, and fascinating features, delivered straight to your inbox!
Megan DiTrolio is the editor of features and special projects at Marie Claire, where she oversees all career coverage and writes and edits stories on women's issues, politics, cultural trends, and more. In addition to editing feature stories, she programs Marie Claire's annual Power Trip conference and Marie Claire's Getting Down To Business Instagram Live franchise.