Who Is Carly From 'Too Hot to Handle' 2021?
She's a self-described "man-eater."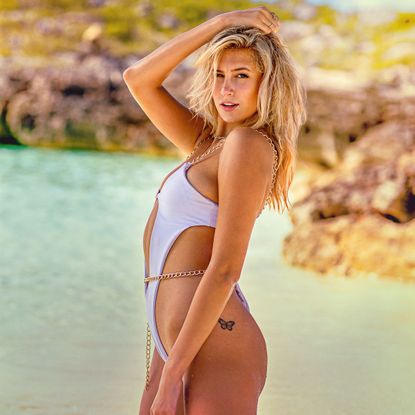 (Image credit: Netflix)
Carly bursts onto the scene in the second season of Too Hot to Handle looking to have fun and flirt a little (okay, a lot). Her mischievous smile and sassy ways prove within moments of the Netflix dating show—which hit the streamer with the first four episodes on June 23—that she'll be one for Lana to keep tabs on. "I hate rules and I do not follow them," she decrees early on. "I'm crazy...I'm not here to be in a relationship or to find someone to fall in love with. One hundred percent." But Carly quickly becomes a fan favorite as she embraces what the show has to offer and learns to stand up for what she deserves. (She also has a few charming dating moments that help.) So let's get to know Carly Lawrence from season 2 of Too Hot to Handle.
Who is Carly?
Based on her introduction, 24-year-old Carly is a self-described "little bit of a man-eater" who absolutely hates being tied down. The Toronto, Canada, native loves to have fun, bald guys, and piercings—she reveals in the first few minutes that she has her nipple pierced, as well as her tongue, and several holes in her ears, many of which she did herself.
As the episodes unfold, Carly admits to having confidence issues that have prevented her from really opening up to anyone before.
What does Carly do for a living?
Like most of our Too Hot to Handle faves, Carly is a model (and, per Netflix, a former competitive dancer). Based on her Instagram, she loves to sport a bikini and seems to travel to tropical locales often. And while she has a website with links to her OnlyFans, YouTube, and TikTok, she doesn't seem to be an active poster on any site but Instagram.
How does Carly do on Too Hot to Handle season 2?
No spoilers here, but it's clear to see in just the first episode that a lot of the show's men have eyes for Carly (ahem, Nathan) but the blonde bombshell seems to prefer Chase and his sexy calves. She does have one regret, she explained in an interview with Bustle—kissing one of the contestants who isn't Chase early on. "Like that's not me, it's not in my character to make Chase feel crappy about himself. I wouldn't do that again," she said.
She also told Bustle that he hadn't seen Too Hot to Handle before, so the Lana mic drop was less of a shock for her than it was for the others. "I hadn't watched it before so I didn't really know what was going on. In my head I was just like, 'Well, this doesn't really change anything for me,' so I still continued to do what I wanted to do," she explained to Bustle.
While we see Chase and Carly engage in some heavy flirting and a botched first kiss (cue the blooper reel) it seems like Carly is keeping her options open for now since she's very much not a commitment girl. You'll have to watch to see if Lana can help her change her rebellious ways...
RELATED STORIES