Who Is Cam From 'Too Hot to Handle' 2021?
He self-describes as a "sexy nerd.'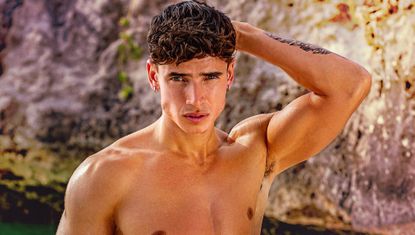 (Image credit: Netflix)
Marie Claire Newsletter
Celebrity news, beauty, fashion advice, and fascinating features, delivered straight to your inbox!
Thank you for signing up to Marie Claire. You will receive a verification email shortly.
There was a problem. Please refresh the page and try again.
The Netflix gods have blessed us once more: The first four episodes of Too Hot to Handle season two dropped June 23, with the next six dropping June 30. A day-one standout is 24-year-old model Cam Holmes, who memorably apologizes to his penis upon learning that they will not, in fact, be having sex anytime soon ("I'm sorry, big guy...I didn't know what we were getting into"). Cam is one of the best parts of the season: He's charming, hilarious—sometimes on purpose, sometimes not—and unexpectedly tender (when he decides to be). So let's get to know Cam Holmes, the self-described "sexy nerd" from Wales who steals hearts (and plenty of cash) this season.
So, who is Cam?
"People look at my face, they look at my body, and they think I am a player...But I'm a nerd. A sexy nerd," Cam says by way of introduction. "I've had a little role play before," he continues. "A girl was quite into Lord of the Rings, she put an elf costume on. It was nice, having sex with an elf."
He goes on: "I didn't use to have the confidence. I had a glow-up. So I just started dressing differently, training a lot more, my hair become a lot better."
What does Cam do for a living?
He has a degree in criminology, but he's signed to FOMO Models, and he's also a personal trainer.
Even before Too Hot to Handle started airing, he had more than 10,000 followers on Instagram. (As of this writing, that figure has multiplied.)
What has Cam said about Too Hot to Handle?
Well, for a start, he had no idea he wasn't on a show about sex called Parties in Paradise. He told The Express: "When I was picked up to go to the villa, the driver's wearing a hat that said Parties in Paradise backwards. I was looking at it the whole time thinking, 'Okay, that must be Parties in Paradise.' Like why would they buy fake hats? Like who goes to that length? But they did. They bought fake hats."
But, alas! "We were told it would be a partying show with loads of single people in there having sex, having the time of our lives," Cam told Metro. "But we still had a good time," he added.
He opened up about meeting Emily Miller to the Mail: "'I'm literally a changed person, I went in as this serial dater, I've been single for four years and I couldn't stick to any girl. I had a lot of issues which I didn't even know I had, and the show brought it up to the surface. Even when I came home my friends and family were like, yeah, 'You're legit a different person, a different boy,' or a man, like I like to say...I don't want to sound cheesy, but there are a lot of emotions involved, there's a lot of nicer things than just sex so it wasn't just that."
He does not feel guilty about all those rules breaks, either. "Yeah, I didn't feel bad...You've got to get them done in the first few days. Just get them all out your system, and then you're the rule breaker, so people are like, 'Ah it's fine they do it all the time,'" he said to the Radio Times.
One person who didn't love watching Cam break the rules? His mom. "Maybe I wouldn't have had a bit of alone time in the shower just because my mum's given me a little bit of stick about that already. So maybe that—if I could take anything back," he told the Mail.
Cam has been very active on social media since the season began airing, engaging on Instagram with everyone from season one's Harry Jowsey ("my guy," Cam wrote in response) to Netflix reality staple Chloe Veitch and his fellow season two contestants—including his love interest from the villa, Emily (more on that in a second).
How does Cam do on Too Hot to Handle?
The first batch of episodes establish Cam as one of the season's key players. One of the very first conversations he has is with Emily, a 26-year-old Brit who teases Cam about his height. The two hit it off immediately, and by the second episode they're breaking rules and taking names cash away from the group. In fact, by the end of the first four episodes, Cam and Emily are the biggest rule breakers of the group—even breaking rules when they don't realize they're doing it (see: their overnight date).
Spoilers ahead. In episode nine, Cam asks Emily to be his girlfriend. By the time they leave the resort, they're talking about moving in together, and Cam tells Emily, "I think I love you." The turning point, it seems, is when Tabitha asks him to join her in the shower and he declines—not because of Lana's rules, we assume, given that Cam has never had a huge problem breaking rules, but because he wants to commit to Emily.
So we know they left the resort together, but how have they been doing in the six months since the show finished filming? Well, all signs point to their still being together: They've confirmed that they're both in committed relationships (they wouldn't confirm that these relationships were, well, the same relationship, but we can assume), and they've been posting on each other's Instagrams aplenty. Not to mention, they're doing branded content together, which you have to assume means they're still dating (imagine breaking up with someone and then collaborating on a joint sponsorship deal?!).
Celebrity news, beauty, fashion advice, and fascinating features, delivered straight to your inbox!